How to Master Sales and Operations Planning (S&OP)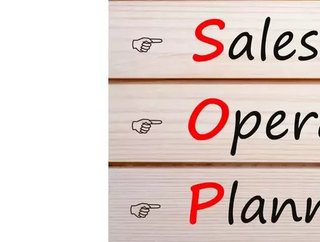 An in-depth look at S&OP ─ the six steps for success, four best practices, and keys to unlock next-gen S&OP within your business operations...
S&OP may sound like a jargon-laced acronym that threatens to clutter up your streamlined supply chain. Yet in its essence, it's quite simple: it's an integrated monthly process that helps you manage your business in the midst of changing times. Instead of struggling to keep sales and marketing, demand and inventory, and product introduction on the same page─a Herculean challenge─introducing a strong sales and operations planning process provides you with a quick snapshot of where your supply chain is at. 
Christine Barnhart, Director of Go-to-Marketing Strategy and Execution at Infor, told Supply Chain Digital that "Sales & Operations Planning (S&OP) has been around since the early 1990s, but its definition has changed over the years. Depending on the book that you're reading, the process is defined in many different, often over-engineered, ways." 
Barnhart adds that "perhaps the clearest definition is courtesy of Tom Wallace, who describes it as 'a set of decision-making processes to balance demand and supply, to integrate financial planning and operational planning, and to link high-level strategic plans with day-to-day operations," however, "the key issue is that the term 'Sales and Operations Planning' conjures up different images depending on who you are talking to. Manufacturers use the term willingly, distributors less so and retailers hardly ever. Attitudes also differ according to industry and size. A key source of difference is the maturity of the organisation when it comes to its supply chain processes."
Six Steps to Success
We don't think you should have to attempt to figure out how to launch a successful reinvention on your own. After all, the best among us stand on the shoulders of giants. Here's a tried-and-true blueprint:
Product Review 
Your R&D planners should analyse your current products, determine the areas in which you need to improve and set priorities for your next set of products. Call this the look to the horizon. You want to keep in mind how new products will impact existing products ─ overlap too far and, heaven forbid, your shiny new toys might cannibalise your trusty standbys. 
Demand Review
Whether you measure demand in units or revenue, this is your chance to peer into the murky waters of the future to determine how many product parts you'll need to manufacture. We recommend checking historical trends, gathering real-time customer surveys, and taking a cold hard look at your marketing plan. Eventually, you'll compare your predictions with your finance review, and if you've done it right, you won't be far off track. 
Supply Review
The nefarious beast of syncing supply with demand. Now, as orders fluctuate fast and furious due to the global pandemic, you want to be able to simultaneously run multiple "what-if?" scenarios. "What if they cancel their annual order? What if December product transport is affected by closing borders?" You get the picture. Ideally, you'd like to minimise product inventory─no one likes being stuck with more parts than they need─but still keep your customers happy as clams. A technology platform, when deployed correctly, can be one of the only ways to truly master this balancing act. 
Finance Review 
Up next is everyone's favourite part of the S&OP process. Money. After all, we manage supply chains in order to optimise where the cash is going, and the finance review is your baseline. You review October's finances to analyse November's sales and operations planning cycle, then repeat, repeat, repeat. It's an iterative process, and each time you measure your current performance against your finance baseline, you improve your forecast accuracy. The objective? An S&OP process that's exorcised the demons of inefficiency from your supply chain once and for all. 
Is S&OP Implementation Worth It? 
When the subject of S&OP comes up, organisations often question whether they should bother to invest or not ─ whether it is worth it, essentially. To this, Barnhart told us that "The evidence from independent research says it is, with a significant competitive advantage for S&OP leaders in the key areas of customer service, profitability and cash-to-cash cycle times." 
"The latter criterion is emerging as a new barometer for the overall health of the supply chain. The take-away for business leaders – especially manufacturers who are by far the largest subscribers to the S&OP process – is to look anew at your internal S&OP processes and check where you are on the S&OP maturity curve."  
Best Practices 
We wouldn't be doing our job without pointing you in the right direction before turning you loose. 
Directly involve an executive. Without clear decision-making, cross-functional teams often get bogged down with internal disagreements. We've all been there. Cut the friction and make the trajectory of your S&OP process crystal clear. 
Get everyone on board. Picture rowing a boat across the ocean. Sales and operations are by no means a short journey, and if you're missing a rower, it won't take long to keel off in the wrong direction. We'll say it again: in this and in life, collaboration is everything. 
Speak up! We like conflict no more than the next man or woman out there, but candid talk about conflicts helps avert issues before they spark into a cyclone of chaos. 
Choose the tech solution that fits. Take your time to identify aspects of your business that require unique technology solutions. You do want to look your best in front of your customers, and platforms aren't always one-size-fits-all. (Invest in a nice suit. You won't regret it.) 
Unlock Next-Gen S&OP
Time for the final reveal. Four final steps will help keep you at the cutting edge of the supply chain. 
First, use uncorrupted, up-to-date data to build a strong foundation. Second, figure out your essential metrics, and categorise them from the executive level all the way down to the nitty-gritty sourcing logistics. Third, pinpoint a leader within your company who can champion your S&OP collaboration. And last but not least, use your reviews and data that you've worked so hard to get to make decisions based on value.