Epicor's Vohra on the power of data in supply chain ERP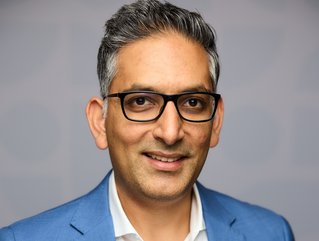 Vaibhav Vohra is Chief Product and Technology Officer at Epicor, which offers end-to-end enterprise resource planning (ERP) software for manufacturers. Here, he discusses how digital transformation can help businesses optimise supply and distrubution operations
Epicor's Vaibhav Vohra discusses AI, data, and how it is fundamental to unlocking long-term business value
Tell us a little of yourself and your role
I was appointed Chief Product & Technology Officer at Epicor in June 2023 following a stint as Chief Product Officer and SVP. I am responsible for product strategy, development, management, learning and design.

I have unified our Product Development and Product Management teams to enable us to deliver best-in-class customer-centric SaaS solutions and continued innovation through AI, automation, and design.
What drew you to supply chain software?
Throughout my career, I have worked across a variety of sectors, including manufacturing, retail, and aerospace.

My first job was building satellites, which gave me a passion for new technologies. I then moved to SAP, where I helped to manage the company's ERP product portfolio and SaaS transformation.
Using this experience, I wanted to focus on working with disruptive technologies in AI and robotics, to help build and scale start-ups. One of these focused on supply chain automation in essential industries. We built the largest production AI and robotics systems operating in a consumer setting.
Moving to Epicor was a natural progression that gave me the opportunity to use the experience and skills I had gained so far in my career.
What does Epicor do?
We equip businesses with enterprise solutions that keep the world turning. For 50 years, our customers in the building supply, distribution and manufacturing industries have trusted us to help them do business better.
Epicor is the only ERP solutions provider building connected data supply chain solutions across the manufacturing, retail, and distributor value stream. This helps small and large companies easily integrate key processes, workflows, and data sources from previously siloed areas of their businesses — enabling them to increase resilience and drive growth.
We want all businesses to achieve their full potential, regardless of where they are on their unique digital transformation journeys. From point-of-sale to implementation and post-sales support, we deliver the industry-specific tools and channel support services our partners and end-user customers need to scale their operations and strengthen their supply chains.
How is AI affecting ERP software?
AI continues to astound us with how rapidly it's evolving, and it's fascinating to see how technological innovations are disrupting all aspects of our society. This is why we're investing in developing solutions that leverage AI-enabled insights to optimise and improve business operations.
The most interesting trend is some believe AI is most successful when it replaces people. From my experience, when we unlock 'superpowers' and empower knowledge workers, we really can harness the power of AI.
This is why we created our award-winning Automation Studio, as a way for businesses to easily integrate all their distribution and supply chain data sources into a single platform.
Greatest ERP achievement & challenge?
Bringing AI and robotics to the essential industries. Digital transformation is transformative for the make-move-sell economy. Being able to unlock this at scale has been my greatest achievement.
The greatest challenge has been building robots and AI in difficult work conditions – boilers, mines, digesters. Part of the challenge is to get technology to scale in difficult environments, not just a pristine lab.
How important is data to supply chain ERP?
At Epicor, we have a clear vision for the connected data supply chain. You can think of an ERP provider like a system of data records, which our customers use to make decisions about everything from sourcing to pricing.
The key to success is enabling makers, movers, and sellers to easily exchange data with one another, transforming customer ecosystems into communities by driving value throughout the supply chain.
By collaborating across different industries and bridging knowledge gaps, our customers can make better-informed decisions.
However, many companies still struggle when it comes to analytics, which is why we are working with our customers to help them convert their data into actionable insights and unlock its true value.
How is cloud enhancing the power of data?
Migrating key operations and workloads to the cloud is the first step to ensuring you have the digital foundation to source data across your business and supply chain.
Industry-specific cloud solutions enable organisations to integrate multiple data streams with business flows so workers can easily access data remotely from anywhere for rapid data-driven decision making. Data silos prevent effective data analysis.
Some smaller companies can be overwhelmed by the idea of moving to the cloud, but the benefits are worth it and become evident almost immediately.
How are AI and ML impacting ERP solutions?
Typically, AI solutions are used to improve singular tasks, but businesses can implement them to analyse multiple business flows for actionable insights across their entire organisation.
To leverage these tools effectively, business leaders need to work with a technology partner. This is especially true for the essential industries that haven't had a great deal of exposure to emerging technologies before.
AI and machine learning (ML) tools can help businesses drill down to unearth the full value of their insights. Once a company's IT infrastructure is cloud and data-centric, they can start incorporating AI and ML technologies to automate data analysis and augment their ERP systems.
How do people fit into ERP solutions?
Data-centric solutions must be people-centric. A common mistake that organisations make is looking to replace people rather than equip them with the tools they need to succeed in their roles.
Businesses must invest in the latest BI solutions as well as providing relevant data training for workers, so that they have the skills, knowledge, and confidence to make more informed decisions.
Ultimately, people - whether employees or customers - need to be central to technology investment decisions, as they're the ones who are using these systems every day. The more people-centric your digital transformation strategy, the sharper your competitive edge will be.
What does the future hold for Epicor?
We believe that data is the future, and we recently demonstrated our vision for a connected data supply chain at our annual Insights 2023 user conference.
To ensure success, essential industries need to adopt a data-first strategy to interpret key signals and indicators – both within their business and across connected supply chains – so they can optimise business flows and drive time-to-value.
As part of our data supply chain vision, we have a range of services and platforms that we're implementing to support even more businesses.
******
For more insights into the world of supply chain read the latest edition of Supply Chain Digital and be sure to follow us on LinkedIn & Twitter. Other magazines that may be of interest: Procurement, Manufacturing & Sustainability. Also check out our upcoming event in September: Procurement & Supply Chain LIVE London.
******
BizClik is a global provider of B2B digital media platforms, for leaders across: Sustainability; Procurement & Supply Chain; Technology & AI; Cyber; FinTech & InsurTech; Manufacturing; Mining; Energy; EV, Construction; Healthcare; and Food. Based in London, Dubai, and New York, BizClik offers services including content creation, advertising & sponsorship solutions, webinars & events.