Day 1 highlights: Procurement & Supply Chain LIVE 2023
The world's fastest-growing procurement and supply chain event saw executives from AWS, Enable, Suppeco, MTN Group, bp, NHS Supply Chain & Digital Catapult
Hosted by Scott Birch, Chief Content Officer (CCO) and Neil Perry, Head of Multimedia at BizClik, Day One - thanks to our amazing experts and thought leaders - shone a light on the key trends, innovations, and players in the world of procurement and supply chain.
With thousands of attendees both in person and virtually, Day 1 of Procurement & Supply Chain LIVE provided insightful talks on technology and AI, sustainability, strategies, resilience, and transformation.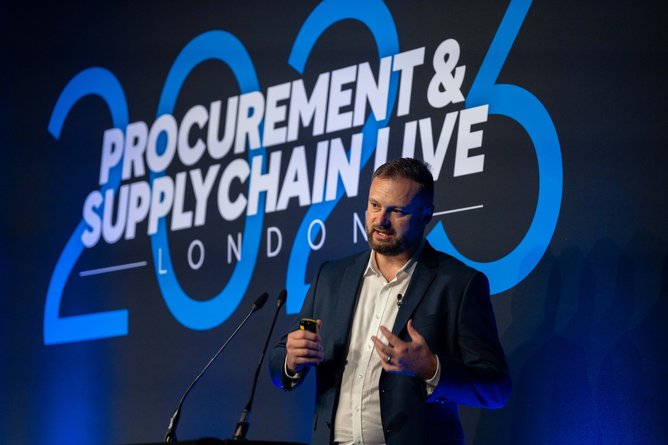 Mark Gilham, Evangelist, Enable (Procurement & Supply Chain LIVE)
Sharing their favourite moments from the Day, Birch and Perry some of the key sessions from Day One included:
Matt Yanchyshyn, General Manager, AWS Marketplace & Partner Engineering at AWS discussing procurement challenges and how to overcome them, as well as the benefits of digital marketplaces to foster innovation.
We also had Jim Townsend, Chief Procurement Officer at Walgreen Boots Alliance sharing his perspective on ProcureTech companies and how they can be more successful in the sales process.
Outside of these keynotes, We also heard from the likes of Suppeco, bp, MTN Group and the Abu Dhabi Government as part of the Digital Procurement Forum; Community Fibre, Baringa, and Wyndham Hotels & Resorts as part of the Supply Chain Sustainability Forum; and Siemens and Cushman & Wakefield as part of the Supply Chain Strategy Forum.
To catch all of the sessions on demand, head over to the video section here at Procurement Magazine or follow our YouTube channel for more ESG insights.
While Day 1 has come to and end, we have more to come on Day 2 of our event with leading executives from the likes of IBM, PepsiCo, Visa, CIPS, TfL and many more!
Want to join us for Day 2? Click here to register.
See our Event Guide, to find out who will be speaking on Day 2.
******
For more insights into the world of supply chain read the latest edition of Supply Chain Digital and be sure to follow us on LinkedIn & Twitter.
Other magazines that may be of interest: Procurement Magazine, Manufacturing Digital
******
BizClik is a global provider of B2B digital media platforms, for leaders across: Sustainability; Procurement & Supply Chain; Technology & AI; Cyber; FinTech & InsurTech; Manufacturing; Mining; Energy; EV, Construction; Healthcare; and Food. Based in London, Dubai, and New York, Bizclik offers services including content creation, advertising & sponsorship solutions, webinars & events.