Data-driven omnichannel 'is future for retail supply chains'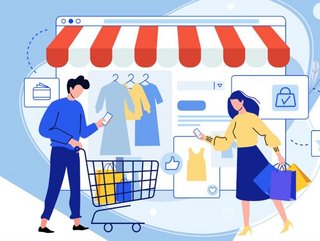 Omnichannel commerce will continue to be the name of the game, says Jim Frome, President and COO of SPS Commerce. He adds this will force companies to refocus investment on tech to get them more in tune with customer needs and wants.
Retail supply chain experts from SCM data solution, SPS Commerce, warn that retailers who rely on pre-pandemic business models will be left behind
If one were to create a word cloud to capture the story of supply chains over the past two years, then 'agility' would figure large. Organisations continue to face unprecedented and ongoing disruption, uncertainty, and rampant inflation, which is why supply chains must be agile if they are to meet demand.
Few sectors were more exposed to the volatility of pandemic-era business than retail. In the early days of the crisis, supermarkets saw shelves repeatedly stripped bare by panic buyers, while other parts of the sector saw sales plummet after lockdowns forced store closures.
Now, with war in Ukraine, rampant global inflation and ongoing post-pandemic supply disruption, the need for agility in retail is acute.
Here, key executives from SPS Commerce share their views on what the future holds for retail – in 2023 and beyond.
Retail supply chains: planning and allocation
This year will challenge retail organisations in several ways. First, they're going into the planning season with few-to-no comparables to guide buying and allocation decisions.
Post-pandemic, companies don't have the reliable baselines to guide them that they'd typically have. Plus kinks in the supply chain as a result of the pandemic are still being worked out, resulting in shortages of some products and too much inventory in other areas.
Then of course there's inflation. We've yet to see the expected slowdown of consumer spend due to inflation, but I anticipate this will become a reality in 2023.
This combination of challenges is likely to result in the following among retail organisations:
Conservatism in planning and buying and not getting caught up in perceived growth
A focus on products that are tried and true, rather than experimentation in new areas
A quest for supply chain efficiencies, to reduce costs, carrying less safety stock and turn over inventory faster than ever
Retail organisations will need to push supply chain partners to provide more frequent and detailed information and updates through the lifecycle of their relationship.
This will help them improve planning processes, make better decisions, and to optimise in real time.
Important information on this front includes updates on inventory, shipping notifications, sell-through data and performance insights by Supplier to sharpen relationships
Organisations that jump on this information will come out ahead in the long run.
Omnichannel commerce will also continue to be the name of the game, which will force companies to launch projects and refocus investment to get them more in tune with their customers' needs and wants.
This means they'll have to make some hard decisions about what to sell and what not to sell, and they'll also need to create more-connected teams, as well as streamline operations, both internally and across their supply chain.
Retail supply chains: automation
Retail success will be measured by the speed at which a business can connect to other business networks. This means the smart money will be spent with one objective: to rapidly introduce automation and digitisation with partners.
Retailers will undoubtedly continue to expand the omnichannel model through increased investments in stores and digital-order fulfilment, such as curb-side pickup and buy-online-pick-up-in-store.
These new means of reaching consumers have proved to be exceptionally powerful, and leaders in the space, such as Target and Walmart, have recently announced key strategies around omnichannel store models. But this model falls apart if accurate, fast and plentiful data is not available up and down the supply chain.
Suppliers that are able to flow data in parallel with goods will be the winners in this game.
The key thing is no longer how fast a company can get goods to its distribution centres but how fast they can integrate their networks.
This is what suppliers will be investing in.
Retail supply chains: distribution
The past two years exposed significant blind spots in the order lifecycle for the distribution industry, which severely handicapped business. Buyers were executing on an old strategy of buying the same quantities year over year.
But the lack of comparable data due to the pandemic meant this was a flawed approach that created major disruptions in supply chains.
We'll begin to see more collaboration and process automation with suppliers and manufacturers, including sharing of data and insights throughout the order lifecycle.
To facilitate this collaboration there will be greater investment in data-sharing tools and processes.
Retailers who continue with older strategies, and who execute without data, will be left behind.
About SPS Commerce
SPS Commerce is a US-based company that offers cloud-based supply chain management software to retailers, to automate data exchange on products, inventory, orders, shipments, payments and sales.