Capgemini: the rise of drones in supply chain post-COVID-19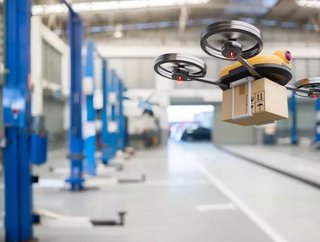 Tim Bridges, Global Head of Consumer Goods and Retail at Capgemini, discusses the influence of drones and AGVs as a result of COVID-19...
As a way of introducing yourself, can you start off by telling me a bit about your career and your journey to finding yourself with Capgemini?
"I lead Capgemini's Consumer Goods and Retail global sector practice – a portfolio which includes major global retail, fashion, restaurant, consumer products, transportation, and distribution brands like McDonald's, Coca-Cola, Meijer, Office Depot, Domino's, and Unilever. I've been with Capgemini for over 20 years and was previously a partner at EY, where I created and led the Structured Lending practice for blue chip clients in the financial services and lending capital industry."
How would you describe Capgemini? What gives it an edge over competitors?
"Capgemini is at the forefront of innovation to address the entire breadth of our clients' opportunities in the evolving world of cloud, digital and platforms. We harness the power of data-driven insights to help brands compete against competitors, engage customers, enter new markets and, ultimately, positively disrupt the world we live in. We're also a company which is actively pursuing a positive future for our company, clients and wider society. Sustainability, digital inclusion and inclusivity are central to our values."
What does digital transformation currently look like in the supply chain industry today?
"COVID-19 has heightened the frailties of many supply chains. A lack of visibility and agility has brought many firms to a literal stand-still. Last year, Capgemini found that just 14% of organisations had scaled their pilot plans to digitise their supply chain, with 86% still at the pilot stage. In the wake of the pandemic, innovation has become an imperative. Recent events have shown us it is impossible to plan for what's coming next, so adaptability is critical. This can only come about from digitalisation, which will give organisations the effectiveness, transparency and resilience they need.
"Firms need to move away from linear, traditional supply chain models to become connected, supply networks. The goal is to create a single, end-to-end, unified view of the ecosystem so that organisations have precise, real-time visibility into their operations – from the suppliers of materials, the transporters of those supplies and finished goods, and finally to the customers demanding fulfillment."
How has automation and robotics transformed supply chains?
"Most supply chain organisations already use some form of robotic process automation (RPA), particularly in areas that are high-volume, repetitive and rule-based like orders and claim processing. RPA software bots can monitor inventory, generate notifications and reorder products when levels go below a set threshold, freeing up time and resources for people to work on high-value exception-based requirements.
The future of robotics and automation in the supply chain will feature self-orchestration. Radio-frequency identification (RFID) and GPS are not new, but, as artificial intelligence and 5G mature, so do the use cases for these technologies: examples include using autonomous robots for pick-pack-ship activities and self-driven trucks for logistics."
What are the real benefits to using drones in logistics? How were drones and Automated Guided Vehicles (AGVs) considered in the industry pre-COVID and what do you feel their future looks like in the supply chain?
"Pre-crisis, . Consumers want fast and cheap deliveries, but this is hard for organisations to deliver while making a profit. Drones have huge potential as a last mile resource because they reduce the need for human intervention and are exceptionally fast. They can also reach isolated locations which are tricky to get to via traditional vehicles – potentially opening up new customer bases.
Drones have been experimented with over the years as a delivery option by the likes of Amazon and Walmart. However, airspace restrictions and concerns about drones crossing over flight routes meant they have never taken off – until now.
"COVID-19 spurred the world's first drone delivery service into existence in Ireland and we've seen more players utilise this delivery method in the wake of the pandemic. If these test deliveries are successful, logistically possible on a wider scale and public opinion of their use is positive, we may see restrictions around drones eased, leading them to become a viable device for remote orders. While this may not be the future of delivery on a mass scale, drones do offer an interesting solution to ongoing issues of social distancing and the overwhelming levels of demand."
Can you talk me through your COVID-19 approach? What kind of impact did it have in the industry and how are drones and AGVS being used?
"Many of the challenges that companies faced at the beginning of the pandemic were not solely the result of the virus. It was more that the sudden change in working conditions and increase in demand put a spotlight on pre-existing issues. Our focus has been to help our clients build resilience – quickly – through digitalisation. By helping organisations to enhance immediate supply chain visibility, adopt emerging technologies to limit disruption, and rethink supply chain strategies, we are protecting them in the short-term while setting them up for long-term success."
What are the major trends you are observing in the industry and how is your business responding to them?
"Building resilience is a critical theme, as is sustainability. We 79% of consumers are changing their purchase preferences based on social responsibility, inclusiveness, or environmental impact, and this trickles down to the supply chain too. For these organisations, there is a huge onus to make practices more sustainable through initiatives like waste reduction, energy efficiency and using more sustainable materials. Many manufacturers and retailers are worried that implementing sustainable approaches is too costly, but technology is opening new frontiers to manage and scale up sustainability initiatives while boosting revenue and reducing operational costs. More importantly, they may find that the price of not pursuing these aims may also cost them dear."
What's next for the Consumer Goods and Retail sector at Capgemini?
"Capgemini recognises that service needs and solutions vary by subsector. For example grocery is looking for fast progression in both contactless commerce of consumer engagement as well as profitable fulfillment, while apparel looks to restructure as well as find direct to consumer (DTC) solutions. 
"Capgemini is evolving and applying specific solution and service emphasis to drive tailored client needs. We're also helping organisations to develop what we call invisible infrastructure – operating models that are agile, fluid and adaptable. In line with this, we see simplification as a key theme for our clients. Emerging technologies like 5G and Internet of Things (IoT) can seem overwhelming to business and IT leaders, but through simplification, we look at real-world use cases for these technologies, making them tangible and exciting for our clients."