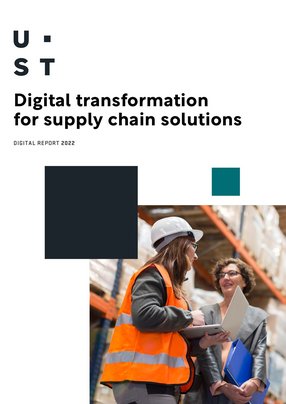 UST – digital transformations for supply chain solutions
Jonathan Colehower, Global Supply Chain Strategy Practice Lead at UST: how adopting technology can increase visibility and resilience in the supply chain
Sexy is a word you don't often associate with supply chain, even from the most ardent devotee of the industry. But if the last two years have taught us anything, it's that things change – often with unexpected consequences.
"I've been in supply chain for 25 years and it's never been sexier than it is right now," says Jonathan Colehower, Global Supply Chain Strategy Practice Lead at UST.
"Everybody wants to talk about it, so I think it's up to people like me to say great, let's make sure we don't stop this conversation."
Colehower will be the first to admit that if you've never heard of UST and don't know "the best-kept secret in IT", you're not alone. He was in a similar position when a recruiter called him in 2021 to discuss joining the global IT service provider after a career working for leading consulting firms Accenture and McKinsey.
Despite its low profile, UST has been established for more than 20 years, has a billion-dollar-plus valuation and employs some 28,000 experts worldwide.
"I have spent my entire career in supply chain management either into one or two areas in management consulting or in technology, " explains Colehower. "I spent seven years with Accenture in the supply chain strategy practice, and I also spent time at McKinsey & Company doing supply chain and operations strategy formulation. I also spent about five years at Oracle running the supply chain applications line of business and, most recently, was the chief marketing officer at Manhattan Associates."
It's an impressive track record, so what made Colehower take the plunge and decide to move to UST? Like so many consultants who are leaving the industry, Colehower wanted to be more involved in an organisation and have the chance to implement the ideas he came up with. With a family to consider, it was also a challenge having clients around the world – at one time spread across London, Hong Kong, Johannesburg and Brazil.
"I've always wanted to build and manage a supply chain management practice, and so when UST came along I thought 'wow!' – maybe this is my opportunity," he says.
Opportunity came knocking and Colehower joined UST in September 2021, at a time when, frankly, global supply chains were in a mess. After decades of focus on global sourcing and successfully improvising efficiencies and driving down costs, COVID happened. And that shockwave continues to reverberate. The question is, did we push our luck, and was a shock like this inevitable, and the fallout avoidable?
"When I look at the work that we've done in supply chain over the last 20 or 25 years, we've done some really, really good work, and created very lean, efficient supply chains – almost ridiculously efficient. What I don't think we really considered along the way was are they resilient? Can they withstand a shock?" says Colehower.
"We became so fascinated with lean Six Sigma black belt, so on and so forth, that we lost sight of the fact that these things could take shocks and what are we going to do when that happens? I think that the unimaginable happened and the lean supply chains were not able to respond.
"It worries me, because of all that great work we did, I don't want it to go away. I don't want manufacturers to overreact and just drop offshore manufacturing and all the great things that we've done to return to domestic manufacturing and building up inventories. I just don't think that those are going to be beneficial in the long term."
Colehower believes that global supply chains will rebound but that executives are going to be looking beyond lean and also demanding resilience. Technology will provide more simulation and game theory to test resiliency, using digital twin tech to model and see what happens "when you throw a rock at it".
And that is often when organisations turn to UST, to solve their most complex problems.
"UST has a very good position in the market and very strong relationships, particularly with the IT organisation," says Colehower. "We take a bit of a different view on it and we build those relationships with the business.
"I'm talking to senior executives about the business strategy, about the business processes, and eventually what that leads us to is technology enablement. I have an IT organisation that I can turn to and build architecture and an environment that supports this strategy. That's what I consider to be a 360-degree view of our customers. We're not just looking at it through a strategy lens or a technology lens – were able to complete the whole picture."
Something perhaps unique to UST – and certainly one of the many reasons for the organisation having a loyal band of long-term clients – is that they go on an end-to-end journey with clients. UST does not just create the technology, it guides the organisation every step of the way and provides ongoing support.
"I think that's one of the reasons why UST has such long relationships with its customers, "says Colehower. "I think the average relationship is about 13 years with a client and there's a reason for that – it's because we're able to continue that level of nurturing and support and adding value to the business."
Operational planning
As well all know, you can't operate a global supply chain without proper planning. Colehower's approach is to address each problem by getting to know each client better – not just who they are, but who they want to be. He begins by discovering the core value proposition and then building around that as a cornerstone.
"The focus might be on transportation, it might be on manufacturing. At the end of the day, it requires one critical skill and that's listening – Being able to listen to your client, understand what they're saying, and then get to work on the problem solving," says Colehower.
More often than not, those problems have a common factor – visibility. Being able to see into your supply chain is one of the most important and significant benefits of the digital supply chain. Traditionally, Colehower admits that most customers, around 90%, are still at the stage where they only look one stage up or down. The reality in 2022 is that they need to be looking four, five, or even six tiers deep to have eyes on disruption.
"In the digital supply chain in tomorrow's world, I will actually be able to know if something happens long before it becomes a problem," says Colehower.
"If I'm moving perishable or valuable items long distances, for instance, now I have IoT devices that can track humidity, vibration, temperature and give me live feedback. I think visibility is probably the biggest thing that I'm looking forward to with digital transformation."
Talking of looking forward, Colehower relishes the opportunities that technology can and will bring to supply chains. Not only will the cost of technology continue to fall, but the adoption of cloud as a way of life will also be a game-changer for organisations. He says that this will speed up the research and development process and the ability to transform at pace, and really innovate on the technology.
"You know, like it or not, the situation that we're in right now is going to have a lasting impact on supply chain," concludes Colehower.
That is without a doubt, and it's reassuring to know that UST's talented tech teams are ready to solve the toughest problems in an industry that has never seemed sexier.