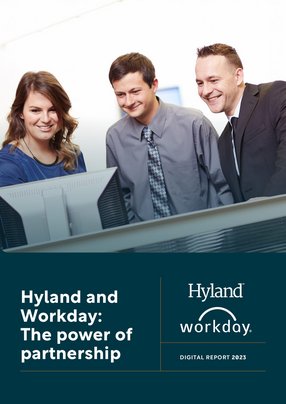 Hyland and Workday: The power of partnership
Complicated challenges in procurement and supply chain processes increasingly need smart and partnered solutions
With some businesses operating with multiple ERP, procurement, merchandising or warehouse systems that may not communicate intelligently with each other, it can create a complex set of problems that lead to wasted time, money and effort.
When financial management experts Workday and software solutions specialists Hyland first began working together in 2015, with different perspectives on such problems, it created an opportunity for a solution that can join disparate systems together and solve a wide range of issues. They set in motion a partnership that would result in the development of the Hyland Direct Spend Matching for Workday solution that provides any organisation that pays direct spend invoices with more efficiency, accuracy and visibility.
With different experts coming together, it was a collaboration primed to offer this product that would maximise the strengths of each other.

Digital collaboration
"The solution that Hyland offers is called Hyland Direct Spend Matching for Workday," says Danielle Simer, Product Manager at Hyland, whose background began in the marketing space, before transitioning into product management. "Hyland is acting as an intermediary or a bridge between your Workday ERP and your front-end procurement system. So, we've developed this with companies in mind who are generating purchase orders in a procurement system or some sort of third-party system that is not Workday, but they want to pay their vendors through Workday."
Sharon Schell is the Senior Director of Industry Strategy at Workday for Retail, Consumer Goods and Hospitality. She brings with her three decades of management and strategy experience from the retail and software industries, collaborating with Workday's customers and their partner ecosystem to solve for key business challenges in the industries.
"Companies with inefficient AP processes often lose opportunities to take advantage of early payment discounts," explains Schell, as she digs into her first-hand experience in retail. "So not leaving discounts on the table, controlling costs and finding cost efficiencies wherever we can are critical nowadays. Companies with these inefficient processes often lose opportunities to take advantage of these, adversely impacting, again, their cashflow and then obviously contributions to bottom line and overall margin."
It is the broad range of business experience in the two teams that helps the product deliver to the differing needs of clients and has helped to inject real-world reality into the product.
Don Dittmar is the Director of Industry and Product Strategy for Hyland Software, and his role takes in the strategic direction and roadmapping for all their industry solutions.
He began his career in finance, before moving into finance technology and then into the realm of product management. Dittmar is excited to see the evolution in content automation — from being an application to more of a service — over the last 20 years.
"The really exciting part about what we have with our partnership with Workday is that there's no more bounce rate for our customers," he said. "They aren't working in one application, going to another, and coming back. We're starting to share screen space to share a user experience where the content services that Hyland provides is less and less visible."
The benefits of a best-in-class partnership
It's these kinds of seamless solutions that excite the whole partnership, as it allows the realisation of benefits like performing three-way matches, to check if the order matches what was invoiced for and if it matches what was received. There are also other cashflow management solutions, such as an approval reporting feature that identifies received items that have not yet been invoiced.
"All of these benefits, from general AP automation and then this combined solution, really go a long way in terms of paying vendors on time, managing cashflow, keeping your CFO happy and getting rid of a lot of just extra paper that is floating around your office," Simer said.
Alongside the opportunities to optimise processes, Simer highlights the evolution of the last decade, with increased use of the cloud and the value of the data that's produced. It's these enhanced reporting capabilities that she finds interesting, as accounts payable data can be utilised to support the goals of the finance operation.


A simple solution to a complicated problem
The well-established links between the two companies has allowed rapid development of new solutions, thanks to the trust built up from years of collaboration. After signing as official partners in 2015, Hyland and Workday launched their first joint venture in 2017.
"Hyland has been in business since 1991, and we've helped thousands of customers automate their accounts payable processes. To be successful in this area, ERP integrations are key. We launched the initial version of AP automation for Workday in early 2017, and it's been one of our highest-growth products, which is a true testament to our partnership," Hyland's Dittmar said.
Workday saw Hyland as a key solution that complimented Workday's financial management capabilities by capturing and managing critical invoice details alongside customer AP records. The collaboration would then speed up processing and approval processes and increase visibility throughout the transaction.
"We really saw this as a win-win for our customers - two best in class solutions delivering differentiated value for our co-customers," said Schell from Workday.
The partners were able to jointly develop the solution and build out and solve the integration challenge, which was helped through the seven years of experience jointly developing integration points with both platforms. By working together at every stage, the quality of the data moving between the systems has been maintained.
"There are a lot of partnerships in the software industry ecosystem that are what I'll call sales or alliance partnerships," Dittmar said. "Those are great, and they form a good foundation, but what Hyland and Workday have really established is not only that go-to-market motion partnership, but a product-to-product alliance as well."
The depth of the collaboration is obvious, as both companies know that there is a level of trust to help each succeed long after initially going to market.
"We have a trust level where I know that if Sharon's organisation (Workday) is working with a particular customer, they are representing us, and vice versa, that we're representing Workday as a complete offer to that customer," Dittmar said. "So having that product-to-product connection is really critical for us and for the customer."
The challenge facing growing businesses
Growing businesses creating an increasingly large system footprint and disparate systems not communicating properly with each other creates what Schell from Workday describes simply as a "big data challenge." It's the type of problem that the two parties were looking to ultimately solve for their customers, whether it's instances of multiple ERPs, procurement, merchandising or warehouse systems.
"We conduct system architecture workshops where we're looking at a retailer's system footprint," Schell said. "Each company typically find ourselves solving for this interoperability and the issues resulting from that interplay between the systems, and this solution makes it more seamless for the end user."
When businesses grow and expand, invoice volume increases, as do all the associated challenges of managing that volume. There are expensive options like adding staff and complicated logistical problems like adding systems, which can increase the layers of complexity.
"When you get down to the process-level challenges that we see, our customers really do struggle in AP with manual data entry," Simer said. "You would think it was something so simple and easy to solve, but it really is a problem. If you have an invoice with multiple lines, multiple line items that need codes and to be matched against the purchase orders and entered into the ERP, that's a significant amount of work just for one sheet of paper. That's assuming that the invoice is one sheet. It's a small thing, but it really, really adds up."
Manually entering this kind of information can lead to errors finding their way into the ERP, and when those errors are identified, it adds extra layers of steps and corrections to get invoices paid. Simer adds that if you process tens to hundreds of thousands of invoices a month, these types of manual issues can add up, which emphasises the importance of having accounts payable automation systems to improve efficiency and accuracy.
With so many disparate systems in use, especially in retail and hospitality sectors, it's essential that any solution like the options presented by Hyland and Workday is flexible and adaptable.
Dittmar believes that's an area where Hyland's product platform really excels.
"It's extremely complex but can be managed through a set of logical rules," he said. "That allows enough flexibility from customer to customer or even retail system to retail system. Workday at one end is very fixed, but at the other end, there are multiple retail systems and, in some cases, even the same customer may have more than one retail system that they're using to generate different types of purchases."
He said it's essentially taking the way that the retail buyer wants to work, and the way the finance operation needs to record the transaction, and building a translation layer in between the different systems.
"Connecting those systems and reducing that friction from a data standpoint, from a technology standpoint, from a business process standpoint, from a stakeholder's visibility and insight to action on all of these pieces as well," Schell added.
The future of the partnership
The two companies expect their collaboration to produce continuous improvement and innovation.
"We are continuously evolving the product. Everyone is on the same version of Workday," Schell said. "With this partnership with Hyland, we're in sync all along due to this single version. We can innovate together, so as we deliver additional functionality in our financial solution that complements their portfolio, and we can collaborate directly with them accordingly."
It's the complementary relationship between the partners that's one of the greatest strengths of the end product, Dittmar said. He recalled a customer who praised the single user experience that helped them make a decision on both parties, which ultimately increases the pipelines of both companies.
"I think the really big differentiator is where we make it seamless to that end user that we are interoperating with and providing them a differentiated experience between two best-in-class solution providers and really helping them solve for a very complicated issue in a very streamlined, interactive, seamless way between the two solutions," Schell added.
With the varied experiences brought to the development table by the companies, there's genuine pride in knowing the results of the platform for the end users.
"Having lived on the customer side, it's exciting and it's rewarding for me in that I've lived that problem. I've lived the workarounds, I've lived the late nights when you're reconciling an inventory or something at the end of a quarter," Dittmar said. "Knowing not only the value we've created, but also what we've prevented, the headaches and the long nights, that it is rewarding to me."
Schell from Workday shares that feeling, having the experience from the perspective of the end user.
"As we do at Workday, we're going to leverage the most modern technology, whether it's AI and machine learning, and how we are bringing that intelligent automation to the process," she said. "We're bringing that visibility and making sure that we are making this process more efficient, and then freeing up time to have more value-add to be able to actually analyse the business and really make some of those critical decisions and adapt to the business and respond accordingly."
The power of the partnership between Hyland and Workday ultimately comes down to the experience of the end user and solving the problems they may have had before implementing the solution.
"If our solution can make someone's day-to-day job easier and it's easy to follow, it's easy to answer questions and just makes their life easier, that's what it's about for me," Hyland's Simer said. "That is what I am most proud of is relieving someone's headache who is going to be in the system every day."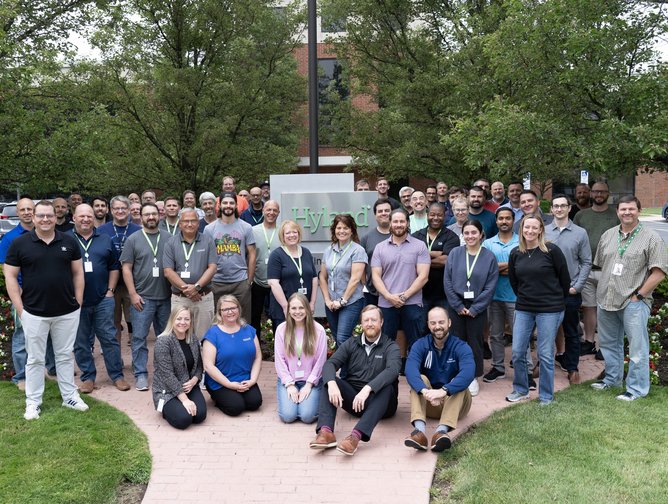 Team at Hyland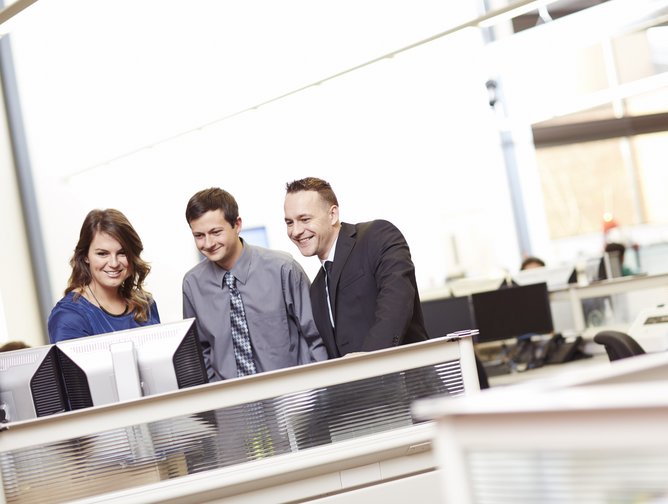 Hyland x Workday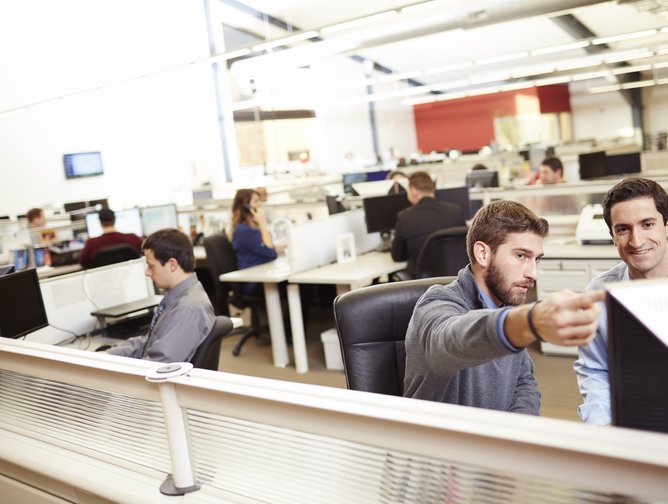 Hyland x Workday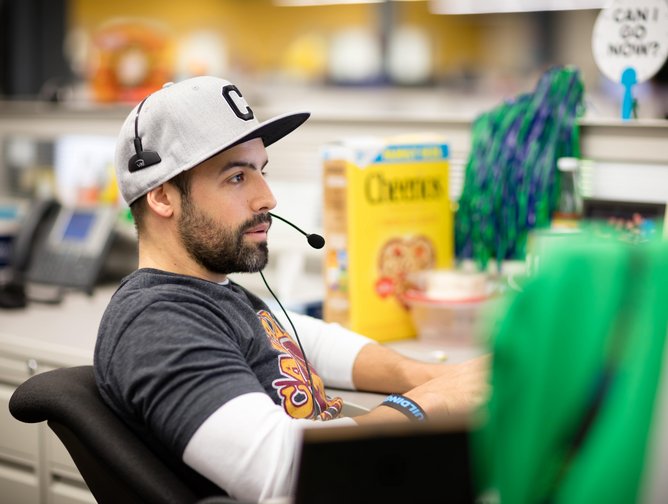 HR Planning at Workday