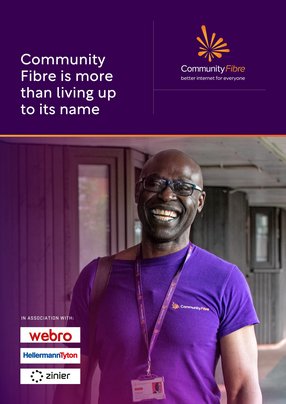 Community Fibre is more than living up to its name
Community Fibre strives for excellence both in the service it provides and the good it does through ESG initiatives
Many companies will claim ESG "is in our DNA", but how many can point to their company's name as evidence it behaves in a responsible and nurturing fashion?
Community Fibre can, and its community mindedness runs all the way down from its branding to the communities across London that it serves, by installing fibre-based broadband connections.
Unlike most providers, Community Fibre builds, owns and operates its own dedicated fibre-optic network. This means it does not have to rely on anyone else's cables, be it Openreach or any of the other major broadband players.
And where most broadband providers use a combination of fibre-optic cable connected to old copper phone-wires, running its open network means Community Fibre's network is fibre-only.
Fibre by name, fibre by nature – and the same goes for the 'community' portion of the company's proposition – all of which is great news for its customers across 29 London boroughs.
ESG element of Community Fibre is very strong
The ESG element of Community Fibre's business is strong, and, as Head of Supply Chain for the business, Mike Brooman is as heavily involved in helping the company deliver in this area as he is helping ensure its customers receive a great service.
"We've got a very strong ESG focus at Community Fibre," he says. "It's one of our company goals and one of the main reasons I wanted to work here.
"As Head of Supply Chain, it's my responsibility to make sure our supply chain matches and supports those ESG goals and purposes."
To this end, he is part of the company's Green Team, which is led by CEO Graeme Oxby. The Green Team helps the business focus both on short- and long-term projects designed to reduce its impact on the environment.
"My involvement in the Green Team is in supporting those who deliver these benefits, by ensuring they've got access to the products and services they need to deliver to the communities that we serve."
The company also has a Digital Ambassador Programme (DAP) as part of its strong line-up of ESG programmes. Under DAP, Community Fibre trains members of the community to become qualified 'digital ambassadors', who then go on to help residents in their community be more digitally empowered.
"Our ambassadors teach everything from online banking to basic internet security," says Brooman. "It helps prevent members of London's communities falling victim to the digital divide."
Digital Ambassador Programme is USP for Community Fibre
He adds: "DAP sets us apart from our competitors. It's definitely a USP. It not only supports our commitment to build a better broadband service for London but puts something back into the communities we're working in, and selling to."
The company's people-minded corporate ethos is also evident in its Community Connect Programme, through which it connects community centres to gigabit broadband for free. To date, 300 such centres have benefitted from this.
"We've got many more planned in the coming months," reveals Brooman. "That's 1GB Internet access available to everybody who uses those centres. It helps bring communities together in all sorts of ways – for training, entertainment, and social interaction. It's all about digital inclusion. It's a really good part of our mission to bring better broadband to all of London."
The scheme is advertised heavily by housing associations and local authorities, as well as by landlords and also on our website. You can go to the Community Connect part of the website and apply to have broadband provided to your community centre and everywhere in the area. Then we'll add you to the list, and we'll come and connect you.
Making huge strides on sustainability
Sustainability is also hugely important to Community Fibre. Evidence of this can be seen in the big strides the company has been making, with Brooman revealing that it has a batch of 20 fully electric vehicles arriving "very soon"
"We're well on our way towards moving to an electric fleet. They'll be replacing traditional diesel vans," Brooman says.
He admits that a barrier to a wider adoption of EVs is lack of infrastructure around charging, but this too is something Community Fibre is seeking to address.
Brooman says: "Community Fibre co-founder Tim Stranack is working with local authorities and landlords on a daily basis, seeking to install charging points around our network, for use by our engineers For us, it's vital that the infrastructure is in place to enable the charging of our vans during the working day."
Brooman says Community Fibre would like to make its entire fleet electric but that, currently, the limited range of such vehicles is a sticking point.
"Many of our engineers work and live in London, where you can't necessarily charge a van, because you might not have a driveway to charge it on. Infrastructure for EVs is going to take more than people having a private charging point on their driveway," he explains.
Brooman adds that, although currently unable to provide a fully electric fleet because of a lack of infrastructure, he believes the company will have made "a significant move" to making the majority of its fleet electric "within the next four years".
Moving from the 'community' element of his job to the 'fibre' part, Brooman emphasises that the company is facing serious supply challenges, just like everyone else.
Strong supplier network vital for Community Fibre
Asked what the main challenges are, Brooman says: "We've got the chip-set shortage, which is creating quite an issue for us. Because the big players are taking so much of the supply, we've had to be quite clever about the way that we're ordering. We've seen some lead times in excess of 60 weeks from some of our suppliers, where they were traditionally 12 to 26 weeks."
Plus, the company is almost doubling in size year-on-year, which is compounding these supply problems.
Brooman says: "We are enjoying exceptionally fast growth, so forecasting far in advance is obviously prone to errors, which means we have to be flexible and quick to react."
As such, strong relationships with Community Fibre's supply chain is vital.
"Furnishing suppliers with robust and accurate forecasts as early as we can is important. We try to get products onto a purchase order as soon as we can, to help offset some of the challenges that we're seeing. Purchase orders always trump forecasts," states Brooman.
Securing supply has meant Community Fibre, like so many other companies, has had to move from just-in-time inventory to a just-in-case model.
"We've been fortunate enough to be able to get products into the UK and into our warehouses as early as possible," says Brooman. "So, rather than running as lean as we'd like, we're having to get products in early and stack things high, just to make sure our customers are not let down."
Community Fibre is growing fast, yet so too is fibre broadband adoption, which brings further pressures to supply. In 2019 London alone, just 6% of homes had a broadband connection; today, Brooman believes around 65% of homes have access to a gigabit connection.
"This means the competition for products is very high," he says. "So we make sure to secure raw materials early, giving our manufacturers order forecasts as early as possible, in order to get products in."
Company training schemes ease struggle for labour
Another challenge is the huge demand in London for labour and subcontractors.
"Everyone is fishing from the same pond, so we work hard with our subcontractor partners to make sure we're a preferred customer. They're not only critical to us being able to deliver our fibre to the homes of Londoners, but also in helping us grow and keep pace with demand.
"To this end, Community Fibre is putting training programmes in place to encourage more people into the industry."
Community Fibre looks to engage with suppliers who share their values, both in terms of ESG but also, crucially, excellence. But how does it identify such suppliers, exactly?
"It's a tricky one," admits Brooman. "Our purpose is to provide Londoners with fast broadband at an affordable price, so it's really important our supply chain helps us achieve this."
As it expands its supply chain, the company communicates its story, culture, and purpose to suppliers.
"During any request-for-information process, we assess how closely they match our culture," says Brooman. "It's tricky assessing the culture of a company from a desk-based assessment, but we do all we can to qualify their claims during this process. Plus, we attend trade shows and engage with trade associations in order to widen our supply chain. This allows us to look at a much wider variety of suppliers and hopefully find those that match our values."
Brooman says its supply chain is focused on delivering customer excellence, stating that "they understand the importance of their role in this".
He adds: "They help us deliver excellence in a number of ways, such as subcontractors delivering high-quality assets that give our customers a fast connection."
Brooman reveals that the company's materials' suppliers "are always pushing the boundary of innovation" and that their goal is to "bring the best products to market for our customers".
Every supplier 'is an important cog in our wheel'
"Every supplier in our value chain is an important cog in the wheel, both in terms of the physical assets customers experience and also in helping us deliver post-installation support," Brooman asserts.
"Because of this, we've got the ability to quickly help customers who are struggling with connection issues by using state-of-the-art tech products. They're a brilliant addition to our supply chain. They all have a huge role to play."
Collaboration with suppliers is also absolutely key, according to Brooman, who reveals the company "has a strong collaborative relationship with the majority of our supply chain".
He adds: "We work very closely with our fibre-cable supplier, for example, to ensure they have got visibility on our forecasts, changing demand profiles and bill-of-materials changes. Their factories in Europe are aligned with our demand. They hold our stock and product in expectation of any kind of micro-variations of expected build forecasts."
This allows Community Fibre "to roll with the punches", so to speak.
He adds: "We also collaborate with our technical team and other departments internally to bring new, improved solutions to market."
By way of example, Brooman says the company recently made a decision to upgrade its fibre cable to the 'armoured' variety, which reduces the damage from customers accidentally vacuuming the cables or causing damage in other ways.
From its cables under Londoners' feet and training programmes to the community hubs across the capital that enjoy free broadband, Community Fibre is living up to its name in every conceivable way.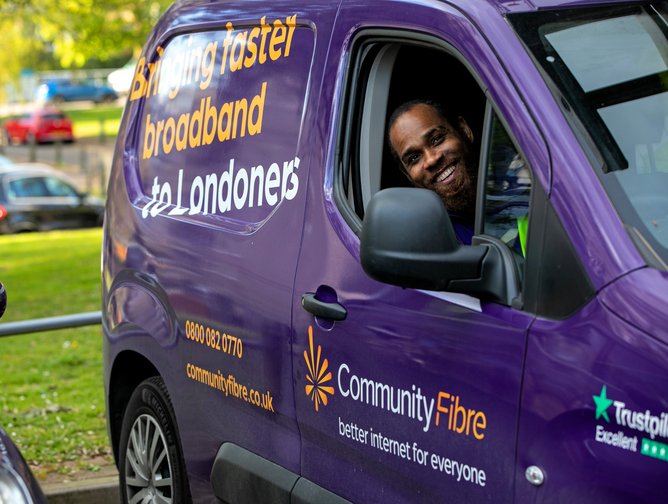 Community Fibre - Home instillation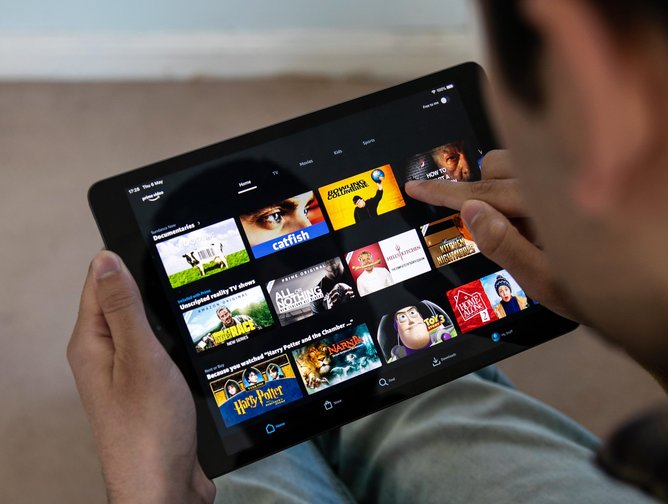 Community Fibre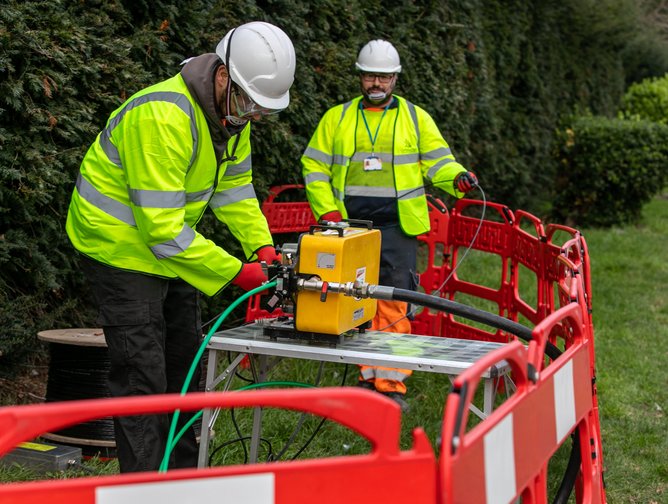 Community Fibre - Street instillation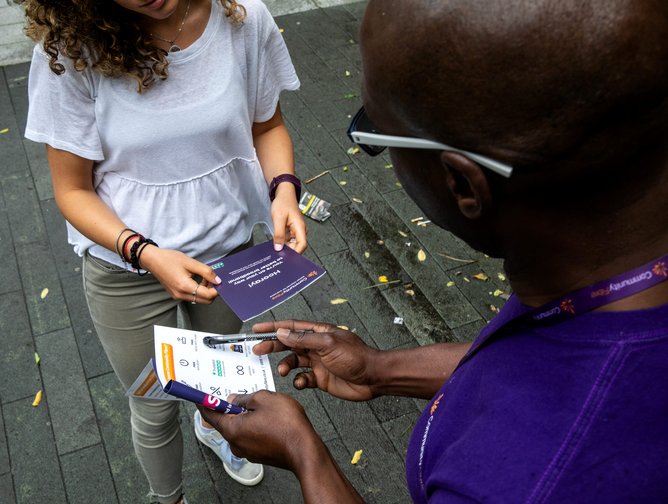 Community Fibre - Sales