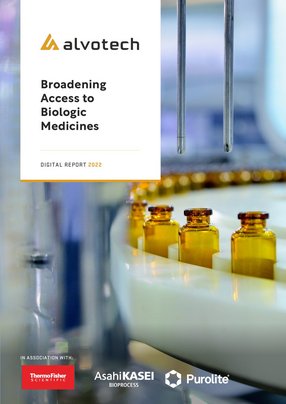 Alvotech goal is patient access to biological medicines
From insulin to vaccines & cancer therapies, biologic medicines have huge impact on healthcare. Alvotech's mission is to make such medicines more available
Most businesses have a mission, but not all missions are equal. Alvotech's mission is to improve patient lives through broadened access to biosimilars. The company was founded in Iceland in 2013 and it employs an integrated business model, from R&D through production. Alvotech is fully integrated and fully focused on biosimilars.
For the non-biochemists among us, let's turn to an expert to learn what a biosimilar is: Gerhard Helmerich, Head of Global Supply Chain at Alvotech. "To understand biosimilars you first have to understand biologic medicines. These are generally large, complex molecules that are produced through biotechnology in a living system, such as a microorganism, plant or animal cell." These medicines differ from small-molecule drugs, which are chemically synthesized. Examples of small molecule drugs include typical 'medicine cabinet' treatments, such as aspirin and paracetamol.
"Biosimilars are more difficult to characterize than small molecule drugs," says Helmerich, "because of inherent variations present in biological products." This natural variation is why it is not possible to create an exact copy, or a generic version, of a biologic, as is the case for small-molecule drugs. But what can be created is a highly similar version of a licensed biologic with no clinically meaningful differences in terms of safety and effectiveness from the reference product. Biosimilar drugs have a pivotal role to play in public health, as they offer additional treatment options that are typically more affordable than their branded counterparts. This is positive news for key therapeutic areas such as autoimmune diseases and cancer, which already have approved biosimilars on the market. Little wonder, then, that the global biosimilar market was valued at US$30bn in 2020, and that it is expected to grow to approximately US$80b over the next six years.
It's one thing for Alvotech to aim to improve patient lives through broadened access to biosimilars, but how exactly can the company achieve this? "By making sound, strategic decisions," explains Helmerich.
One such decision includes Alvotech's commercial strategy. Early in its life, Alvotech was debating if it should seek a global partner or go with 'local champions'. "Ultimately, we chose a local approach," says Helmerich. "Since that decision was made, we have partnered with top firms who are leaders in their markets. Being able to rely on the scale and expertise of our partners allows us to focus on what we do best - development and manufacturing."
Another important decision is Alvotech's differentiated portfolio. "Each market is unique and requires a different approach," says Helmerich. "We believe a company can differentiate through its portfolio strategy."
The third strategy has been to fully integrate, from R&D to manufacturing. To date, large pharmaceutical companies have dominated the biosimilar space in part because of their scale and capital. Alvotech is fully committed to biosimilars and has invested in a scale that it believes will be necessary for the next ten years of its life cycle. These three strategies give Alvotech the focus, scale and speed needed to achieve its mission.
It's been quite a journey for Alvotech since it was founded in Reykjavik, Iceland by current Chairman, Róbert Wessman. Alvotech isn't alone in its journey; Helmerich, too, has had an eventful and varied career. He first studied food chemistry at the Technical University of Munich, later also completing a PhD in chemistry there.
"I have been overseeing the global supply chain at Alvotech for almost a year now," says Helmerich. "I am responsible for supply logistics across multiple commercial and development products including site operations, warehouse activities, procurement, external supply operations, integrated business planning and life cycle management activities."
Beyond Alvotech, he has 17 years' experience in the pharmaceutical industry, most recently at Novartis Pharma in Basel, Switzerland. Although Alvotech is based in Iceland, Helmerich himself is in Zürich, and travels frequently to the company's headquarter in Reykjavik. "I enjoy it every time I go there," he says. "It's a beautiful country with wonderful people."
Helmerich says that in the year he has been with Alvotech he's witnessed "great leadership, energized teams and the passion of an entire organization working towards the same mission".
"I could feel how proud people are to work for Alvotech from day one," he adds, continuing: "We are passionate people, working to bring more affordable and accessible biologic medicines to patients around the world, and this purpose drives our daily work. We have a strong emphasis on excellence, collaboration and ingenuity."
Helmerich says he's also been impressed by how progressive and diverse Alvotech is.
"We work in a very diverse environment. It's been great seeing how inclusive the culture is. These characteristics will get us through any challenging times. I strongly believe diversity generates stronger strategy and better risk management, debates and outcomes."
It may have been a rewarding ten months for Helmerich, but it's also been turbulent, as it has for most businesses in biotech and beyond. "We've faced supply chain problems, just as every other pharmaceutical company has," says Helmerich.
"Manufacturing and distribution are perhaps the most obvious problems of the past two years, and most disruptions on materials and consumables have come with short notice." He adds: "Although the past two years have not been easy, we've taken this as an opportunity to rethink our ways of working and to increase our supply chain resilience. Unexpected delivery shortages gave us a clear view on the areas we needed to focus on."
Helmerich believes all problems end up being resolved in the same way - by people. "Everything always comes down to people in the end. We got through it because our people worked together to find the best way of collaborating with suppliers."
Among its suppliers are Thermo Fisher, Purolite and Asahi Kasei Bioprocess.
"They have been supporting us since the start of our journey and are key suppliers to Alvotech," says Helmerich. "Thermo Fisher supplies a variety of different materials and equipment, Purolite is one of our resin suppliers and Asahi Kasei delivers different kinds of filters."
"We are very thankful to have them on board, supporting our mission. All our partners go the extra mile to address the needs we have. They think out of the box, are very proactive and focused on continuous improvement." As well as supportive suppliers, Helmerich says he has an outstanding supply chain team, "eager to solve problems and meet challenges".
"I can say we are grateful for the pandemic experience because it's allowed us to strengthen our relationships with many key partners, who of course have also been facing their own challenges. Extraordinary commitment and support from both sides is what made the difference."
Although Alvotech has biosimilar candidates under development and regulatory review, so far it has none on the market. So, is its supply chain ready to swing into action when needed?
"Absolutely," says Helmerich. "Throughout 2021 we finalized the blueprint for our supply chain organization. We have a strong supplier network and are ready and excited to transition to the commercial phase."
The company's product pipeline contains several biosimilars aimed at treating a mix of autoimmune, oncology and inflammatory conditions. The most advanced asset in its pipeline is AVT02 - a proposed biosimilar for high-concentration adalimumab.
Adalimumab is an anti-TNF drug that is sold under the brand name Humira®. In December 2021, AVT02 was approved by the European Medicines Agency.
The company's other disclosed biosimilar candidates include additional targets in immunology, ophthalmology, oncology and bone disease, specifically Stelara® (ustekinumab) and Simponi®/Simponi ARIA® (golimumab), Eylea® (aflibercept) and Prolia®/Xgeva® (denosumab). "We have commercialization agreements with multiple regional partners and have plans to market our biosimilars in at least 90 countries," says Helmerich.
So, what about the future? Where will the company be in five years' time?
"Our vision is to build a leading global biopharmaceutical company," says Helmerich. "By then we will hopefully have multiple products on the market through our partnerships and will be closer to bringing a robust pipeline of affordable biosimilars to patients around the world."
Helmerich says Alvotech will continue to pursue its diverse pipeline of biosimilar programs. "Our integrated platform and network of world-class partners will allow us to reach patients with more affordable biosimilars, while positively impacting the global healthcare ecosystem." He says that when the company succeeds in increasing access to these important biologic medicines for patients "then all our efforts will have been worth it".