Top 10 supply_chain_digital
Top 10: Social Media Sites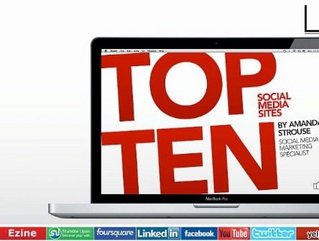 Before you read this, check out the upper-right hand corner of this page to view this article in our digital reader. Trust us, it's way coo...
Before you read this, check out the upper-right hand corner of this page to view this article in our digital reader. Trust us, it's way cooler!
Written by Amanda Strouse, Social Media Marketing Specialist
Follow Amanda on Twitter @AmandaAttack
10.) Foursquare
Practically all social media sites can be accessed on a smart phone. Foursquare has an app and a web site that allows consumers to "check in" to a business, therefore spreading the word via Foursquare, Twitter and Facebook where they are and what services/products they are buying. That means free publicity for you!
9.) Flickr
It's a visual world, and since a picture is worth a thousand words, why don't you explain your business and products with images? Not only is posting images fun and makes your company seem more personable, it can (more importantly) help your SMO and SEO strategies.
8.) StumbleUpon
This link sharing web site can help you promote your brand. Share a funny picture, informative blog post, a press release about a new product and anything else online that is interesting. With more than 15 million members, StumbleUpon is a phenomenal site to help your search engine marketing (SEM) efforts.
7.) Yahoo! Answers
The way to effectively brand yourself on social media sites and gain a loyal following is by proving to the world that you are an expert in your field. Make a yahoo account, go on to Yahoo! Answers and answer questions that relate to your business and expertise. That will increase trust and web site visits.
6.) Ezine
If you have a writer on staff, utilize Ezine to its full potential. Get a key-word rich article written about your business's expertise (but careful, Ezine has specific instructions you must follow) and include embedded links. This will help your image, your site's SEO and drive up web site visitors. Best part is this is free!
5.) Yelp
Transparency is crucial in today's market. Yelp is a web site where consumers are free to dish on all types of businesses. But beware - these critics can be tough! Customers will post pictures and blunt reviews, so pay attention to what they're saying. Fix any customer problems and correct any inaccuracies ASAP.
4.) Twitter
If you're not giving Twitter your attention because your competition isn't on it, then you are gravely mistaken. Grab your audience's attention on Twitter before your competition does! For the past five years, Twitter has skyrocketed in popularity and usage for all types of people and businesses. Get an account now and send out timely tweets that are interesting to your audience.
3.) YouTube
This video sharing web site is the second largest search engine in the U.S., next to Google. If that isn't a good enough reason for you to use YouTube, then you should also know that these videos can be optimized for SEO and SMO. Make fun videos describing DIY tips, product details, behind-the-scenes and happy customer testimonials.
2.) LinkedIn
Four months ago, LinkedIn surpassed MySpace as the second most popular social network. This professional networking site is for people and businesses alike. Businesses can create a company profile that can include information about products/services. Ask and answer professional questions, seek out new employees or build your community by making a group page.
1.) Facebook
Facebook has it all and that's why it's the most important social media site for your business today. Not only is this the most popular social network, but it also gives you the most return out of the time you put into it. Facebook lets businesses: design custom tabs to share any amount of any type of information you want, post and organize pictures, write timely updates for your audience, respond to customers or potential customers' comments, post links to interesting news articles or videos, make polls, have customers post reviews, hold contests, post links to your most recent blog posts and feature your other social networking accounts.  Most importantly to traditional marketers, Facebook lets you advertise on Facebook. It's PPC, it's cheap, it's incredibly easy and you can choose to display your ads only to a hyper-focused group of people specifically chosen by you. If you only have the resources to focus on one social media site, Facebook is it.