Top 10 supply_chain_digital
Top 10 best Supply Chain Masters' courses worldwide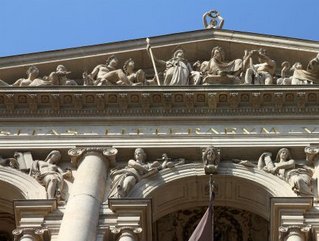 By Ella Copeland 10. Purdue University, MBA in Global Supply Chain Management (U.S.A) Based at Purdue U...
By Ella Copeland
10. Purdue University, MBA in Global Supply Chain Management (U.S.A)
Based at Purdue University, a major research university located in Lafayette, Indiana, this full time, year long program builds upon courses which develop contextual knowledge and problem solving skills to provide a unique global internship experience as a member of an international team. Conducted in collaboration with Universidad Popular Autónoma del Estado de Puebla (UPAEP), Indian Institute of Management Udaipur in India, and Tianjin University in China, the program offer students' education in a truly global setting. 
9. University of British Columbia, MSc in Business Administration, Transportation and Logistics (Canada)
This course at the prestigious SAUDER School of Business, the MSc program in Transportation and Logistics aims to provide students with analytical skills and in-depth knowledge of particular aspects of transportation and logistics.Programs are designed with an advisor or the program coordinator to meet the particular interests of individual students and to equip the students with research capability for completing an excellent thesis.
8. Maastricht University MSc Global Supply Chain Management and Change (Netherlands)
The Global Supply Chain Management and Change programmehas been developed to meet the growing demand for supply chain experts who understand the importance of innovation in business success. The programme is taught in Venlo, an entrepreneurial city about 80km from Maastricht, which offers students the opportunity to put their knowledge into practice in the region's industrial heart.
7. HEC Montreal - Business School / University of Montreal MSc En Logistique (Canada)
This degree aims 'to train managers with an integrated view of various aspects of international logistics and a thorough knowledge of the main tools for decision support used in the field'. Taught in both French and English (Memory Path Only), the university claims its graduates will work as logistics specialists for large manufacturing, distribution or retail, or as analysts from consulting companies and logistics service providers.
6. ESSEC Business School Advanced Master's Degree in Logistics and Supply Chain Management (France)
This Advanced Master prepares for the professional BASICS of Supply Chain Management certification granted by the American Production and Inventory Control Society (APICS) Taught in French, the program aims for its Graduates to quickly enter professional life, working in the fields of industry, health, consumer, mass distribution, consulting and audit defence.
5. Università Bocconi: Master universitario Economia e Management dei trasporti, della logistica e delle infrastrutture
Taught in Italian only, the Master's degree in Economics and Management of Transport, Logistics and Infrastructure (MEMIT) at Bocconi is a first-level university master of the 12 months that aims to develop the ability to understand and manage the various elements of the transport system, logistics and infrastructure, through an interdisciplinary and intermodal.
4. Copenhagen Business School (CBS) MSc in Economics & Business Administration - Supply Chain Management
A two-year master's programme that is divided into 4 semesters, Copenhagen Business School aims to provide students with an understanding of the core concepts, theories and models for strategically designing, managing and controlling global supply chains. Graduates will learn to plan and optimsize supply chain operations, but also get the competencies of developing global supply networks and supplier relations.
3. Erasmus University Rotterdam MSc in Supply Chain Management
This one year programme reflects Rotterdam's position as the largest commercial port in Europe and is aimed at recent bachelor graduates with a degree in business, economics or engineering. Previous professional experience is not required, but you do need the ambition to acquire more in-depth knowledge and practical understanding of supply chain management.
2. BEM - KEDGE Business School ISLI - MS Global Supply Chain Management
The Institute for Supply Chain Excellence (ISLI) was founded in 1984 to satisfy a demand from international professional associations. Created at the initiative of several top multinational companies, the MSc Global Supply Chain Management programme is aimed at high-potential, multicultural managers.Companies come to Institute for Supply Chain Excellence to help them make the transition into the new age of business management with supply chains that cross borders, continents and oceans. 
1. WU (Vienna University of Economics and Business) Master of Science in Supply Chain Management
The Master of Science in Supply Chain Management is unique, because it offers not only a thorough education in relevant theories and state-of-the-art methods and techniques, but also aims to provide a transdisciplinary and integrated view for gaining a deeper understanding of supply chain related decision problems in a performance perspective. Such decision problems in supply chains will be considered from the view of different types of focal companies, such as manufacturers/suppliers, logistics service providers and retailers.
Boasting a number of close corporate connections with representatives from Volvo Austria, Ernst & Young SAP Austria and the Institut für Logistik GmbH, the course is unique in the diversity of its focus, which looks at both profit and non-profit environments. Focusing on the analysis, design, management and operation of supply chains in manufacturing and professional service industries, the course covers a broad definition of supply chain management (SCM) techniques and supply chain problems.
About the Rankings
Eduniversal is the only ranking which evaluates the programs of Business Schools and not the institutions, through the approach by sector and the market criteria only.
Concerned with rigidity and legitimacy, the Eduniversal Evaluation System has defined the following Methodology to rank the Best Masters worldwide, according to three principles:
·         The reputation of the program,
·         The salary of the 1st employment
·         The satisfaction of the students