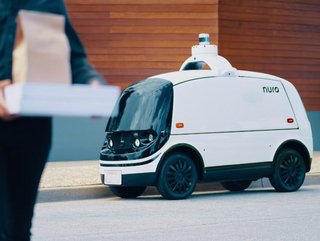 Nuro's R2 might look like a giant toaster on wheels, but self-driving delivery robots like this are already operating on public roads in the US, and use the same location technology that is transforming warehouses and shipping.
Autonomous trucking is already making inroads into logistics but its adoption at scale will depend on early adopters working together with AV tech firms
In coming years, autonomous vehicles (AV) are likely to revolutionise the supply chain industry in many ways. They can be used for last-mile logistics, to reduce delivery times and costs, while also improving delivery accuracy.
Autonomous vehicles can be used over longer distances in logistics, to transport goods between locations, reducing the need for human drivers and reducing costs.
In warehousing autonomous vehicles are also becoming more common, so reducing the need for labour – which is in short supply – and also improving efficiency.
AV technology is still in its infancy, but here are 10 businesses that are either implementing AV solutions in their supply chain, or who are developing the hardware and software technology needed to underpin its deployment on a wider scale.
Autonomous vehicles in supply chain: Uber Freight
Uber Freight's partnership with Volvo Autonomous Solutions (VAS) is a milestone in the kind of autonomous haulage that will help cool overheated supply chains, with VAS offering autonomous freight capacity to Uber Freight shippers on select routes in Texas initially, but then later on further US routes. Uber Freight is one of the first companies to pilot VAS's hub-to-hub autonomous offering. Via the Uber Freight platform, shippers can access more-efficient ways to move freight.
Autonomous vehicles in supply chain: Torc Robotics
Torc Robotics, an independent subsidiary of Daimler Truck, is an American autonomous truck company headquartered in Virginia, and with operations in New Mexico, Texas; and Stuttgart, Germany. It is responsible for the commercialisation of Level four autonomous systems that will be offered to its trucking customers.
To handle the scale and speed needed for the data transfer, storage, and computational capacity involved in autonomous trucking, Torc Robotics recently selected Amazon Web Services as its cloud provider, in readiness to deploy its fleet of next-generation self-driving test trucks in New Mexico and Virginia.

Autonomous vehicles in supply chain: Waymo
Waymo – formerly known as the Google Self-Driving Car Project – is an American autonomous driving technology company headquartered in California. It operates commercial self-driving taxi services in Phoenix, Arizona and San Francisco. In October 2020, the company expanded the service to the public, and at that time was the only self-driving commercial service to operate without safety backup drivers in the vehicle.
Global logistics company CH Robinson is now partnering with Waymo to advance the development of autonomous trucking for logistics and supply chain. The companies will combine Waymo's driving technology, Waymo Driver, with CH Robinson's logistics technology platform, Navisphere.

Autonomous vehicles in supply chain: Einride
Einride, the Swedish autonomous trucking startup, brands itself as being 'the future of freight'. Recently it announced the next generation of its groundbreaking Pod, making it commercially available on a global scale for the first time. In 2020 the company became the first in the world to drive a fully autonomous and electric heavy transport vehicle on a public road, and continues to test and operate Pods at select customer sites in Sweden.
Now, using Einrid's intelligent freight mobility platform, Autonomous Electric Transport, businesses can begin using autonomous solutions to ship more sustainably and cost effectively.
Autonomous vehicles in supply chain: UPS
US-based logistics giant UPS confirmed recently that its venture capital arm, UPS Ventures, had invested in self-driving driving technology firm, TuSimple.
Both companies are trialling autonomous tractor-trailers on a route in Arizona to determine whether such vehicles can enhance the service and efficiency of the UPS network by using Level 4 autonomous trucking within its network.
UPS says that, while it recognises that fully autonomous, driverless vehicles still "have development and regulatory work ahead" it is "excited by the advances in braking and other technologies that companies like TuSimple is mastering".
Autonomous vehicles in supply chain: Nuro
Nuro is an American robotics company based in California. It was founded by two ex-Google engineers, Jiajun Zhuand Dave Ferguson. The R2 is the company's second-generation vehicle, and has been granted a special exemption from US Federal safety requirements, the first autonomous vehicle to achieve this. This gives Nuro permission to produce and test autonomous vehicles for commercial uses.
The R2 might look like a giant toaster on wheels, but self-driving delivery robots like this are already operating on public roads in the US, and use the same location technology that is transforming warehouses and shipping.
Autonomous vehicles in supply chain: Walmart
US retail giant Walmart has begun using fully driverless trucking in its online grocery business, aiming to increase capacity and reduce inefficiencies. Working with Silicon Valley start-up Gatik, the company recently ran trials with two autonomous box trucks without a safety driver on a daily seven-mile loop daily.
The Gatik trucks are loaded with online grocery orders from a Walmart 'dark store' fulfilment centre ('dark' because it is fully automated and so there is no need for lighting). Orders are taken to a nearby Walmart Neighbourhood Market grocery store in Arkansas, where Walmart is headquartered.
Autonomous vehicles in supply chain: FedEx
FedEx recently ran a trial of autonomous vehicles in its last-mile logistics process, with partner Nuro, including multi-stop and appointment deliveries.
The US logistics firm is continuing to explore a variety of on-road use cases for autonomous fleets, including multi-stop and appointment-based deliveries, which goes beyond more traditional applications of the technology in single-route movement of goods from A-B.
The exponential growth in ecommerce over recent years is spurring its broader experimentation in autonomy solutions, the company says.
Autonomous vehicles in supply chain: NVIDIA
NVIDIA – once better known for its computer graphics microprocessors – is now helping to power the autonomous vehicle revolution. Autonomous vehicles require massive computational power and large-scale production software expertise, which is why NVIDIA has built an end-to-end platform for the transportation industry that enables deployment via live updates.
The open source NVIDIA Drive SDK gives developers the building blocks and algorithmic stacks needed to build and deploy a variety of AV applications, including perception, localisation and mapping, planning and control, driver monitoring, and natural language processing.
Autonomous vehicles in supply chain: Amazon
The Amazon ecosystem will surely one day involve autonomous long-haul trucking and last-mile delivery to its customers. Amazon has been largely tight-lipped about its plans, but analysts believe as it automates its delivery systems, it will one day challenge companies such as FedEx and the US Postal Service for dominance in the third-party package delivery market.
Amazon's Alexa virtual assistant is touted as being the likely interface between AVs and a larger app-store ecosystem that extends to smart homes. AWS Cloud, meanwhile, could host the storage and data that will be generated by connected AVs.