Walmart announces "game changer" warehouse robotics solution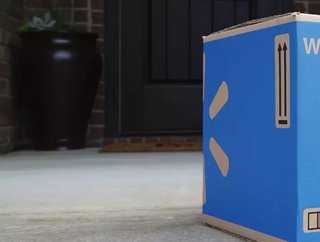 Walmart partners with Symbotic to outfit more than half the retailer's DCs with new robotics and supply chain automation system
Walmart is outfitting more than half of its US regional distribution centres with a new supply chain robotics and automation solution. 
The US retail giant first piloted the scheme back in 2017, partnering with consumer goods supply chain automation firm Symbotic on a trial run at its Brooksville, Florida distribution centre (DC). The pair have since tailored the solution for broader application, and will begin rolling out across 25 of Walmart's 42 DCs in a multi-year project. 
Symbotics' integrated system deploys a fleet of fully autonomous robots in combination with proprietary software to increase efficiency and warehouse capacity. The system also uses high-speed palletising robotics to package freight to be aisle-ready, increasing efficiency upon delivery by reducing the time it takes unload, sort, and stock freight in Walmart stores. 
Walmart's Automation a "Gamer Changer"
Joe Metzger, Executive Vice President of Supply Chain Operations at Walmart US called the programme a "game changer" that "will fundamentally alter how products get to stores".
"The brand-new technology system works to sort, store, retrieve and pack freight onto pallets," he said. "We're using automation to revolutionise intake, increase accuracy and change how freight is handled at our regional distribution centres." 
"There may be no way to solve all the complexities of a global supply chain, but we plan to keep changing the game as we use technology to transform the way we work and lead our business into the future," Metzger added. 
The automation effort is just part of Walmart's investment in the future of retail's dramatic shift to omnichannel. Changing consumer habits and external supply chain pressures mean retailers need to be leaner and more agile, as customers expect to shop across in-store, home delivery and click-and-collect. In the retailer's Q1 earnings call, Brett Biggs, Walmart's Executive Vice President and Chief Financial Officer, said ecommerce sales grew 37%, adding: "The omni strategy continues to resonate as customers utilise all the shopping options we offer and we continue to expand pickup and delivery capacity from stores." 
What is Symbotic? 
Founded in 2007 and headquartered in Massachusetts, US, Symbotic is a supply chain robotics and automation company. It specialises in advanced robotics, material handling solutions, automated storage and retrieval systems, automatic palletising and SCM, tailored to manufacturers, distributors and retailers. Alongside Walmart, Symbotic has tested its solutions at US big box retailer Target. 
Rick Cohen, Chief Executive Officer, Symbotic, has big plans for the future of the company. 
"There is no greater validation of our efforts to use technology to reimagine the warehouse and supply chain than our work with Walmart," he said. "Working with customers like Walmart has enabled us to develop this total solution and with this trust we are now positioned to develop Symbotic-powered warehouses around the country for years to come."