Slync – changing the supply chain paradigm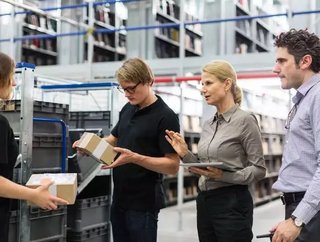 Supply Chain Digital speaks with Chris Kirchner, CEO of supply chain collaboration platform Slync, to get the lowdown on the start-up that is making its...
Supply Chain Digital speaks with Chris Kirchner, CEO of supply chain collaboration platform Slync, to get the lowdown on the start-up that is making its mark all over the world.
As so often seems the case, it was exasperation that acted as the catalyst for a company – in this case Slync – to be conceived. Chris Kirchner was the Senior VP of Sales & Marketing for a label converter supplying several large automotive and manufacturing businesses in Asia, meaning a lot of product was being shipped into locations as far afield as Cebu, Hong Kong and Shenzhen.
It was a source of constant annoyance, says Kirchner. "I became really frustrated with some of the software that we had to use. We were using eight different systems to enable our customers to buy from us, because we had to make sure it worked with their ERP or procurement software," he recalls. "Then when we actually shipped the product, dealing with customs and freight forwarders was extremely arduous and challenging."
The experience motivated Kirchner to scour the market for better software solutions, only to find there were none. He remembers thinking: "Okay, somebody needs to do something here", and adds: "I've always had a tendency towards entrepreneurship, so I thought 'I'm going to build it' – but I'm not a software guy."
He turned to Raj Patel, who at the time was a Senior Director, Einstein AI for Saleforce, with whom he had implemented the Einstein AI technology initiative for his previous employer. "I gave him a call to ask if he could recommend anybody who would want to start a software company and he called me back a few days later and said, 'you know what? This is something I've been thinking about myself – let's do it'."
The duo employed an engineer and spent last summer talking to supply chain leaders; picking their brains about the challenges and opportunities they faced in their daily operations and asking what they would like to see built into a software solution. They followed up by building the software and joining an SAP incubator.
Kircher says that the company has gone from 'zero to 100' very quickly since, with expansion into Europe, Latin America and Asia. Specifically, Slync's platform integrates information and data from a host of sources – email, Excel, legacy systems, partner programmes, internal IT systems – and offers companies better visibility of their data, AI driven insights, automated workflows, and 'exception management' tools.
The mention of email and Excel may sound like an overly basic starting point, but for all the talk of next-generation technology, Kirchner says that the majority of companies are attempting to work from the most rudimentary business systems.
"The media hype is huge, but the reality is that we're a long way from blockchain and the like being used in a widespread manner – companies might say differently but it's just not true. What we've seen with our customers is that their operating system of record for most businesses is Microsoft Excel, which means that their needs from a software point of view are much lower than the latest and greatest cutting-edge technology.
"So, we've shifted our focus slightly: our starting point is to get all of this information out of spreadsheets and email, so that multiple companies or even separate business units within a company can truly collaborate in a far more efficient manner. We've gained a huge amount of traction in this space, which has nothing to do with technologies like blockchain."
Once data streams are amalgamated and digitised, Slync's platform uses predictive analytics and AI to produce predictive ETAs and exceptions using data history, and information such as trade lane trends.
"We're really flipping companies on their heads by using predictive analytics or using AI to generate workflows," says Kirchner. "Companies are able to see if target shipment dates are acceptable – a day either side of a date is okay, but not anything more than that – so it is enabling them to act a lot faster and react if they see a problem looming. That sort of capability, as well as things like streamlining manual workflows within warehouses, has become a real sweet spot for us and that's where we believe the future of collaboration is."
The needs of business, says Kirchner, are changing at breakneck speed, driven by companies like Amazon pushing the envelope when it comes to fulfilment times. "That brings with it a pressure that has sparked a real appetite for change, and I believe that we're going to see some incredible innovation in this space over the next five years."
Asked what technology is going to have the biggest impact over that timeframe, Kircher doesn't miss a beat: "AI. It's AI that's going to be the leading technology, because it is going to drive Robotic Process Automation, general workflow and digitisation.
"IoT certainly has a place, but it can create date for data's sake, and the last thing companies need more of is data. It's a lot more important that companies use the data they already have in a more effective and efficient way, a way that helps them make informed decisions. That's where AI comes into its own.
"In most cases, AI isn't going to replace humans; it's going to make them more efficient. Instead of duplicating tasks and assigning employees with menial tasks, AI will free them up to perform more valuable tasks. We know that AI can be utilised to perform some baseline tasks in 10 minutes, which 10 years ago would take a human two hours."
Kirchner cites the example of a customer that has cut a two-hour administrative process around shipping to just three to four minutes, a figure he admits he first thought must be an error.
"We've run pilots on this and the efficiencies you can create when you leverage software effectively in a paper-based environment are really remarkable. Based on projections and business cases, we can save this company nine digits a year, which is a very significant number for a freight forwarder – it's a 20% increase in their income."
With his focus very much on the next stage of Slync's development, Kirchner recently added two high-profile figures to his executive team in the form of Samuel Israel, the former regional CEO of DHL Global Forwarding, and Nikos Papageorgiou, a supply chain digitisation and transformation expert from Deloitte.
Israel was appointed to the position of Global Logistics Leader, while Papageorgiou was been named Vice President of Customer Success.
"I'm firmly of the adage of never being the smartest guy in the room, so having a guy like Samuel at Slync is invaluable. He'll probably kill me for saying this but he's been in this business longer than I've been alive! He's been a c-level executive for some of the biggest names in freight forwarding.
"Having them on board is a privilege for me and helps us deliver services that our customers need, which is what it's all about. I think it speaks to our technology and what we are trying to do as a business that we are an attractive proposition for these people, who all want to dedicate their time and talents to our mission."