SAP Whitepaper: The Power of Intelligent Products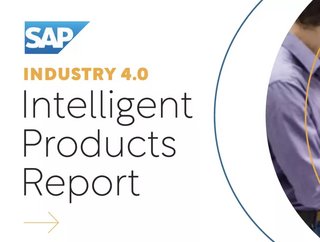 Explore the benefits to manufacturing efficiency, innovation and customer experience in our whitepaper on SAP's Industry 4.0 Intelligent Products strategy
Intelligent Products is a core pillar in SAP's Industry 4.0 strategy, harnessing data and emerging manufacturing technology to produce goods with enhance benefits for both businesses and consumers. 
In a whitepaper produced in partnership between SAP and BizClik Media Group, SAP's Keith Zobott, Global Vice President of Digital Products and Projects, discusses the underlying concepts behind these custom and connected products. 
The whitepaper explores what is driving the move towards products that are intelligent and customisable, how they empower manufacturers to drive new efficiencies and innovation, and how SAP is guiding businesses through their transformation. 
"We know that consumers now expect every product they buy to be delivered their way: in their colours and with their chosen combination of capabilities," Zobott says. 
"We already see the need for Intelligent Products in a lot of machinery today, whether it's industrial machinery, or aircraft and automotive machinery." 

Characteristics of Intelligent Products
- Ability to adapt to their environment or use case 
- Ability to minimise maintenance costs, primarily in vehicles and industrial application
- Ability to be aesthetically customised, most often in consumer products 
Kickstart Your Intelligent Product Transformation with SAP 
The SAP Intelligent Products whitepaper also delves into how organisations can kickstart or accelerate their intelligent products transformation journey, a project that Zobott admits can quickly become "overwhelming" if undertaken without the proper guidance. 
"Many companies are now looking at Intelligent Products and how SAP can help them reach their business goals," he explains. "They are especially interested in our digital thread concept." 
"These are expensive investments, they are hard projects to successfully accomplish, and they can take anywhere from 18 months to five years depending on how comprehensive they are," Zobott adds. "At SAP we're delivering packages that allow customers to access rapid start capabilities… We're creating those on-ramps to make it easy for our customer to try out these capabilities."
To read the full report, including insight on Intelligent Products, Intelligent Assets, Intelligent Factories, Empowered People, and exclusive insight from Dominik Metzger, the lead on SAP's Industry 4.0 programme, CLICK HERE