Interview: Tim Heydon of Shenandoah Growers, on revolutionising modern farming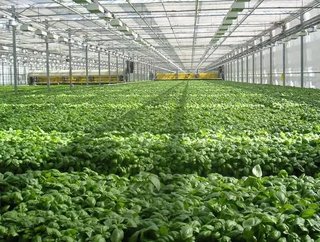 Climate change is without doubt one of the biggest issues facing global agriculture right now and in the years to come, and although there is no one-siz...
Climate change is without doubt one of the biggest issues facing global agriculture right now and in the years to come, and although there is no one-size-fits-all answer, some crop growers will be developing techniques which they hope can help fight global warming and its effects.
One such company is Shenandoah Growers, a certified organic grower of fresh flavor products using cutting-edge indoor farming technology. The company is the United States' market leader for fresh herbs.
The company was started in Harrisonburg, Virginia, by Mike Sarko and Ken Koehn (along with Ken's wife Diane) back in 1989 and operated at a local level for a number of years before Ken sadly passed away in the mid-1990s. Soon after, current CEO Tim Heydon joined Shenandoah Growers as part of a student project while studying his MBA at the nearby James Madison University. 
Tim describes himself as "passionate about healthy, organic eating" and reached a deal to buy the company from Mike in 1998. Since then it has grown from having 20 employees to employing over 1,200 people, operating at 14 locations across 11 states. More than that, the company has always strived to innovate and learn from its mistakes and now has a crop yield that is 25% better as a result of developing state-of-the-art techniques, which break down the production process into different stages, from nursery to maturation, to safeguard quality and reduce waste.
Shenandoah Growers' whole operation is also based around a sustainability platform which recycles rainwater and allows it to create its own nitrogen, thanks to proprietary techniques. Heydon says the root of such innovation was simply by learning from mistakes.
He explains: "The innovation came from learning by looking at the history of the company and where we've had the greatest problems and challenges, and really thinking outside of the box about how we can improve that.
"We run a whole gambit of different production systems: we have field production where we're growing in organic fields; we have low-tech greenhouses where maybe we just have a plastic greenhouse covering a field. We have hi-tech glass greenhouses, which offer a much higher level of climate control and have organic grow systems to handle the plants inside the greenhouse. We have fully-controlled, indoor, LED grow rooms. 
"We have all the different tools at our disposal to grow our products throughout the year, and it's really a matter of using the best tool in the best situation."
Shenandoah Growers' system and process is unique to the company and Heydon argues that each part is as vital as the next to delivering high-quality on what is a highly-perishable line of products.
He says: "Our supermarket customers and the consumers demand a product on the shelves 365 days a year, regardless of what's happening outside – so the more we can do to control the variables of growing, the better job we can do in supplying and ensuring there is a good, fresh product on the shelf.
"There are various ways that we control our process to allow us to do that. Firstly, we make our own organic nutrients and we do that in a sustainable way. What we do is capture rainwater off the roof surfaces of our facilities and then we use it to irrigate all of our greenhouses and controlled LED rooms. 
"Then we use a sustainable method to naturally make organic nitrogen. It's a proprietary recipe that we have and it makes our LED grow rooms unique in that we have a sustainable source of organic nutrients that we then pump through the rooms to the plants. 
"We irrigate the plants so that they uptake what they need and then drain back in a closed loop system and recycle that rainwater and nutrients, so it's extremely efficient in terms of water conservation and water usage, and compared to outdoor farming it's a dramatically lower water requirement that we need to make things grow."
SEE ALSO:
Heydon would not elaborate on how the nitrogen production happens, saying that it is 'probably the biggest trade secret' the company keeps, although he did hint that it was basically nature's own nitrogen cycle happening within the company's own system. But that's not the only area where Shenandoah is using science to its own advantage.
Heydon continues: "We have a proprietary soil recipe that we use. There is organic biological activity in our soil so that the plants are gaining nutrients from the soil and that's a combination of the organic fertilizer and the soil that we're able to grow in.
"The next piece in the jigsaw is the climate. Through a lot of that research and development, and innovation, we've worked out the formula climate-wise for all of our crops, so we're able to keep the LED grow rooms at the constant and perfect climate that the plants need and that helps to make them strong. That is also a contributing factor to the water conservation because if the climate and the temperature and the humidity is right in the room, then the plants aren't as stressed and aren't using as much water.
"Finally, there is the mechanical element. Our cart system is our own design and we have a patent pending on that. It was designed to suit our process and it's what we thought would work best to move the products around within our facilities and ensure the most efficient use of space. 
"It's very user-friendly and literally works just like a docking station, with the cart sliding right into the grow stall. The system works very well for us and it's in commercial use. We're selling significant quantities out of it at a good margin. It's viable, it's working well and as a result we're replicating it. We'll continue building them at all of our sites across the country."
The business's success comes as no surprise given the effort that has been put into technological development and innovation; all to benefit the product and increase efficiency. Breaking up the production cycle, in particular, has allowed the company to move from a horizontal to a vertical plane and that's increased capacity at each site by 50%.
With that though, comes some other additional challenges. Shenandoah Growers has also had to adapt its supply chain to deal with the growth in production.
Heydon continues: "When we looked at expanding our production across the United States, we looked at the capital requirement to build a full facility of greenhouses, indoor rooms, infrastructure and everything. Given the fact that the product is extremely perishable and it's difficult to move it more than 400 miles without a deterioration in quality, we looked at 'what's it going to take for us to expand across the continent?' and looked at every 400-mile radius. 
"We found it was going to cost tens of millions of dollars in each case, so that at the end of the day didn't seem feasible. With the way the LED rooms were working, we started to apply those same ideas to our logistics and our supply chain. From that, what we call our 'finishing room concept' was born. 
Heydon goes on to explain the new innovation. "What we have now implemented and installed on several of our sites is our hub n' spoke finishing room system. What we do is have our main infrastructure in a hub, in this case in our main headquarters in Virginia where have our greenhouses, our LED rooms and all of our main growing expertise; this is where we start growing the plants. We have an LED finishing room in Indianapolis for the next phase. 
"What we do is we start the plants in Virginia and then we fill a full tractor trailer load of plants and send them to Indianapolis once or twice a week, where they're then offloaded and put into inventory in the finishing room in Indianapolis, and they will then grow for up to another week. And from that room, we have an inventory that we can sell from to that market out of that facility.
This has potentially game-changing consequences for Shenandoah, as Heydon concludes: "We're able to expand our capacity and offload our plants in another region without building an entirely new infrastructure. With the finishing room, we've eliminated the need to spend tens of millions on a whole other facility, but we've also eliminated the alternative, which was sending them from Virginia five days a week."