First Hydrogen-powered Buses Arrive in Belfast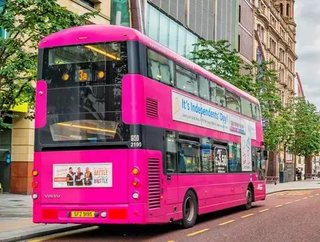 A milestone event as hydrogen-powered double-decker buses enter service in Belfast, Northern Ireland...
Government ministers have welcomed the first hydrogen-powered double-decker buses entering service in Northern Ireland. The arrival of the three new hydrogen fuel cell Buses is the culmination of a zero-emissions pilot project powered by sustainable energy, a joint effort to tackle the global climate emergency by reducing air pollution and protecting public health.
Northern Ireland leading UK green revolution
Translink together with the Energia Group formed a consortium which successfully bid for part funding from the Office of Zero Emission Vehicles (OZEV) with the remainder of the funding from the Northern Irish (NI) government's Department for Infrastructure. The overall capital investment represents around £4 million. 
NI Infrastructure Minister Nichola Mallon said: "I am delighted to see these new buses enter service. They will be transformative for communities here as we seek to deliver more sustainable low carbon public transport. 
The three maiden buses are set to be the first of an incredible 145 Hydrogen buses in N.Ireland
Overall investment of £66 million is expected
New petrol and diesel vehicle purchases will be banned from 2030
 
"I have been clear that tackling the climate crisis is a priority for me and I am committed to a building a better future where we make zero/low emission public transport accessible to communities across the North. My Department recently allocated funding of almost £66million for the purchase of 145 zero and low emission buses that will enter the Translink fleet during 2021/22.
 
"The entry into service of the three new Hydrogen-powered buses, funded by my Department and OZEV, is another exciting milestone in our move towards a zero-emission public transport fleet. This is just the beginning and I am committed to delivering cleaner, greener transport for the benefit of our environment and our communities right across Ireland." 
Major purchases will continue
The fuel cell buses were purchased by Translink under an existing framework contract from Wrightbus. The first three buses of the major purchase of 145 units will run on fully sustainable hydrogen, which will be produced by electrolysis at one of Energia's wind farms in North Antrim. During periods of low electricity demand, when the wind farm output would normally be curtailed or reduced, the pilot facility will produce hydrogen. The hydrogen electrolyser project is supported by GenComm, with funding from the EU's Interreg programme.
 
Chris Conway, Group Chief Executive, Translink said:  "This is great news for our customers and the wider public as we make real progress to tackle the climate emergency, enhance air quality for health and wellbeing and reduce traffic congestion.  
 
"We're committed to leading a transport transformation in Northern Ireland, driving change to zero emissions and engaging across all industry sectors to learn from best practice in low carbon innovation and bus manufacturing.   
Translink and the Energia Group are working to power the double-decker buses with renewable hydrogen and will also be installing the first hydrogen fuelling station on the island of Ireland early next year.