Doxim provides modern, flexible solutions for CCM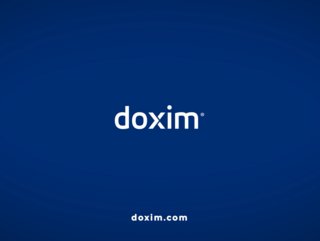 James Hall, Commercial Director at Doxim, advocates flexible, accessible print and digital communications for businesses everywhere
Doxim is a global customer communications management provider with over 2800 clients, providing both print and digital communications to its customers.
"We provide everything from email and SMS, to a letter in the post," says James Hall, Commercial Director at Doxim. "We have over 20 years of experience in customer communications. Clients are essentially looking to outsource the complexity to Doxim so that they can focus on their core competencies."
Doxim provides a wide range of solutions that include everything from a document's creation and personalisation, to its storage and delivery in both print and digital formats – enabling its clients to save money, increase revenue and wallet share, and give their customers the best possible experience.
Asked about industry trends, Hall says: "We're seeing a shift to cloud-based customer communication management. Businesses want to move away from large on-premises solutions to save money, move with the times and be more secure. AI and data analytics are becoming ever more present in all technology, and this includes the CCM market. There's also a trend towards communications becoming accessible to those with assistive devices. Vendor consolidation is a key driver in the CCM market, as businesses look to become more efficient, save money and focus on the customer experience."
Physical communications have been accessible for some time with digital braille or large print, for example. Now with digital communications, every email, and every document needs to be made accessible and inclusive. That means making them fully compatible with screen readers, magnifiers, and other assistive technologies and providing alternative versions and audio files. "Many companies are a bit behind in these things".
James reveals that Doxim has seen two innovations being particularly successful recently, one being interactive documents, and the other, personalised, interactive video. "Both are about engaging customers and giving them the best possible experience. With interactive video, the response rates are much higher than with other formats and channels, and in fact, we've seen four times the conversion rate with video compared to some of the other formats, which is quite exciting. With interactive documents, it's about creating a really engaging experience ‒ something like a flat PDF is no longer good enough for customers ‒ and interactive experiences provide some of that engagement."
Doxim works with a wide range of businesses, of every type from the public to the private sector, but the majority of their clients operate in regulated industries, including financial services, utilities, and insurance.
"We've got a number of exciting projects at the moment with Santander, including a number of communication projects," says Hall. "We deliver over half a billion emails for them every year, with a greater than 99% delivery rate. The marketing project that we work on with them, is driven by an Artificial Intelligence engine, which helps determine the next-best-action, or if you like, the next-best-communication to send to the customer. So, we are moving away from creating a single template and just substituting in names and other pieces of information for the customer, instead, each communication ultimately includes unique and valuable propositions, addressing the specific needs of each customer.
"We very much work in partnership with Santander to constantly improve the customer experience," says Hall. "And, really, the key to success with all communications projects is working in partnership, just as we do with Santander."
READ SANTANDER'S UK DIGITAL REPORT HERE