UK Uyghur forced labour case has supply chain in spotlight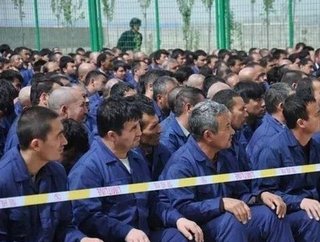 Some of the estimated 570,000 Uyghur people from Xinjiang province, China, who are involved in forced labour. Here they are pictured in a internment camp.
Case brought by World Uyghur Congress in London's High Court is the first of a wave of Europe-wide lawsuits aimed at blocking imports from Xinjiang
Uyghur rights activists are suing the UK government over its failure to investigate imports of cotton products made using forced labour from Xinjiang province in China, reports the Financial Times.
The case, filed by the World Uyghur Congress (WUC), opened in London's High Court last week. It is the first of a wave of Europe-wide lawsuits aimed at blocking imports from Xinjiang.
Lawyers for the claimants argued there is overwhelming evidence Xinjiang prison-processed cotton is present in UK supply chains, claiming there are 570,000 forced cotton-pickers in Xinjiang.
The claimants' lawyers added that the UK government should have already confiscated cotton imports from Xinjiang and begun criminal investigations under the Proceeds of Crime Act.
The act holds companies liable for benefiting from any deeds that would constitute a crime in the UK.
The case reflects a global tightening on laws around companies' supply chain liability.
In the US in June US Customs began enforcing the Uyghur Forced Labor Protection Act (UFLPA), banning all imports from Xinjiang Province in China.
US Xinjiang law increases supply chain culpability
The UFLPA, rubber-stamped by President Biden in December 2021, has stiff penalties for violations, including civil or criminal penalties, or both. Impacted goods will not only be seized at the border, but the resulting disruption and reputational damage to brands involved is likely to be severe, and lasting.
Similarly, the UK lawsuit will increase pressure on companies sourcing from Xinjiang.
For its part, Beijing denies all accusations of forced labout, claiming its policy of internment camps is both a counter-terrorism measure and is also aimed at increasing the economic development of the region, arguments that, outside of China's allies, are widely dismissed.
Dearbhla Minogue, a lawyer from the Global Legal Action Network involved in preparing the London case, said: "Many UK companies know or suspect they are importing forced-labour cotton. The hearing will have given them cause to reconsider the risks involved, which could include criminal prosecution, fines and even prison for company officials."
WUC president Dolkun Isa said the hearing "could set an important precedent for other countries" and vowed to continue "challenging countries and companies invested in Xinjiang".
The FT reports that the WUC – together with a broader coalition of charities and law firms – has filed a similar case against the Irish government. They plan to launch further cases across Europe, following the passage of an EU directive on corporate due diligence, which has proposed a ban on goods made using forced labour.
The FT added that lawyers for the British government agreed in principle that the Proceeds of Crime Act applied to companies importing goods from Xinjiang, but said there was insufficient evidence to start an investigation or to seize goods.
It reported that the government said the National Crime Agency continues "to assess information and intelligence relating to the Xinjiang Uyghur Autonomous Region, including in relation to the cotton industry" and that "should circumstances change, it may commence an investigation".