Top 10: Innovative & ESG-friendly global supply chains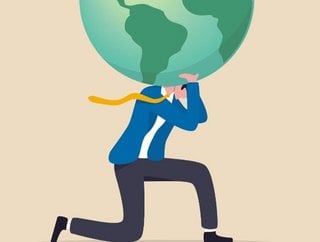 With much of the business world focused on supply chains and sustainability, we cast our eye over 10 of the world's leading ESG-friendly global supply chains, as well as the unique tech innovations and programmes that contribute towards making each organisation a sustainability leader.
We take a look at some of the most ESG-friendly supply chains, including UPS, FedEx, J&J, DHL, Coca-Cola, Toyota, GM, Nestlé, Accenture and AB INBev
With much of the business world focused on supply chains and sustainability, we cast our eye over 10 of the world's leading ESG-friendly global supply chains, as well as the unique tech innovations and programmes that contribute towards making each organisation a sustainability leader.

Top ESG-friendly supply chains: UPS
Exec: Kate Gutmann, Executive VP & President, International, Healthcare & Supply Chain Solutions
According to UPS, the global logistics giant's sustainability initiatives have been shaped by "the international focus on social and environmental betterment, led by the United Nations' 2030 Sustainable Development Goals", in addition to the company's ability to "enact meaningful change during a time of technological advancement in business".
One of UPS's key initiatives is its alternative fuel and advanced technology fleet – or "rolling laboratory", as the company calls it. This consists of more than 10,000 vehicles across the globe, including electric vehicles and electrically-assisted cycles.
"Regarding our urban operations, these are two techs that will be of paramount importance for us in the medium-term," the company says.
Top ESG-friendly supply chains: FedEx
Exec: Mitch Jackson, CSO
As one of the world's leading logistics providers, FedEx's environmental responsibilities are a key aspect of the company's global supply chains. Responsible environmental practices have been embedded across its operations, designed to boost efficiency while simultaneously cutting both waste and emissions – plus, it's working towards a series of ambitious climate-oriented targets.
Having worked to cut its aircraft emissions by 30% and increased its Express fleet's efficiency 30% by 2020, FedEx's sights are now set on its 2030 goals – when it's thought that 30% of the company's jet fuel will consist of alternative fuel sources.
Further to this, the logistics provider is also expanding its on-site renewable energy generation initiatives across the world.
Top ESG-friendly supply chains: Johnson & Johnson
Exec: Philip Dahlin, Global Director Of Sustainability
Johnson & Johnson's ethos is centred on one purpose: to improve the health of humanity. This aim comprises its customers, staff, communities and the environment. As such, its annual Health for Humanity report sheds light on the ways in which the organisation's operations are geared towards CSR and sustainability.
Notably, the company committed US$50mn to help support all-important frontline health workers during the COVID-19 pandemic. It also introduced its Race to Health Equity initiative – a US$100mn commitment to invest in, and promote, health equity solutions for communities of colour in the United States.

Top ESG-friendly supply chains: Deutsche Post DHL Group
Exec: Monika Schaller, Executive VP, Responsibility
Deutsche Post DHL Group has taken considerable steps to optimise its supply chain to high ethical and environmental standards. It has centralised sustainability and CSR in its wider business strategy, and claims a 35% efficiency gain across all operations since 2007.
The company's 13,500-strong fleet of vehicles, equipped with their alternative drive mechanisms, is just one example of progress among many. Across its sites and suppliers, DHL also provides socio-economic support and development initiatives, community action programmes, and delivers training to individuals along the entirety of its supply chain to drive employability and plug skills gaps.
Top ESG-friendly supply chains: Coca-Cola
Exec: Bea Perez, Senior VP & CSO
The world's largest beverage producer, Coca-Cola relies on a decentralised supply chain that encourages flexibility, agility and innovation.
For instance, its primary European bottler – the Hellenic Bottling Company (HBC) – leverages IoT-enabled tech such as intelligent coolers, which track and moderate temperature while measuring vending statistics. HBC has also maximised efficiencies across its value chain, while minimising waste and energy usage.
In 2017, Bea Perez became the company's first chief sustainability officer. This was followed in 2021 by a win at the Sustainability Leadership Awards, where EcoVadis – the leading platform for environmental, social and ethical performance ratings for global supply chains – awarded Coca-Cola European Partners with Best Supplier Engagement.
Top ESG-friendly supply chains: Toyota
Exec: Yumi Otsuka, CSO
Since 1992, Japanese automotive manufacturer Toyota has been publicly integrating environmental and ethical standards into its business practices, with a focus on driving sustainable development across the world through CSR.
This is reflected in its commitment to the UN's Sustainable Development Goals, including cutting pollution and waste, improving water quality, and promoting sustainable lifestyles, environmental management projects, and education initiatives.
Toyota has built a globally diverse value chain that protects human rights, labour conditions, and the environment across every region in which it works.
Otsuka joined Toyota in 1968 and, in June 2021, was promoted to chief sustainability officer, a role in which he oversees the company's sustainability management department.
Top ESG-friendly supply chains: General Motors
Exec: Kristen Sieman, CSO
GM's supply chain boasts transparency and focused initiatives on workplace safety and environmentally-friendly innovation. It has a company-wide ethos of "zero crashes, zero emissions, and zero congestion", and is viewed as a leader in automotive sustainability.
The firm's directors regularly review the company's ESG performance and progress, ensuring it remains a central focus for global operations – in line with shifting global expectations and regulations.
In April 2022, GM announced an innovative new pledge, inviting global suppliers to join the company in a commitment to carbon neutrality, the development of social responsibility programmes, and the implementation of sustainable procurement practices in its supply chain operations.
Top ESG-friendly supply chains: Nestlé
Exec: Stefan Palzer, CTO
As chief technology officer, Stefan Palzer leads Nestlé's R&D activities to deliver nutritious, healthy, sustainable and affordable food and beverage innovation, globally.
The Swiss food and beverage multinational's Creating Shared Value strategy drives sustainability through partnerships with suppliers and environmental organisations, as well as with other corporations.
Examples of Nestlé's work include its Caring for Water initiative, which promotes water conservation throughout its supply chain, and is also a founding member of the Sustainable Agriculture Initiative.
The company is also dedicated to aligning its practices with the UN Sustainable Development Goals, disclosing both its involvement and progress against all 17 goals.
Top ESG-friendly supply chains: Accenture
Exec: Peter Lacy, Sustainability Services Lead
World-renowned professional services firm Accenture makes quite the statement of intent with its responsible supply chain ambitions: "We have the purchasing power and multi-billion-dollar supply chain to cultivate a culture of responsible buying on a global scale."
To bolster its claims, the organisation focuses on five core pillars – corporate citizenship, social impact, environment, inclusive workplace, and core values – that tackle the breadth of the world's most pressing CSR drivers.
Accenture's environmental policy is to play a key role in the shift to a low-carbon economy. To this end, it has a clear focus on: decarbonisation, emissions reduction, cultures of responsibility, adherence to and surpassing of compliance standards, and fostering sustainable supplier relationships that capitalise on opportunities to excel.
Top ESG-friendly supply chains: AB InBev
Exec: Ezgi Barcena, CSO
As the world's biggest brewer, AB InBev is contributing to the UN Sustainable Development Goals "while building resilient supply chains, productive communities and a healthier environment". Its global sustainability team reports twice a year to the Finance Committee of the Board of Directors, reviewing topics relating to supply chain security and sustainability.
To strengthen its collaborative approach to sustainable development, the brewer engages in industry associations and organisations such as: the World Business Council for Sustainable Development; the World Economic Forum; the Beverage Industry Environmental Roundtable; the Climate Group; the Water Resources Group; and Sustainable Food Lab.
Its supply chain sustainability programmes include Smart Agriculture, Water Stewardship, Circular Packaging and Climate Action.