Tesla defies automotive supply problems with record quarter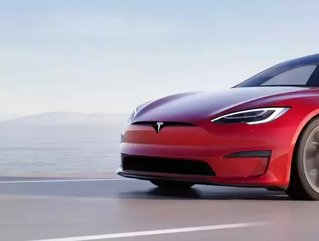 Tesla's Q4 results exceed analysts' expectations, and impressive overall sales in 2021 sees Elon Musk's e-vehicle firm recover from slow start to 2021
Tesla defied the supply chain problems affecting much of the automotive industry to deliver a record number of vehicles in Q4 2021.
The e-vehicle manufacturer produced 305,840 vehicles and delivered 308,600, beating a record it set in the third quarter, Tesla said. Total deliveries for the year stand at 936,172, and its Q4 performance is its best for any single quarter to date, the company reported.
Total Tesla vehicle deliveries in 2021 were up 87% on 2020 levels. Wall Street analysts had expected the company to deliver 267,000 vehicles in Q4 and 897,000 vehicles for all of 2021.
Tesla results buck trend for automotive industry
Tesla's impressive performance flies in the face of downward manufacturing trends in the automotive sector. 
Elsewhere in the trade, Honda, Nissan, and General Motors have reported declining US sales. All have been hit by shortages of key manufacturing components, which has left sales teams low on available stock and consumers with less choice. 
The global microprocessor shortage is another ongoing problem, with Jaguar Land Rover, Ford and Volkswagen all forced to temporarily shut down production sites around the world at various points in 2021 as a result of chip shortages. 
"Great work by the team worldwide," Tesla CEO Elon Musk tweeted on Sunday, in response to the results.
"Thank you to all of our customers, employees, suppliers, shareholders and supporters who helped us achieve a great year," Tesla said of its Q4 results.
Tesla ends 2021 strongly after slow start
Tesla's 2021 results are even more impressive considering its difficult start to 2021. In spring last year Musk admitted that in Q1 the company had faced "some of the most difficult supply chain challenges that we've ever experienced".
Back then, he told investors there had been "insane difficulties" in the supply chain, including global chip shortages, port disruptions and issues around scaling up production in China, due to an inability to access engineers because of Covid quarantine restrictions.
Then in February 2021, it was forced to halt production at its California assembly plant  because of port backlogs and severe snowstorms.
Musk is on record as saying he wants to increase Tesla's vehicle sales volume to 20 million annually over the next nine years. He has said he expects increased production to come when Tesla's German Gigafactory and Tesla Giga Austin start production later in 2022.