Supplier diversity key to sustainable future, says Infosys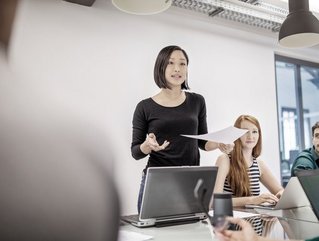 In the context of sustainability, supply chain diversity and inclusion play a pivotal role," says Andrea Hendrickx, Country Head, Germany, with Infosys.
A diverse supply chain is good for business and communities, and barriers to an effective D&I policy can be overcome, says Andrea Hendrick of Infosys
Long gone are the days when simply finding the right product, service, or component – at the right price and with the required quality – is enough.
Increasingly, companies must demonstrate they are guided by ESG principles - and that includes every link in their supply chains, which is where supplier diversity becomes so important.
Some businesses are on top of this. Intel, for example, recently passed the $2 billion mark in diverse supplier spending, the company announced.
The company says it was able to hit these targets earlier than planned because its processes and incentives encourage diverse suppliers to work with it.
Another reason Intel gives is that its rapid manufacturing expansion around the world in recent years has allowed it to bring in more suppliers than ever before.
But the Intel story is not typical of the wider world of supply chain, which means a lot of value is being left on the table.
D&I in supply chain 'good for business' - Infosys
"In the context of sustainability, supply chain diversity and inclusion play a pivotal role," says Andrea Hendrickx, Country Head, Germany, with Infosys. "By embracing a diverse and inclusive supply chain, organisations foster innovation, creativity and resilience. It brings with it a multitude of perspectives, ideas and solutions that can go towards addressing complex sustainability challenges."
This promotes social equity and economic development, Hendrickx explains, by creating job opportunities for marginalised communities and promoting fair and ethical practices throughout the supply chain.
"By implementing diversity and inclusion into their supply chain strategies, companies can contribute to building a more sustainable and equitable future," she says. "In doing so, they must address the UN Sustainable Development Goals, not only one by one, but by combining and embedding them into their strategies across all focus areas."
Hendrickx says supply chain diversity and inclusion also promote ethical and responsible practices.
"By engaging with a range of suppliers companies can better ensure adherence to labour rights, environmental sustainability and ethical sourcing standards," she says. "This leads to a more responsible and transparent supply chain, mitigating the risk of human rights violations, environmental damage and unethical practices."
Training key to supply chain diversity
But she warns: "Communication barriers arising from cultural and language differences can also hinder effective collaboration with diverse suppliers."
Firms, she advises, can overcome these barriers by investing in employee cultural competency training, providing language support and fostering cross-cultural relationships.
"This facilitates better understanding of different cultural norms, communication styles and business practices, facilitating smoother interactions and collaboration," she explains.