Shipping Industry Proposes New Measures for Net Zero by 2050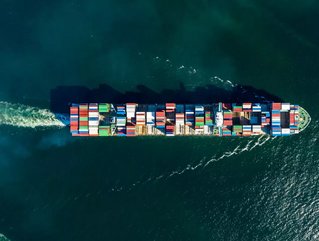 The International Chamber of Shipping sets forth new proposal for R&D fund, carbon levy and IP sharing to exceed current carbon emission target
The world's biggest shipping organisations has set forth a new set of measures it says will accelerate decarbonisation of the industry and exceed current emission reduction targets for 2050. 
The International Chamber of Shipping (ICS), a body representing 80% of the shipping industry, submitted the proposal to the International Maritime Organisation (IMO), a global regulator and part of the UN, ahead of next month's COP26 Shaping the Future of Shipping conference in Glasgow.
In it, the ICS calls for a carbon levy to narrow the discrepancy in cost between conventional fuel and more expensive zero-carbon alternatives. The funds would also be used to update fuelling infrastructure at ports, known as bunkering, to support the adoption and viability of sustainable fuels in both mature and developing economies.  
It also readdressed the $5bn fund proposed in March to support R&D projects for zero-carbon technologies specifically tailored to maritime application. The fund would be financed by mandatory contributions from shipowners through a levy that would be put in place by 2023. The ICS has also pledged to share IP within the industry to accelerate its pivot to a fully sustainable future.
Current objectives outlined by the IMO aim to cut CO2 emissions within shipping by half in the next 30 years. With government support, the ICS believes it could double these ambitions and move towards fully net zero transport for consumer goods, raw materials, people and food. 
"A net zero carbon ambition is achievable by 2050"

"Our net zero offering sets out the 'how' as well as the 'what' for decarbonising shipping by 2050," said ICS Chairman Esben Poulsson. "A net zero carbon ambition is achievable by 2050."
The measures will be discussed at the COP26 Shaping the Future of Shipping conference on 6 November. 
John Adams, Chairman of the ICS GHG measures working group, said its members had a "great deal" of time to draw up a plausible route to net zero. 
"If adopted by governments at the IMO, these measures could lead to regulation that will swiftly move the shipping sector and associated industries towards a zero-carbon future," he added. "Governments can make a huge statement of their intent to get behind this new timeline by approving the industry's proposed $5bn R&D fund in November at the IMO."
Guy Platten, Secretary General, ICS, said: "If a net zero target is to be more than a political gesture, governments need to recognise the magnitude of the challenge of phasing-out CO2 emissions from large oceangoing ships. Only these proposed measures can tackle the innovation and knowledge gap, and challenges of a global equitable transition, that shipping's decarbonisation presents."
Market Leaders Pledge Individual Sustainability Initiatives
 
Market leaders have already outlined individual efforts to accelerate the shift away from dirty conventional fuel. In August, Maersk announced a $1.4bn investment in eight large ocean-going shipping vessels that will be powered entirely from carbon-neutral methanol fuel. Soren Skou, CEO, A.P. Moller - Maersk, said the order of the 16,000 TEU vessels "proves that carbon neutral solutions are available today across container vessel segments and that Maersk stands committed to the growing number of our customers who look to decarbonise their supply chains". They are expected to enter service by 2024. 
Last month Geodis said it would begin offering bio sustainable marine fuel across its sea transport, which could yield CO2 emissions savings of 90%. Chief executive Marie-Christine Lombard said the move "is one of the strategic paths being pursued by Geodis to meet the challenge of carbon neutrality".