Scope 3: Big business 'must help SMEs decarbonise'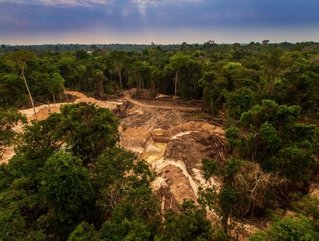 Scope 3 emissions are the indirect emissions in a company's value chain, and can account for 80% of a company's total greenhouse gas (GHG) footprint.
Oxford Economics expert says small to medium-sized enterprises hold key to cutting Scope 3 and that large companies are the ones who can make this happen
Greener small to medium-sized enterprises (SMEs) are the secret to tackling Scope 3 emissions, with big businesses the key to making this happen, a leading economist has told Supply Chain Digital.
Scope 3 emissions are the indirect emissions in a company's value chain, and can account for 80% of a company's total greenhouse gas (GHG) footprint.
The emissions of SMEs in supply chain are an appreciable part of these emissions for many companies," says Luke Pate, an Economist with leading business advisory firm, Oxford Economics.
He adds: "Though small individually, SMEs collectively have significant GHG emissions. For instance, SMEs account for nearly half of GHG emissions by UK businesses.
Pate says the scale of the climate crisis demands different actors collaborate and pool knowledge and resources in pursuit of climate goals.
"Large companies supporting SMEs in their supply chain to decarbonise is an important example of how working together can help the planet while also benefiting the partners," he says.
Large companies well-placed to help SMEs decarbonise
Pate says large companies are well-placed to support their SME supply chain partners in decarbonising.
"SMEs recognise the importance of decarbonising," says Pate, "but face barriers that hamper their ability to do so, such as a lack of financial resources and a gap in knowledge and skills.".
He adds: "The knowledge gap can lead to difficulties both in measuring and reporting on their environmental impacts and in identifying the right ways to tackle their impacts."
Pate points out that, with their financial resources and greater capacity, large companies are well-positioned to help SMEs in their supply chains to overcome these barriers.
"A large company could engage with its SME suppliers and share knowledge on decarbonisation initiatives and tools for estimating emissions," he says.
Pate adds: "The best form of external support for SMEs in becoming more sustainable are knowledge sharing, clear information, guidance and tools, and help buying and using technology effectively.
"These are areas where large companies that buy from such SMEs can help."
Pate also say SMEs can also become a larger part of the sustainability picture as countries decarbonise their electricity systems, and large companies in the most polluting industries act on "low-hanging fruit in their own operations".
He says: "Ignoring Scope 3 emissions will cease to be an option, thanks to new reporting standards such as those from the International Sustainability Standards Board and regulatory mandates like the European Union's Corporate Sustainability Reporting Directive.
"Large businesses are well-equipped to help SME suppliers decarbonise and doing so is good business and will increasingly be something businesses are pressured to do."