Recycling LI batteries 'a big supply chain challenge' - CAS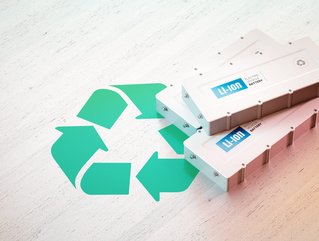 Recycling lithium-ion batteries will become hugely important as e-vehicles gain traction, but CAS scientist Zachary Baum reveals there are big challenges
The recycling of huge lithium-ion (LI) batteries from electric vehicles (EV) is an integral part of the drive towards net zero - and, as EVs become more commonplace, it will also be a vital part of creating circular supply chains around such batteries.
Yet there remain sizable logistical and safety challenges. From a supply chain perspective, the two biggest problems are the transportation of end-of-life batteries from disposal sites to a recycling facility. This can be expensive if long distances or international transport is required.
The second challenge is safety: a 1,000-pound electric vehicle is highly flammable, and when transporting EV batteries there are tight regulations around labelling, packaging and the choice of specialist logistics companies.
And that is before the battery has even arrived at the recycling plant.

LI batteries expensive and dangerous to recycle - CAS
One man who understands these challenges intimately is Zachary Baum, an expert in lithium-ion recycling plants. Baum is a Scientific Content Engineer at CAS, a company that analyses scientific knowledge to unearth the kind of unseen connections that inspire breakthroughs.
Baum has a PhD in Inorganic Chemistry from The Ohio State University. At CAS, he applies his interdisciplinary background to the analysis of photochemistry and energy technology literature. He understands intimately just how complex LI batteries are to recycle.
Baum says: "The main complications of building a lithium-ion battery recycling plant are ensuring safe transportation to and from the facility, maximising the economic value of the recycled metals, and addressing the design variability from a scientific and process perspective. Balancing these issues can make it extremely difficult for battery recycling to be both environmentally efficient and profitable."
He adds: "Beyond the logistical challenges of safely and economically transporting large LI batteries to a recycling facility the main challenge is efficiently extracting the most valuable metals. It's a process that involves disassembly, separation, and recovery, and requires significant scientific, engineering, and facility investments to do profitably at scale.
LI batteries not built with recycling in mind
Baum reveals that LI batteries are not typically designed with disassembly and recycling in mind, and so crushing the device whole is often required to extract the most valuable materials.
"The powdered solid materials used in batteries must be separated based on subtle differences in physical and chemical properties," he says. "The cost associated with these physical and chemical separations is a sizeable barrier to entry for the prospective battery recyclers."
On a brighter note, Baum says the science behind recycling is advancing quickly and is helping simplify this process, and make it more efficient and safer, as well as minimising the environmental impact.
Given all this, one key question on LI batteries is: why do we use them if they are so difficult and expensive to recycle?
"LIs are a popular choice as they have several advantages over other types of batteries," says Baum. "They offer the highest energy density and deliver more current. They're also easier to maintain and have a long shelf life."
Tesla embracing new battery tech

He also says that, while LI batteries do contain nickel, cobalt, and manganese, they are less toxic than the lead-acid batteries found in most vehicles today. "Plus these metals offer the potential to retain their value for reuse if properly recycled."
Looking to the future, Baum says that emerging battery technology is now helping produce lithium-iron-phosphate (LFP) cathodes, which are made without nickel or cobalt.
"Innovation is creating cheaper, more stable and less risky solutions, to address both the power and recycling aspects of this challenge. Tesla has recently announced it will switch to this technology in their lower-range cars."
"These advances will drive the economics for recycling lithium-ion batteries in the future," Baum adds.