Procurement & Supply Chain Live: Alex Jennings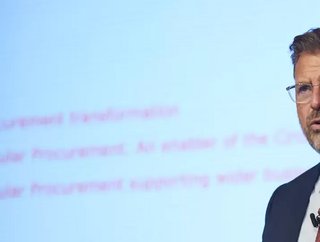 Alex Jennings, Chief Procurement Officer at DS Smith explores the potential of blockchain, sustainable sourcing and turning data into action
Chief Procurement Officer, supply chain and sales leader Alex Jennings is driven to create sustainable packaging, as online shopping retains its popularity post-pandemic. 
DS Smith had an £11bn turnover in 2011 and Jennings is excited about recycled packaging, which the company uses to create paper and box solutions for customers. 
In his talk at Procurement and Supply Chain Live, Jennings discussed this in detail.
Sustainable sourcing and transformation 
"Transformation is a fundamental change to your business", Jennings began. "We are in a changing world - customers, shareholders, consumers, employees… they are all expecting more from your organisation. There are a lot of benefits of having a modern, strategic procurement function."
Sustainability, circularity, innovation and a willingness to embrace change are all necessary - providing you have the right data. 
"I think about data in the morning", Jennings admitted. "Turn that data into information, into intelligence, into action."
The future of blockchain
At the end of his talk, Jennings was asked about the usefulness of blockchain in circular procurement strategy.
"I've been watching the development of blockchain for the past six, seven years now", Jennings said. "I think it's wonderful!" He explained that despite being impressed, he was yet to see the cost-effectiveness, although trials have shown promising results.
"There are other things that are being reviewed, for example, tags that enable you to follow your product - where does it go, what's the length of the supply chain, where does it end up… To be able to understand your supply chain you need to do it with some of them.