McDonald's CSCO DeBiase sets beef sustainability agenda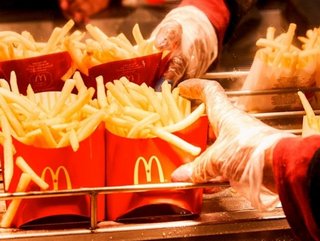 McDonald's Chief Global Supply Chain Officer Francesca DeBiase is one of the few Fortune 500 execs to oversee both supply and sustainability operations
As Chief Global Supply Chain Officer at McDonald's, Francesca DeBiase is one of the few Fortune 500 executives to have developed and run combined supply chain and sustainability operations.
DeBiase also contributed to McDonald's standard-setting leadership, which was recognised by the company receiving a Supply Chain Masters rating from Gartner. In our recent Top 100 Women in Supply Chain magazine, DeBiase was ranked second.
She began her career as an auditor in the retail and consumer products industry with EY. Upon joining McDonalds 14 years ago, she served in multiple finance roles, which eventually culminated in a position as Senior Director of European Finance. After a time, she also added the role of Chief European Supply Chain Officer to this.
McDonalds supply chain environmental aspects
Based for a decade in Europe, DeBiase returned to the US to develop, lead and execute a sustainability vision that continues to advance McDonald's environmental leadership.
DeBiase initiated dialogue with environmental critics to drive industry-wide change, winning endorsement from management, employees, suppliers and franchisees. She also increased brand trust scores with stakeholders, NGOs, and customers to reinforce the integrity and credibility of the brand.
DeBiase has 30 years' global restaurant and toy supply chain expertise, including food, packaging, logistics, construction, real estate and marketing services.
She managed the COVID-19 crisis without supply chain interruption to the fast food company's 70 million daily customers in 37,000 restaurants across 100 countries.
Supply sustainability 'about taking long view'
Asked what her top priorities are on sustainability, DeBiase said: "I think for me, it's all about what is next. With sustainability, if you want to make true impact and change, it takes a commitment and a vision that goes beyond a few years. Also, in my leadership role, how do I ensure that everyone feels like it's their responsibility?"
DeBiase's aim is to embed sustainability into everything McDonalds does – "into our people practices within HR, into our communities and also into what we stand for".
She adds: "The question is one of making the entire leadership team feel we're all accountable for this together, just as we're all accountable for the brand. Those are two big areas where I personally can help support the team and the company."

McDonalds sustainable Canada beef programme
On sourcing sustainable beef for McDonalds burgers, DeBiase says: "It's a journey, and I love it. We're one of the founding members of the Global Roundtable for Sustainable Beef. We're very aligned with a beef value chain being environmentally sound, socially responsible and economically viable.
"Our first pilot market is in Canada, where our verified sustainable beef pilot is currently underway. I have had the honour of meeting all of the ranch owners in Canada over the past couple of years. They've been amazing. They're really leading the beef industry in many ways.
"By the time we conclude the pilot in the second quarter this year, we'll have well over 100 of those producer verifications done. We are absolutely on track to have our first purchases of sustainable beef in Canada this year.
"We also have a few other things going on. The United States has a beef roundtable and so does Brazil. We are working very hard to have sustainable beef for the Olympics restaurants. So watch this space."
She added that, in Europe, McDonald's is working with the Sustainable Agricultural Initiative.
"They've been focusing on sustainable beef, and we've got some pilots and tests going there," she said. "We've had several markets where we're moving forward."