Unilever CSCO Ecclissato aiming for sustainable supply chain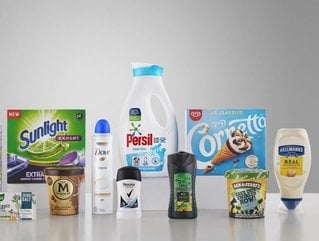 The numbers around Unilever's supply chain are staggering: its total supply chain spend in 2021 was €35.5bn, and it uses 53,800 suppliers to make sure that its many well-known brands can end up in our kitchens and bathrooms. These include Ben & Jerry's ice cream, Bovril, Cif cleaning fluid, Colman's mustard, and Comfort fabric softener, to name but a handful. Reginaldo Ecclissato took up his role as Unilever's Chief Supply Chain Officer in April 2022.
Unilever Chief Supply Chain Officer Reginaldo Ecclissato goal is to keep the multinational giant's goods moving globally in sustainable ways
Reginaldo Ecclissato took up his role as Unilever's Chief Supply Chain Officer in April 2022. The move was part of a wider management shake-up at the consumer goods giant. Ecclissato's appointment came at a time when Unilever announced it was cutting 1,500 jobs globally – reducing senior management roles by around 15% and junior ones by 5%.
The company said the move was designed to make Unilever a "simpler, more category-focused business".
Market volatility continues to challenge
Upon taking up his latest role, Ecclissato said: "The impacts of the pandemic, such as record inflation and market volatility, continue to challenge us but, together with our partners, we will continue serving and delighting our consumers, generating mutual responsible growth with our suppliers, and furthering our positive action for people and planet, whatever challenges come our way."
Since taking up his role, Ecclissato has overseen substantial progress, especially on sustainability.
Recently, the company announced that a further two of its factories – in Tianjin, China and Indaiatuba, Brazil – have been recognised by the World Economic Forum as 'Advanced Fourth Industrial Revolution Lighthouses' as part of the WEF's international Lighthouse scheme, which aims to drive tech adoption. This means Unilever now has 6 Lighthouse sites across its business, including further sites in China, as well as in Dubai and India.
Ambitious zero waste to landfill targets
Ecclissato has a solid track record in sustainability at Unilever, ensuring the company's supply chains are future-fit.
As SVP of Americas Supply Chain, he achieved 100% zero waste to landfill at all dedicated distribution centres in North America. At the time, he said: "Reaching 100% zero waste to landfill on all waste streams at our North America distribution centres is a great example of how we are putting our sustainability strategy into action and reducing our environmental footprint to strengthen our business, as well as our commitment to partnership and collaboration.
"This achievement builds on the journey we began a few years ago when all of our Unilever-owned factories in North America became zero waste to landfill, but it is far from the end. We will continue to challenge ourselves and our partners in our mission for sustainable growth."
Before his current role, Ecclissato was Executive VP Mexico, Central America & Greater Caribbean. He took over from Marc Engel, who moved on after 30 years with the company. In that role, he oversaw 11 countries, 12 product categories and high levels of growth, despite the pandemic.
Prior to that, he was in charge of Unilever's supply chain in North America and Latin America, generating double-digit growth in the profitability of one of its largest regions.
Ecclissato graduated from Universidade de Sao Paulo as an electrical engineer and started his journey at Unilever Brazil as a trainee in 1991. Two years later, he was responsible for building a new factory and the production of a new category: powder detergents.
Waste elimination a key target
In 1998, he took up a position as Supply Chain Development Manager in the UK, following this up in 2001 by becoming Home Care Logistics and Planning Director for Latin America.
In 2003, he moved back to his native Brazil, becoming Home Care Supply Chain Leader, and two years later, moved to Central America as Supply Chain Director.
Solutions to avoid sending finished goods to landfill include: focused inventory management; composting; creating animal feed; package recycling; and generating biodiesel fuel. Eliminating waste in distribution centres resulted in cost savings of more than $1.9mn in 2013, the company has reported.
Reginaldo Ecclissato, CSCO, Unilever