Interview: Sendle's CEO & Co-Founder, James Chin Moody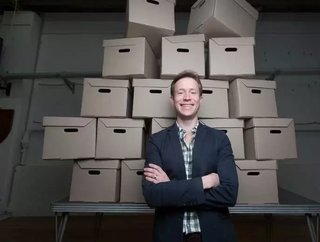 How carbon neutral delivery firm Sendle is opening up Australia, and soon the world, to small businesses across the country "I never envisaged develo...
How carbon neutral delivery firm Sendle is opening up Australia, and soon the world, to small businesses across the country
"I never envisaged developing a passion for parcels and logistics," muses James Chin Moody, Co-founder and CEO of Sendle, a courier services provider which has just passed 3bn kilometres of parcel delivery.
"I am an electrical engineer by trade, which is nothing to do with Sendle at all. But this is an amazing industry – we're affecting real people for the better."
Moody has the statistics to back this up. Sendle, still just a few years in existence, is now Australia's highest-rated courier service and has been growing by 20% each month for the last two years. It has thousands of small business clients relying on its network to reach customers right across the country.
September represented another milestone in the form of a partnership with DHL eCommerce, a move which will allow Sendle's customers to deliver door-to-door in 220 countries and territories.
All of this, somewhat remarkably, has been achieved with zero carbon footprint and in a way that allows Sendle to undercut Australia Post, the market monopoliser, by as much as 40%.
From satellites to Sendle
So how did electrical engineer Moody move from satellite development at Australia's national research agency (CSIRO) to starting his own delivery firm?
"I wanted to get back to building something, and when we first started we were not actually Sendle," he explains. "We were a giving marketplace, where people could give things they no longer wanted to each other for free, only paying for delivery. It sort of flipped the Amazon model on its head, and it took off very quickly."
In fulfilling these initial delivery requirements, Moody quickly discovered the difficulty in delivering single packages door-to-door en masse.
"What we realised was that there are big logistics networks in Australia that we could leverage, particularly in cases when trucks would be returning from a destination empty or with spare capacity," he continues. "We approached these companies and offered to fill their trucks, allowing us to charge small rates which was crucial to the whole concept working."
Concept proven, it was in 2014 when Moody and his team realised the scale of demand for affordable delivery. Customers were using the giving marketplace as a means to fulfil their own delivery obligations for items they had sold, going to considerable lengths to play the system.
Following a serious re-think, Sendle was born and quickly dwarfed Moody's initial giving marketplace venture, which consequently closed so he could fully focus on providing affordable delivery services for small Australian businesses.
A numbers game
What allows Sendle to undercut the likes of Australia Post so markedly is its leveraging of capacity within existing couriers' networks.
"It is about really deep integration with our partners," Moody says. "In the courier world, it's a volume and numbers game, and it is vital to do things as efficiently as possible. We can offer access to markets and customers by helping with billing, onboarding and the like, and at the same time help to fill their trucks."
SEE ALSO:
For Sendle's customers, it grants them access to a delivery infrastructure that may previously have been too complex or expensive to exploit. "We want to level the playing field for business in Australia," Moody adds.
"We are seeing the landscape change hugely, and this will only continue with Amazon arriving. In the short term, it will get many more people buying online and will benefit consumers and small sellers. In the medium to long term, this is where we will see expectations change around delivery time, and we have to make sure we help sellers keep up with those expectations."
Green growth
Sendle, thanks to its innovative business model, is not only the highest-rated delivery service in Australia, but also the first to be carbon neutral.
This was always at the forefront of Moody's mind when establishing the business, and operating in such a way from the outset permitted sustainable, responsible growth. "You see billion-dollar businesses committing to erasing their carbon footprint, which absolutely they should, but it can be a massive task in such large organisations," he says. "We have found it is far easier to do it from the beginning."
This sustainable ethos, etched into the fundamentals of the business, saw Sendle scoop yet another accolade, this time being certified as Australia's first technology B Corporation. Similar to what Fair Trade accreditation means to food and drink organisations, B Corporations are recognised for using the power of business to make positive social and/or environmental impacts.
But does this responsible, sustainable growth have a ceiling? Is there enough spare capacity within partner networks to facilitate Sendle assuming a major market share?
"We don't see any signs of stopping," Moody answers. "In Australia we have a monopoly provider in Australia Post, and they own a huge slice of the small business market. We are introducing competition – competition which is much-needed. There is a lot room for us to move into, and we are here to give Australia Post a run for its money."
Enter DHL
Indeed, Sendle is now in a position to compete with Australia Post in the international delivery space after announcing a massive distribution agreement with DHL eCommerce in September.
"What we're doing with DHL is just as big as when we launched Sendle itself," Moody says. "By 2022, 20% of all ecommerce will be cross-border. This is a huge opportunity for small businesses, who will be able to export to an enormous audience. DHL has the reach, and we know Australian businesses."
Set to launch in Sydney by the end of the year, the DHL-Sendle service – again promising to undercut Australia Post – will be rolled out fully across Australia during the course of 2018.
"There are two major factors currently preventing Australian SMEs from exporting," Moody points out. "The first is complexity, and any help we can offer in regards to customs and other obligations will go a long way. The second factor is cost, and the viability of shipping door-to-door internationally in small quantities. What excites me the most is that we can grow the Australian export market by making things easier and more affordable for businesses."
Next year will no doubt be the most exciting and significant in Sendle's relatively young existence, and Moody's aim is for the company to become the go-to for smaller enterprises looking to reach all corners of Australia and beyond.
"We've already come a long way and we've had tremendous fun doing it," he concludes.