Innovation key to green supply chains - Schneider & DigiHaul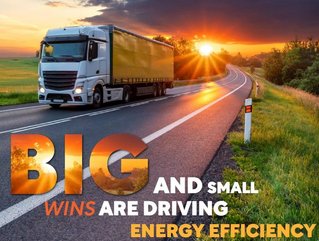 Innovation & collaboration are key drivers of greener supply chains, say experts from digital automation multinational, Schneider Electric, and Overhaul, a supply risk & visibility company.
Schneider Electric & DigiHaul detail the macro & micro steps logistics is taking to cut energy consumption in CPG, cold-chain supply chain and haulage
It is a generally accepted truth that supply chains contribute up to 80% of an organisation's total carbon emissions – or so-called Scope 3 emissions. As such, a huge responsibility rests with the logistics industry to help the globe hit its net zero targets by 2050.
Innovation and collaboration are already key drivers of success in supply's bid to clean itself up. As we shall see, such sustainability successes and goals come in all forms – from low-resistant truck tyres to technology that can provide at-a-glance snapshots of global supply chains comprising 10,000 moving parts.
But big or small, local or international, every move to save energy in the logistics industry moves us closer to carbon neutral nirvana. Let's start with the macro moves – sustainability on a grand scale.
Craig Roseman is APAC consumer packaged goods (CPG) leader at Schneider Electric, the multinational electronics company with a payroll of 75,000.
CPG has major role to play in global sustainability
Roseman – who oversees the alignment between Schneider's products and services with market needs and trends – says CPG has a "significant" role to play in achieving world sustainability goals.
He says: "Supply chains are major contributors to environmental impact, from high energy consumption to mass waste disposal."
Roseman believes digital tracing in supply chains – and monitoring in cold chains – are vital steps to cutting industrial carbon emissions, saying: "While becoming more resource-efficient can reduce greenhouse gas emissions, decarbonising indirect emissions from industry remains a significant challenge."
He adds: "In the food industry, indirect emissions result from the transportation of raw materials and the distribution of final products. Traceability can help identify and remedy inefficiencies throughout the supply chain."

Measuring logistics emissions is crucial first step
Roseman says product emissions increase throughout their lifecycle and that measuring this "gives a visual on how production, manufacturing and distribution affect overall carbon emissions".
He adds: "Lifecycle traceability is particularly important, because guidelines are forever changing to ensure companies are ethically and sustainably accountable for their climate targets."
Roseman also urges action on the monitoring of so-called 'cold chains', which are environmentally-controlled domains that protect temperature-sensitive goods – such as food and biopharmaceuticals – during transport and storage.
"Cold chain monitoring is essential to ensure journeys along the cold chain are as efficient as possible. Monitoring also helps reduce wait times at ports, where further energy is required to maintain storage temperatures and control systems."
Roseman also says Schneider's Green Premium programme is making a difference.
"Green Premium delivers strong value propositions through its portfolio of products, services and solutions. By collaborating with third-party organisations, we can support our customers to meet their sustainability goals."
Another action he feels can contribute hugely to lower CPG emissions is the embedding of sustainability into manufacturing design.
"Not only does this result in reduced carbon footprint, but it also provides transparency – both on environmental impact and circularity attributes, through third-party labels and product certifications."
Regionalisation is way to reduce mass transport
On a more strategic level, Roseman says 'regionalisation' – the process of sourcing goods locally instead of internationally – will be a major factor in reducing mass transportation.
He says: "A purely local footprint is not feasible, because one disruption can bring down the whole chain. So organisations need to empower at the regional level and maintain tight coordination of local sites.
Roseman concedes that such a move will impact costs but says these are offset by reduced costs through decreased inventory, greater working capital from shorter supply chains, and also higher levels of sustainability.
So this is energy conservation on a global scale. But what about the small wins, which, when added together, are just as significant?
Wenjia Tang is head of data at digital-freight business DigiHaul. In this role, she is responsible for the company's UK data-driven insights on shipment information, drawn from geospatial data, and IoT (Internet of Things) devices, such as vehicle trackers.
One of the areas Tang is focused on is improving efficiency by reducing the empty running of road freight. Empty running often happens on one leg of a journey, when freight is offloaded and not reloaded with anything for its return journey. It's believed that, in the road haulage sector, empty running is as high as 20%, and this doesn't take into account partial loads.
Haulage 'empty running' is huge waste of energy
"This is a problem not only for carriers who are looking to optimise their fleet, but also shippers who may be struggling to find capacity," says Tang. "Not to mention the carbon footprint for both."
Tang says addressing this issue has the potential to solve two of the biggest issues in commercial transport: cutting carbon emissions and unlocking extra capacity to alleviate some of the pressure on supply chains.
Tang says a degree of empty running is "inescapable", but insists that, with better planning and the right technology, "we can reduce it to what is considered a more efficient and sustainable level".
She adds: "This can be achieved with quality data analysis. A good model can produce a better quality of match compared to the traditional labour-intensive brokerage method."
Tang says that the biggest barrier to tackling empty running is visibility across the commercial road transport network. "The more visibility we have, the more we can optimise things through data analysis and connecting the various parties," she explains.
"For shippers, digitalisation makes logistics much more transparent and gives them better visibility of where their shipments are," says Tang. "They will also see their costs coming down due to the network efficiency."
She adds: "For carriers, it allows them to better plan their journeys, including accessing new revenue by taking on jobs they might not otherwise have access to.
"A major part of the solution is onboarding carriers and showing them the benefit of being involved in a wider network. Transport is a really fragmented industry, so we can only achieve proper gains if we have a critical mass of hauliers. On the whole, when carriers see the opportunity to maximise their own fleet, bring down their carbon footprint and make drivers lives a bit easier, they're very keen to be a part of it."

Overhaul teams with DHL on sustainability
Decarbonising commercial road transport isn't just about cutting empty-running levels. In partnership with DHL, it has launched the Green Certification programme, reveals Tang.
She says: "This identifies subcontractors that are contributing to sustainable logistics. Carriers are assessed on the sustainability measures they have in place, as well as their ability to measure their carbon footprint and share data."
The programme also looks at basic fleet features, such as low-resistance tyres, aerodynamic enhancements and idle cut-off, as well as advanced green tech, such as sustainable fuels and alternative drivetrains.
Big and small energy wins across logistics are inching us closer to our green goals.