Supply chain diversity and inclusion: How far to go?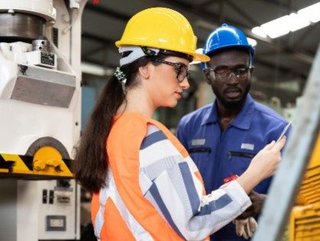 Supply chain and logistics are by definition multinational, but are they inclusive and diverse enough? Supply Chain Digital speaks to those in the know
In 2021, many businesses made popularist vows to become more diverse. As an international industry, supply chain is one sector that offers great potential for change.
Supply Chain Digital spoke to two prominent women in business. Here, they explain their roles, their experiences and their hopes for a diverse and inclusive future in the sector.
Sarah Barnes-Humphrey, who is based in Ontario, Canada, has been in supply chain and logistics her whole career. She is the co-founder of Shipz, a company that brings shippers and forwarders together and streamlines the quoting, booking, and shipment process.
She is also the co-founder of Blended, a non-profit organization whose mission is further diversity, equity and inclusion (DEI) goals. As well as this, she hosts two popular podcasts - one for Blended and another called Let's Talk Supply Chain.
"The Blended podcast started after the success of our Women in Supply Chain series," says Barnes-Humphries. "I knew the conversation needed to be bigger but I didn't want to just be another podcast."
Divya Demato, meanwhile, is the CEO and co-founder of supply chain and sustainability consultancy, GoodOps.
"With three children, I am my own supply chain", jokes Demato. "I have 18 years' experience in the supply chain stratosphere, across food, fashion, and home goods. I've worked as a buyer, so I understand procurement and sourcing very well."
Supply chain challenges on diversity
With decades of experience, both women have seen the consequences of a lack of diversity and resistance to inclusion.
"There are a number of challenges," says Barnes-Humphrey, "and to be fair it's not just in the supply chain industry."
She adds: "One is that DEI is not only gender based - it is about accepting all and being open to all perspectives, Second is that we really need to see representation of everyone at all levels of the supply chain. One way we can do that is by sponsoring diverse speakers and audience members, as well as sponsoring minority-owned business to have the same access to promotional activities."
Supply chain jobs 'often gender specific'
She continues: "Speaking as a woman of colour, there's very few such women in the sector", says Demato. "When I started, there were gender-specific positions. You saw a lot of female buyers, but not necessarily a lot of females in logistics, transportation or in the warehouse.
"The head of the team or the department was usually a man. In terms of diversity, I think women have an opportunity to innovate and bring their knowledge into the supply chain space."
Barnes-Humphreys says she is not suggesting it's only women who care about sustainability "because that's not true". But she does feel the way women think can benefit the supply chain.
"Women are more likely to ask about the impact of the work they are doing beyond just time and transit and the cost of moving products. They are more likely to ask how their work is connected to the entire supply chain."
Demato believes there can never be enough diversification in any work environment.
"We know that more-diverse workforces perform better," she says. "I think that in terms of inclusion it's really about power, right? Do you have the ability to make the changes that you want? I was very fortunate to have amazing mentors and bosses that really shepherded me along the way."
Supply workers 'surprised I'm Indian'
Demato can remember instances in the pre-LinkedIn business world where her presence as an Indian woman surprised people.
"I definitely know that it was sometimes shocking for people to meet me, because we might communicate over email and then we'd meet in person and they would be surprised that I was an Indian woman. Nowadays, you can search online and have a sense of who you're talking to."
So in 2022, what hurdles does Demato feel people of colour deal with in the supply chain?
"To begin with," she says, "the phrase 'people of colour' - that's a massive group of people, so who are we talking about exactly?"
She adds: "There's racism and bias in general but I would bring it down to education. That's something I think is really interesting about supply chain. For example, do you need a college degree to work in the supply chain? Not necessarily. So much is based on experience. And this isn't just about people of colour. There are a lot of socio-economic challenges."
Women in supply: the barriers
"It depends on the environment," says Barnes-Humphrey. "Women have many more allies than we used to - allies who stand up to conference organisers and refuse to be on a panel that is not diverse. I am hoping this will expand into not just being gender focused. Women do still face very male-dominated thinking in some aspects of the industry. It is very frustrating that we are still dealing with this kind of thinking."
As for Demato, she feels the brand of workplace opposition many women face is people doubting their ability. She says she has had colleagues and associates questioning her position, and asking how much experience she really has.
"I was lucky to join such big-name companies early in my career," she admits. "That gave me a lot of credibility."
Demato also points out that just because hers is a numbers-driven type of job - "performance metrics, KPIs and so on" - that does not mean the job is not for women. Quite the reverse, she insists. "I'd say it's an exciting space to get into, if you're someone who likes direct assessment of your performance."
Learning life lessons in supply chain
Anyone who has earned a degree and been fortunate enough to go straight into that career field knows that workplace reality rarely follows textbook theory. Most of what we learn in our careers is on the job. So what have Demato and Barnes-Humphrey learned?
"I think it's understanding there is an impact to everything we create and make. The reason I'm focusing on the sustainability side of supply chain is based on that lesson. These things all come at a cost, whether it's to the people or to the planet", says Demato.
She adds: "The supply chain gives jobs; it is a livelihood. It is a current that runs around the world and it can give life to communities. The supply chain actually has a lot of power.
"And we western countries - how much waste are we creating? What are we buying? What is actually happening to the communities where all this landfill is going?"
Barnes-Humphreys reveals the most important lesson she's learned is that it's only with mutual respect "that the magic happens".
"When we come together, work together, and understand and respect each other's roles, that's where the magic happens. Communication and data are the other big components, because the more we know the better we can be."
Both Demato and Barnes-Humphreys want to see diversity reign - from head office to warehouse floor, especially after two years of social distancing as a result of the pandemic.
"In the global supply chain you will interact with people from all over the world," says Demato. "If you want to work with a diverse group of people what could be better than this?"