Greenpeace slams US secrecy plan on slave-sourced imports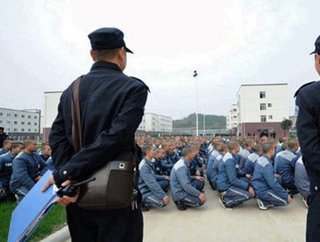 Uyghurs pictured at an internment camp in China's Xinjiang region. The International Labour Organization says the illegal slavery of an estimated 28 million people, including Uyghurs, is involved in US imports -- a situation it says will be impossible to monitor should US measures to hide shipping manifests from public view go ahead. (Photo courtesy of Bitter Winter)
Greenpeace says US big-business proposals to make shipping manifests secret will make ESG supply chain violations such as slavery untraceable in imports
An influential US government advisory panel comprising major businesses is proposing new rules to further limit public access to import data, a move analysts say will make labour abuses by foreign suppliers even harder to trace.
The Commercial Customs Operations Advisory Committee (CCOAC) is made up of executives from 20 companies, including Walmart, General Motors and Intel, and is authorised by US Customs and Border Protection (CBP) to advise on ways to streamline trade regulations.
The proposal, if adopted, would obscure customs data on about half of the $2.7tn of ocean-going freight entering the US annually – in the same way it already is for rail, truck and air cargo. Among the proposed changes is making data collected from vessel manifests confidential.
The move has been slammed by ESG activists, including Greenpeace, whose US Senior Oceans Campaigner, Mallika Talwar, said: "This is a dangerous proposal that would place not only the lives of vulnerable fishers in the seafood industry at even more risk but also millions of workers in a variety of high-risk supply chains around the world.
Greenpeace slams CBP imports secrecy move
"For years, the Greenpeace network has exposed the widespread human rights abuses in seafood supply chains. Such abuses have been protected and enabled by the notorious lack of transparency and traceability in seafood supply chains."
Yet senior CBP officials claim the move will modernise import and export rules, and help the country keep pace with trade volumes that have almost quintupled in the past three decades.
Currently, journalists and human rights activists can use shipping manifests to document where non-ESG-compliant products end up, and sometimes even their brand names and whether they're on a shelf or clothes rack at a particular store.
CBP declined to comment on whether the proposal has been formally submitted by its advisory committee, but said that the group's proposals are "developed with input gathered in public meetings".
ILO warning on illegal slavery in US supply chain
According to the International Labour Organization large quantities of exploitatively sourced clothing, electronics and seafood make their way onto US shelves every year as a result of illegal forced labour that engages an estimated 28 million people globally. Much of the investigative work behind these numbers starts with shipping manifests.
The proposal, if adopted, would obscure customs data on about half of the $2.7tn of ocean-going freight entering the US annually – in the same
It has helped uncover imports of cocoa harvested by children in the Ivory Coast, and seafood caught by Philippine fishermen toiling in slave-like conditions.
Shipping manifests were also crucial to identifying imported clothing imports by Uyghurs at internment camps in China's Xinjiang region.
The CBC's move seems to fly in the face of recent US legislation designed to outlaw unethically sourced imported goods, including the Uyghur Forced Labor Protection Act, which bans all imports from Xinjiang.
This was signed into law by President Biden on December 23, 2021, and penalties for violations are high, involving civil or criminal penalties, or both, and with impacted goods seized at the border.
Critics of the CBC's proposals say its measures will make such punitive steps impossible, and will effectively neuter this, and similar, legislation.