Foldable shipping containers an answer to port congestion?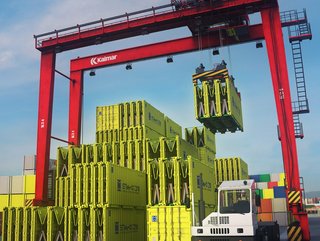 Empty shipping containers clog roads and ports. Staxxon's foldable containers -- which can be stacked in bundles -- are one solution to this.
Staxxon designs foldable intermodal shipping containers, a solution designed to tackle 'empty running', whereby empty containers clog ports and hurt supply
George Kochanowski is CEO of Staxxon, a company that has broken new ground by designing shipping containers that fold like an accordian and can be stacked on ships or in ports to reduce congestion, delays and carbon emissions.

Your professional background?
I received a bachelor's degree in Chemical Engineering from the Polytechnic Institute of Brooklyn, and some graduate studies in Business at Northwestern University.
As the inventor of all-plastic, retro-reflective traffic signage, I received Plastic Product of the Year in 1998. As Manager of Process Control for GE Plastics, I also received a leadership award for state-of-the-art computer control systems and networks at GE's Alabama facility.
I've held senior corporate leadership positions with public and private companies, ranging from electromagnetics to advanced composite materials.
What does Staxxon do?
We design foldable intermodal shipping containers that exceed ISO and CSC standards, and the systems needed to fold them standing upright in bundles, safely and quickly. We are in the process of developing a network of fabricators in Europe and North America to produce our assemblies.
What causes 'empty running'?
Empty containers clog roads and ship terminals, causing port congestion and leaving little space to unload ships. This then forces many ships to wait offshore, wasting resources and slowing the supply chain to a crawl.
The problem disappears only as the ships sail away.
How serious is the empty-running problem?
Unfortunately, due to global import-export imbalances, the 'empties' – when delivered to terminals – cause port congestion.
This has a domino effect, as they need to be temporarily stored on their chassis at off-terminal storage facilities, reducing chassis availability. (A chassis is a trailer or undercarriage used to transport ocean containers by road.) This 'clogging up' then starves exporters of empties, which are at the wrong place at the wrong time.
The environmental price is steep for each move, as each non-productive activity is handled by fossil-fueled equipment.
As we move into the post-pandemic era, where there will be less commerce - port productivity should increase. However this increase will come at a price, as the cost of labour and fuel have skyrocketed, under the propulsion of global inflation. Empties are more expensive to reposition than ever before - and it costs more to move nothing around.
Are shipping containers outdated?
The intermodal shipping container is 70 years old. Over the years it has been refined but ownership costs have increased. For example, this year, the annual operating prices have ranged between $25,000 to $40,000 to reposition an empty container. Those costs are primarily labour-, fuel-, and land-use, and all are increasing at the rate of inflation.
How does your solution help?
For 50 years, the repositioning of empty containers has had a negative financial effect and a severe environmental impact.
During this time, the only method of folding was a technology whereby the end walls collapsed onto the floor. Unfortunately, the cost of ownership was too high, and many of the design limitations were not overcome. In the end, collapsible units drew little interest.
Staxxon approaches the problem differently. A Staxxon box folds like an accordion. We always keep the box upright even when folded. This offers the capability to stack the bundled sets anywhere on the ship.
Plus, you don't have to wait for a set number of collapsed containers to be nested to meet required ISO dimensional standards, saving space at ports, reducing the need for off-terminal temporary storage, and freeing up numerous chassis.
With the number of moves now minimised, there is a significant reduction in the use of fossil fuelled vehicles and pollution.
The goal of the Staxxon container is to create a ROI while reducing the environmental impact.
Who inspires you?
Early in my career, I had the benefit of working for GE Plastics when Jack Welch was running GE, and years later, I ran an advanced composites company for Dr Walt Robb, who was Welch's close advisor and confidant when Robb was at GE. Although not without faults, these two were always inspiring to be around.
Best advice ever received?
The job doesn't get done until the right people are on the job.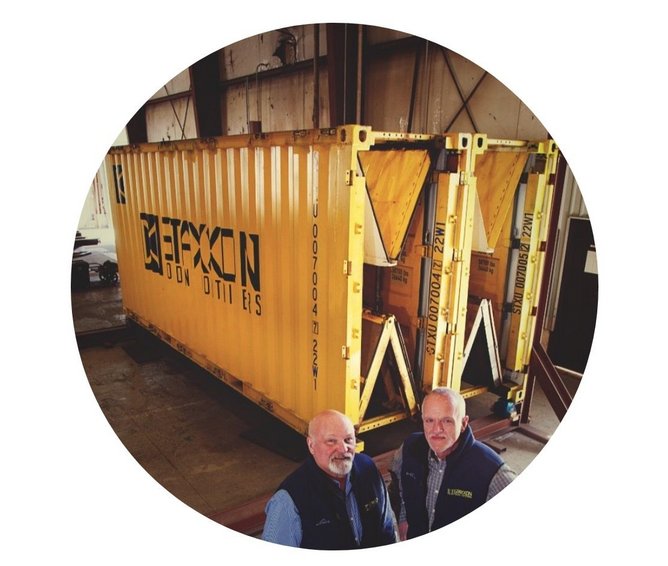 George Kochanowski (left), pictured with his company's folding intermodal shipping containers.