Fairtrade Fortnight focuses on sustainable supply chains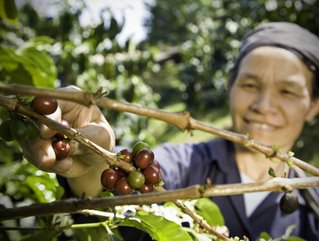 Fairtrade Fortnight 2022 begins today, with a strong focus on how climate change will impact trade and how to maintain a sustainable supply chain
Fairtrade Fortnight 2022 (21st February – 6th March) will celebrate solidarity with those working across the agricultural supply chain, who are on the frontline of the climate crisis.
Certified Fairtrade products - from bananas to coffee - must have adhered to strict rules designed to protect workers and the environment.
Fairtrade ensures a sustainable food supply chain
Fairtrade aims to achieve ethical targets through certification and inspection of suppliers. The organisation is also independently inspected by FLOCERT, an international trade and development organisation.
The Fairtrade standards which must be implemented across the supply chain include:
Prohibition of forced labour
Prohibition of child labour
An organisational structure which allows producers to bring a product to the market on their terms
A democratic decision-making process through the supply chain, which must be free of discrimination
Economic development available for producers
The use of environmentally sound agricultural practices
Fairtrade Fortnight is an opportunity for businesses to stand alongside farmers in low-income countries who are impacted daily by climate change. The first Fairtrade Fortnight started 1997, with a goal to educate consumers on the need to support workers across agricultural supply chains and how those workers navigate environmental and social challenges.
Climate change threatens sustainable supply chains
According to Fairtrade, the climate crisis is "the biggest threat to the livelihoods of millions of small-scale farmers and agricultural workers in low-income countries worldwide."
A fairer income allows farmers to invest in the necessary forms of adaptation techniques needed to protect their local environment and their businesses.
"We are all facing an existential planetary threat and politicians are still not moving fast enough to stand a chance of keeping warming to 1.5 degrees," said Nilufar Verjee, Director of Public Engagement at the Fairtrade Foundation. "Current levels of global heating are already disastrous for the farmers and workers who grow our food – they need the cash to adapt to new ways of farming. The life support is that we have another chance with COP27 in 2022 for world leaders to tackle the climate crisis and secure finance, fast.
"Poverty and environmental damage in our food supply chains will not end until exploited farmers are paid fairly, have the power to make their own choices and to plan for the future. Only then will they be able to effectively fight the impacts of the climate crisis. This also matters to UK conscious consumers and businesses. Climate change, and the ability of farmers to grow their produce, is also threatening the survival and sustainability of supply chains behind some of the UK's best-loved imports, such as coffee, cocoa and bananas."
"If we carry on planting when we have always done before, when there is no rain and it is so hot, whatever we try to grow is destroyed," said Kouamé N'dri Benjamin-Francklin, a cocoa farmer from Côte D'Ivoire and Fairtrade Africa vice-chair board member. "Then there is nothing to harvest. That has been happening now for years and production has massively decreased. Because of that, our incomes have massively decreased. Being a farmer shouldn't be a route to poverty."