'Electricity 4.0' the future of sustainability - Schneider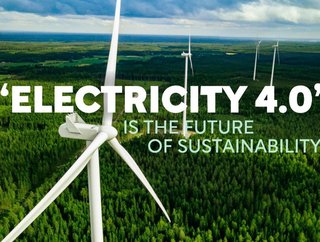 Electricity 4.0 is the point at which renewable electricity meets digital.
Schneider Electric's Energy Management Chief, Steve Smith, says sustainability is most promising at the point renewable energy meets digital
The near-global pledge to achieve net-zero carbon emissions by 2050 has left governments and many businesses scrambling to make progress, as they seek to stay on track with sustainability roadmaps.
And, with supply chains accounting for as much as 80% of organisations' total carbon footprint in the shape of Scope 3 emissions, the challenge faced by multinational businesses is, quite frankly, enormous.
Digital transformation programmes are helping many organisations measure their carbon footprint, which is ground-zero on being able to reduce emissions across their value chains. But if commerce and industry worldwide is to meet net-zero targets, it will require a fundamental shift in how energy is both produced and consumed.
One business that is helping on this front is Schneider Electric, the French multinational company that specialises in digital automation and energy management, aided by Steve Smith, who is Schneider's Head of Energy Management, Thought Leadership and Communications.
Addressing BizClik Media Group's Sustainability Live London event in February, Smith reminded his audience that the world was "only just beginning to learn to create energy by means other than burning stuff".
Smith insists the biggest single factor in helping us hit global net-zero targets will be "electricity 4.0", which he describes as being "the point at which renewable electricity meets digital".
'Smart' energy is visible, connected and controllable
He told Sustainability Live: "This gives us new ways of thinking about energy, new ways of distributing it, and new ways of saving it. Energy becomes visible, connected, smarter, and more controllable. It helps companies and individuals operate more efficiently and more successfully."
Although conceding that green hydrogen will also be important in the drive to net zero, he reminded the audience that it requires "entirely renewable electricity to produce it, as well as quite a lot of water", and that, because of this, green hydrogen alone "will never be as efficient as direct electrification".
He added: "Climate change is all about energy. The way we use energy today is incredibly inefficient – around 60% of today's energy is either lost or wasted, so we need to make it smarter. We need to use it smarter as well as making it cleaner."
Schneider is a global leader in the digital transformation of energy management and automation. It operates in 100 countries and employs 140,000 people.
By 2050, the company plans to have helped its customers save around 800 million tonnes of CO2 and itself expects to be carbon neutral across all its operations in Scope 1 and 2 emissions. The company has also persuaded its top 1,000 suppliers to commit to the same target.
"It's about us taking our customers, our partners and suppliers on the journey with us," says Smith, adding that, by 2050, Schneider expects "to be operating out of 150 net-zero sites globally, have an entirely electric fleet of vehicles and be operating a full net-zero supply chain".
Schneider taking tier-one suppliers along with it on its sustainability journey is something of a template for other organisations to follow as they strive to meet their net-zero goals.
Collaborate with suppliers on sustainability - Suppeco
Sheldon Mydat, CEO of Suppeco – a cloud-based dynamic supplier-data platform – believes tier-one suppliers hold the key to driving sustainable practices deeper into the supply chain.
Speaking at another BMG event – April's Procurement & Supply Chain LIVE – Mydat said that, because supply chains are complex, "it requires a lot of work to bring smaller companies along on the sustainability journey". He added that almost half of such companies don't track their produce at all once it leaves their premises.
He continued: "When it comes to sustainability programmes, I think a lot of smaller suppliers wonder what is in it for them. Inflation is high right now, and there's a cost associated with doing things sustainably. Many smaller companies don't have the money to invest in new processes, and this is often why they don't track produce when it leaves their premises.
"Encouraging suppliers to embrace sustainability is about creating a willingness to support the cause. It's down to tier-one suppliers, in collaboration with their customers, to drive those behaviours and to bring smaller companies on the journey. Ultimately, it's all about collaboration – about things such as driving shared R&D."
Schneider's Smith feels that, ultimately, many of the net-zero challenges faced in supply chains – including Scope 3 emissions – will be met through the widespread adoption of 'Electricity 4.0'.
Net zero solutions 'exist in shape of Industry 4.0 tech'
"All the solutions we need already exist in the shape of Industry 4.0 technology," he said. "Electric and digital is the best vector for decarbonisation because it allows us to bring more renewables into an increasing share of the mix. It allows us to see and understand how energy is being used so that we can reduce that massive 60% wastage that we see today."
Smith says buildings are the biggest consumers of energy and that the ever-growing number of power-hungry data centres are a particular problem. "Although the use of data is part of the solution to so many problems in our daily lives, it is also a problem with regard to sustainability because too few data centres are energy efficient," he said.
This is something Schneider is tackling by reimagining the power grids of the future. "At Schneider, we don't just talk about what we can do – we want to be able to demonstrate it," Smith said
Schneider's flagship data centre project is the Eco Data Centre in Sweden, which is the world's first 'climate-positive' data centre.
Smith said: "Their site is so energy efficient that the heat they produce as a data centre powers its cooling operations in the summer. During the winter, they send that energy to a local network to help homes in the district area. It's reusable, recyclable energy."
Schneider is involved in more than a million commercial buildings around the world, half of all of the world's data centres, as well as 40% of the world's utilities and hospitals.
"We're touching mission-critical lives every day with what we do and how we're doing it," Smith said.
PROCUREMENT & SUPPLY CHAIN LIVE LONDON 2022 takes place at the QEII Centre from 12-13 October. Click here for more details