E-truck use in logistics limited by cost & infrastructure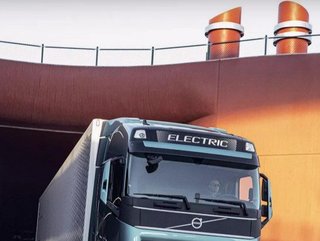 Daimler Truck is a leading maker of electric trucks, and DFDS is one of logistics' biggest e-truck customers, yet widespread adoption is a long way off
The move to net zero carbon emissions is now a global concern, and sustainability is now high on the list of priorities in every boardroom.
Any business with a large fleet of vehicles faces a raft of challenges in the bid to cut its carbon output. For logistics companies with a huge fleet of trucks that often need to travel vast distances, the switch from diesel to electric lorries is even more exacting.
For this piece, we spoke to two companies on different sides of the e-trucks divide: a truck manufacturer and a truck user
Denmark-based DFDS is Northern Europe's largest shipping and logistics company, with 8,000 employees across 20 countries. When it comes to deploying electric trucks in its fleet, DFDS is in the vanguard of logistics companies.
In December 2021, it placed an order with Volvo Trucks for 25 heavy electric trucks, on top of the 100 Volvo FM electric trucks it made in October.
Asked what its road map is for switching completely from diesel to e-trucks, Niklas Andersson, DFDS Executive VP & Head of Logistics Division revealed the company is "determined" to be carbon neutral by 2050 but that electrifying its entire fleet will take time, "due to the lack of sufficient and reliable charging infrastructure."
He adds: "This is why we will need to continue working with our customers and partners to explore ways to overcome such obstacles, in order to help us make the switch."
In the meantime, as well as adding e-trucks to its fleet the company is working to improve the fuel efficiency of its regular fleet, supported by driver training, and also use biofuels "in almost all locations", says Andersson.
Market choice on e-trucks will increase with time
As the e-truck market continues to mature, there will also be more choice around driven e-trucks and driverless ones.
DFDS is hoping to use a mix of the two, and says it has a number of projects involving autonomous vehicles "on the horizon", and will deploy them "if they can work for our business".
Driverless trucks could ultimately be a solution to the ongoing drivers shortage, which is affecting DFDS, as it is for all logistics companies.
"We remain impacted by the ongoing shortage of qualified HGV drivers, and ongoing government intervention is required to address this," says Andersson. "Self-driving trucks could be part of the solution but it is still early days, so we need to take some time to accurately assess if they can work for our business."
Asked why he thought the sale of e-trucks has been so slow, Andersson says as well as being a problem of availability and cost, battery size is also an issue.
"The size of batteries required to give sufficient power and range is an obstacle when it comes to electrifying one's fleet," he says.
Lack of charging infrastructure a problem with electric trucks
But the biggest single problem is the lack of a sufficient and reliable charging infrastructure.
"To overcome this, we'll continue to work with customers, partners, governments, and other stakeholders, to help pave the way for the switch to electric trucks," says Andersson.
"Businesses and governments can and must all play our part to overcome this."
In Sweden, the government has recently announced public funding on this front.
Andersson says: "We applaud this, as it is designed to help both public and private organisations help solve the problem.
Andersson says that across Europe we are seeing "a good proportion of businesses that are prepared to invest in electromobility".
He adds: "As one of Europe's largest integrated shipping and logistics companies, we play our part in making sure the solutions out there are available and operationally stable."
Daimler Truck in e-lorries vanguard
Daimler Truck is one of the world's largest makers of commercial vehicles. Its ambition is to only offer new vehicles that are carbon-neutral by 2039.
The company has a dual-track strategy on electric trucks, split between battery-powered and fuel-cell powered vehicles.
A fuel cell electric vehicle (FCEV) drives an electric motor using hydrogen, rather than drawing electricity from a battery. Daimler Truck is currently developing next-gen refuelling tech for hydrogen fuel-cell trucks, but already has two battery-powered trucks models in production: the Mercedes-Benz eCitaro and the Mercedes-Benz eActros.
Daimler Truck recognises that the adoption of e-trucks is slow, and the company's Head of eMobility, Rakesh Aneja, says that changing this "is a matter of transforming an entire industry and associated businesses in a very profound way".
He adds: "For this transformation to be successful we need the right products, the right Infrastructure and the right cost. It is like a multiplication equation among these three factors, so that if one of these factors is zero the net result of the transformation will be zero."
Aneja says Daimler Truck recognises the switch to what he calls "CO2-neutral propulsion" will be more expensive, at least initially.
Daimler Truck working to reduce cost
"Our engineers are working feverishly to continuously reduce costs and make the overall total cost of ownership equation more attractive," he says. "In the meantime, there is a significant opportunity and need to seed the market with zero-emissions vehicles."
Returning to the fact that the recharging and refilling infrastructure around electric vehicles is vital, Aneja says that the current lack of a publicly available, nationwide electric charging infrastructure for commercial vehicles is a massive problem.
"It's one of the biggest barriers for widespread deployment of electric trucks," he says. "Especially for long-haul freight operations."
But Aneja does point out that there are signs of progress — not least in the US, where Daimler Truck has co-signed a memorandum of understanding (MoU), along with the renewable energy company, NextEra Energy Resources, and multinational investment management brand, BlackRock.
"This will lay the foundation for a joint venture to design, develop, install and operate a nationwide US electric charging and hydrogen-fueling network to accelerate the rollout of carbon-neutral freight transportation," explains Aneja.
Driverless e-truck plans still in early stages
Regarding Daimler's plans around driverless e-trucks, Aneja says two factors are involved: increasing the range of electric drivetrains, and the introduction of fuel-cell technology for long-haul. Until these things are in place, Aneja says the company "will for now, have to prove the technology with diesel powertrain technologies".
As for the kind of conversations Daimler Truck is having with its supplier, Aneja says: "Supply chain people are constantly making magic happen for our dealers and, most importantly, our customers, by securing the parts we need to build trucks.
"In contrast to past experience where we simply ordered and received parts, we're now reaching far down into our supply chain to assist suppliers in planning for shortages, navigating constraints, and working to help them keep the upstream flow of parts moving."