Supply Chain Risk Management
Warehouse Racking System FAQ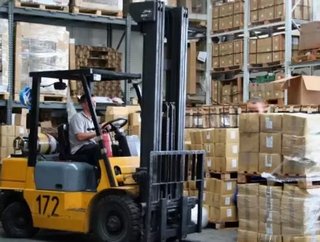 Be sure to check out this story in August's issue of Supply Chain Digital. Trust us, it's way cooler! What is a warehouse racking system? Palle...
Be sure to check out this story in August's issue of Supply Chain Digital. Trust us, it's way cooler!
What is a warehouse racking system?
Pallet racking is the most common form of warehouse racking systems, and they're basically a storage system designed to stack materials in horizontal rows with multiple levels. The benefits are simple enough: why spend more money to add square feet to a warehouse when you could be utilizing wasted vertical space?
These racks are usually topped with pallets, which are one of the most primitive (but effective) means of storage. Forklifts allow for simple movement between the racking systems to transportation vehicles, which add efficiency to most types of warehouses.
Why should I use a warehouse racking system?
For one, it's much cheaper to employ a racking system than double the square footage of an existing warehouse. Adding a racking system can double and sometimes even triple the amount of materials you're able to handle in your warehouse, and adding forklifts to a basic warehousing operation usually results in a leap in efficiency.
Businesses these days need to look at the bottom line more than ever, and a warehouse without even the most basic racking system is almost always not as efficient as it could be. Warehouses that deal in heavy materials usually already have forklifts in place, so a transition to a racking system is already that much easier.


What are some of the challenges to employing a warehouse racking system?
Pricing can be cost-prohibitive depending on the size of your operation. The cheapest racking systems start at about $50 per pallet position but can cost up to $400, which can make a complete racking system cost tens of thousands of dollars. Throw in the cost of powering a quality forklift fleet, and medium and large warehouses could top $100,000 without breaking a sweat.
Employing a team capable of handling a warehouse racking system can also pose a challenge to those new to the warehouse racking system. Countries like Australia, Japan and Germany have very low unemployment rates, so finding staff capable of handling the racking systems could prove difficult.
What types of warehouse racking systems are out there?
Selective pallet racking is the most commonly seen system today, and comes in two configurations: roll formed, or clip-in configuration, and a structural bolt-together configuration. Pallets rest on horizontal load beams that are held in place with mounting clips, and can be moved quickly and easily adjusted to accommodate differing load sizes. This is an especially convenient racking system configuration for warehouses that carry a vast array of products and require different storage requirements.
Other commonly seen types of warehouse racking systems include drive-in or drive-through storage rack configurations that allow forklifts to drive directly into a lane of stacked rows, called bays. This system is helpful when shelf life can be a major concern, as materials aren't going to be held for too long.
Push-back pallet racks are often used to maximize storage space at a cost of reducing aisle space. Each bay is displayed up to six pallets deep and stored on wheeled carts fitted onto rails. A forklift can set the pallet onto the cart, drive forward and bump into the next pallet, rolling the entire group backwards to maximize storage space.
A motorized mobile pallet rack is another system designed to maximize storage space. These systems convert static access aisles into productive storage space, and have helped companies eliminate new building costs by maximizing usable storage space.
What safety concerns am I looking at?
Because your raw materials are going to be stored dozens of feet above the warehouse floor, you're going to need to take extra special precautions to avoid injury. Pay close attention to any loose components of the racking system, especially after installation, because the slightest mistake could cause materials to fall.
Also, make sure to follow the strict load guidelines set by each manufacturer. While your racking system may look like it can handle more, it's not safe and could result in damaged goods or worker injury. Rack audits should be performed on a regular basis to ensure the integrity of the product.