Supply Chain Risk Management
Warehouse lease fuels rumours Amazon Fresh is to hit London in September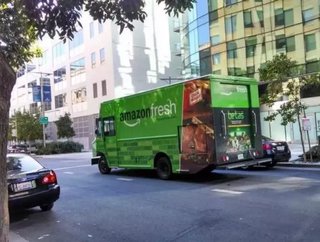 Follow @SamJermy and @SupplyChainD on Twitter. Rumours are rife that Amazon Fresh is about to hit the United Kingdom in September, due to the ecommer...
Follow @SamJermy and @SupplyChainD on Twitter.
Rumours are rife that Amazon Fresh is about to hit the United Kingdom in September, due to the ecommerce giant signing a 10 year lease on the Weybridge warehouse in Greater London which has been recently vacated.
Amazon's grocery service has been available in Seattle, San Francisco, Los Angeles and most recently San Diego on the West coast of USA and now the UK's beleaguered supermarket chains may have to deal with a new challenge. Sources believe London could see the new venture next month with Leeds getting the service in April 2016.
Logicor's 304,751 square feet facility has been available since Tesco left the site at the end of 2014, and tucked just inside the M25 motorway it offers an ideal location to send deliveries to the heart of England's capital.
RELATED READS: Amazon CEO Jeff Bezos $7 billion richer; company now worth more than Walmart
How Jeff Bezos is aiming to revolutionise Amazon distribution network
In California, shoppers use the Amazon Fresh service to buy food from local shops and restaurants, while a wireless device called Amazon Dash monitors when users run out of household essentials and orders replacements, much like a present day embodiment of a futuristic Internet of Things vision. Amazon already sells items such as tea, toothpaste and washing-up liquid, but Amazon Fresh includes fruit, vegetables, bread and meat.
The company confirmed it was opening a delivery station in Weybridge, but declined to comment whether this would form part of Amazon Fresh in the UK, calling the potential launch of a grocery service "rumour and speculation".
But numerous media outlets are reporting the service will start imminently, including Business Insider which lists the Amazon CEO and founder Jeff Bezos as an investor. Billion entrepreneur Bezos is a modern day phenomenon; building up the firm from his Seattle garage as an online bookshop in 1994 to revenues of $89 billion twenty years later. He also now owns the Washington Post, after buying it for $250 million in 2013.
The Amazon Fresh grocery delivery launch would be yet another landmark in the company's relentless push forward, as it now offers delivery within one hour on over 20,000 products in London and Birmingham, as well as providing a locker parcel drop service on the London Underground network.
So readers- what do you think, will this ambitious move work out? Will Amazon Fresh start to chip away at the likes of Ocado, Tesco and Sainsbury's? Or is this more about perfecting the art of speedy last mile delivery? Let us know in the comments below and on Twitter.