Supply Chain Risk Management
UPS weathers the logistics storm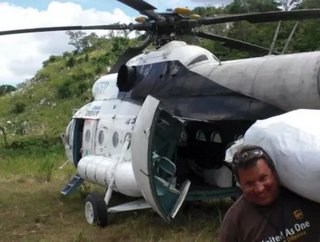 By Esther Ndichu, Humanitarian Supply Chain Director and Dale Herzog, Director of Humanitarian Logistics, UPS While its unlikely for anyone to be 100 p...
By Esther Ndichu, Humanitarian Supply Chain Director and Dale Herzog, Director of Humanitarian Logistics, UPS
While it's unlikely for anyone to be 100 percent prepared for the next big disaster, economies - and more importantly lives - depend on the preparedness of cities, states and countries to respond in the aftermath of a catastrophe. This is where logistics capabilities become essential elements of disaster planning, response and continuity of operations. 
Meteorologists sometimes can predict disasters, with a high degree of certainty, days, if not weeks before they make landfall. Other times, however, the public is warned within mere minutes. And then there are those events that can't be predicted at all. In each of these scenarios, for government and non-government organisations (NGOs), the best defense is a good offense.
After Hurricane Katrina left thousands without food, shelter, medical supplies and clothing in August 2005, UPS worked with numerous organisations who wanted to move critical supplies into impacted areas to aid in the relief effort. Based on our work around Hurricane Katrina as well as with other natural disasters around the world, we have identified three critical areas of logistics which are essential in a disaster: technology, financial management and communication:
Technology
The ability to track the movement of goods during departure, transit and ultimately into the hands of intended recipients is essential in maximising supply chain efficiencies, especially during a disaster. 
In the aftermath of the 2010 earthquake that destroyed large parts of Haiti and left many citizens without the necessary means to survive, UPS used its Trackpad® technology to manage critical inventory and distribute supplies to the people of Haiti. Trackpad® allows organisations to monitor packages and information across the supply chain and focus on the big picture to resolve potential issues before they arise.
Managing inventory in the aftermath of a disaster does not always require the implementation of additional technology, however. Simply leveraging technology at hand, such as a smart phone or tablet, to scan barcodes throughout each step of the supply chain allows for better planning and leads to more accurate reporting.
Without a specific barcoding system or electronic tracking mechanism in place, it is virtually impossible to determine which items have been shipped, which ones have cleared customs (when applicable) and which ones have been received and distributed.
In the absence of an efficient in-house supply chain process, third-party logistics providers, like UPS, can offer a myriad of resources and solutions to help government organisations and NGOs serve their people and each other, similar to what was carried out for the United Nations High Council on Refugees (UNHCR), which oversees all UN-sponsored refugee camps.
Each camp that the UN manages, including those with half a million people, is currently using paper-based systems to track all food and non-food items (NFIs). Teams at UPS have been working to increase efficiency by developing software compatible with tablets that can scan bar-coded family IDs of camp residents to ensure equitable and proper distribution.
Additionally, organisations should focus on collaborating with one another to achieve common technology goals. For example, a small NGO could leverage what advanced NGOs and relief agencies have in place instead of having the shared third party invest in the same solution, separately, for the different organisations. This type of lateral, open communication improves efficiency and saves costs.
Financial management
Government organisations and NGOs face many challenges regarding financial management in the context of disaster recovery. The first challenge arises in making sure that a large percentage of donated funds go directly to putting necessary supplies in the hands of the needy. 
Often, considerations for costs such as hiring and infrastructure maintenance are not necessarily factored into supporters' minds when they donate, so they expect to see the direct results of their generosity translated into help for disaster victims and their families. Reconciling these potential disparities is only as possible as one's supply chain is efficient.
An optimised supply chain is the only way to narrow the gap between the percentage of funds that goes toward organisational expenses and the percentage that goes directly to relief efforts. Organisations should engage a third party for a supply chain analysis before disasters occur to determine whether their supply chain is set up to efficiently and effectively respond in the event of the unexpected.
An added financial challenge occurs when there are not enough funds to prepare for a disaster beforehand and therefore when the disaster occurs, resources are depleted and supplies are scarce.
This was the case with Hurricane Katrina, the 2011 tsunami in Japan and many other recent disasters. People and companies are highly motivated to donate after a disaster occurs, but it is in the time preceding such an event when funds are needed most in order to replenish inventory and prepare for what is to come.
Organisations should consider its size and role specific in disasters when determining how much reserve supplies are necessary to sustain the community. Further, it is much more economical to purchase supplies prior to a disaster since commodity prices increase substantially after the event has occurred.
Communication
Last, but certainly not least, communication is crucial during the planning and recovery phases of disasters. Without proper communication, organisations tend to experience breakdowns in operations and lose efficiency.
Especially with NGOs, much of the governance is decentralised with an abundance of power residing at the country office level. This decentralisation leads to crossed communications, redundancies and overlapping programmes where agencies are not consolidating buying power.
It is increasingly important for NGOs to work with their supply chain partners to develop a solution to this problem by pulling together a single entity that handles mass procurement for multiple organisations.
Each of these pain points in the logistics of disaster recovery can cause significant setbacks in times when urgency is most crucial. Partnering with a third-party logistics provider who has the global or national assets, resources and expertise required can help government organisations and NGOs drive greater supply chain efficiency during a disaster to deliver the right response at the right time – and most importantly, save lives.