Supply Chain Risk Management
Taking advantage of vertical warehouse space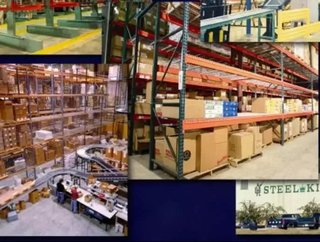 In case you missed it, click here for Part One of this warehousing series! By Carlo Chatman To optimize warehouse performance and cost, Wisconsin Lift...
In case you missed it, click here for Part One of this warehousing series!
By Carlo Chatman
To optimize warehouse performance and cost, Wisconsin Lift Truck project manager Tim Zunker recommended and Northwest Petroleum chose SK2000 pallet rack, a boltless, closed tubular upright product by Steel King. The pallet rack forms the foundation of the rack supported platform and provides most of its storage capacity. A stair-accessible upper level with lockable enclosures provides more secure storage for high-value items such as electronics.
While a Steel King engineer designed the pallet racking to meet project load and building code requirements, a Wisconsin Lift Truck engineer helped to maximize storage capacity within the existing warehouse.
TAKING ADVANTAGE OF VERTICAL WAREHOUSING SPACE
Compared to pre-project warehouse capacity, vertical storage space was increased from about 8 feet of usable rack previously to about 16 feet of usable rack with the pallet rack supported work platform. Horizontal storage space was added by maximizing long runs of rack and minimizing short runs of aisles. Four more rack bays were added, and stairs were placed near walls to maximize usable space. Expedited installation of the system within one week helped to keep the project on track.
"The Steel King rack supported work platform has essentially quadrupled our storage space within our existing warehouse," says Bob Fromm, General Manager at Northwest Petroleum Service. "Because we can now store parts by manufacturer and function under one roof, we're picking and inventorying parts about 50 percent faster, which cuts the cost of labor and speeds delivery."
"We've avoided the high cost of paying for an offsite warehouse and staffing it," adds Fromm. "We've avoided the cost of constructing a building supported mezzanine and the months of operational disruption it would cause. With the operational efficiencies we'll attain with the rack supported work platform, we expect ROI in a couple of years."
SEE OTHER TOP WAREHOUSING STORIES IN THE SUPPLY CHAIN DIGITAL CONTENT NETWORK
October Warehousing Feature: SaaS-ifying the Warehouse
August Warehousing Feature: The Green Case for Pallet Pooling
Check out October's issue of Supply Chain Digital!
A number of SK2000 pallet rack features also will help the company meet its strength, durability, and maintenance goals for the rack supported work platform. Compared to open back roll formed columns, the closed tubular uprights are 44 times more torsion/twist resistant, with 250 percent greater frontal impact resistance and 68 percent greater side impact resistance. All beams are constructed of high-strength (55,000 PSI minimum) steel, and holes are placed on the column's face, not the corners, minimizing strength loss.
"The strength of the rack will resist fork truck damage and allow us to place heavier items in the upstairs lockable enclosures, if we choose to," says Fromm.
Because the rack is powder coated rather than painted with enamel, it's 94% more resistant to chips and scratches. "We expect decades of productive, aesthetic use from our rack supported work platform," says Fromm. "Besides improving our productivity, it's proving to be a win-win sales showcase for prospects and existing customers."
Finally, unlike permanent building supported mezzanine, the rack supported work platform is adaptable and easy to change to suit future needs. "Since the rack supported work platform is free-standing and adjustable, it's relatively simple to change its size and configuration to meet future operational needs," says Fromm. "Any manufacturer with unused vertical warehouse space that's looking to improve logistics and cut cost should look into a rack supported work platform."