Supply Chain Risk Management
Supplier visibility 'is vital to procurement' - Vendorful
Peter Bonney, CEO of Vendorful, speaking about the importance supplier visibility.
Speaking at Procurement & Supply Chain LIVE: The Risk & Resilience Conference, Peter Bonney, CEO of Vendorful, spoke of the importance supplier visibility
In April 2022, Procurement Magazine, Supply Chain Digital and Bizclik Media Group returned to London's Tobacco Dock to host our second Procurement & Supply Chain LIVE.
Dubbed 'The Risk & Resilience Conference' the two-day hybrid event featured keynotes, roundtables, Q&As, and networking opportunities with inspirational and knowledgeable leaders in the procurement and supply chain space.
Peter Bonney, CEO of Vendorful, spoke about the importance supplier visibility. Vendorful is a platform for helping large organisations manage their supplier relationships. It provides visibility across data systems, and functions that were once siloed between sourcing systems. Supply Chain Digital caught up with Bonney after his keynote. The following is an edited version of that interview.
Why has procurement become so strategically vital?
For a long time, there was an increasing split between what is supply chain, what is procurement, which was traditionally tasked with reducing cost and getting things done quickly. It was not so much focused on the assurance of supply.
Post-pandemic, what's happened with procurement and supply chain is all the barriers are down. It doesn't really matter if you're saving an extra percent or two on some contract if you can't get the materials and you have to shut down your factory.
So the strategic importance of procurement now is making sure factories don't grind to a halt.
Does procurement have the tools to meet these needs?
I think if you asked somebody in procurement, the answer would always be 'no'. It has traditionally been an area that's under-invested. There's a lot of demand placed on procurement professionals but not a lot of tools given them.
This is in contrast to sales. When sales says 'Jump' the IT team asks 'How high?' But as a department, procurement is just as critical as sales, if not more critical when you're talking about a dealing with things in a crisis. And yet still, it has to fight for budget, and retains a reputation for being a mere cost centre, that businesses seek to run as cheaply as possible – almost a necessary evil, if you will. But this is slowly changing, in large part due to the unprecedented nature of what we've just been through.
How does Vendorful help procurement teams?
We provide our customers with the customer-relationship management software experience that sales teams have been used to for a long time. Sales teams have long been able to access data about customers and prospects, and we're providing that kind of functionality to customers, by making it easy for them to manage those supplier relationships, and to reduce the amount of time they need spend on manual tasks such as keeping compliance data up to date.
How deep does Vendorful visibility go?
It depends on the level of data that we're given access to. We'll draw-in data that from a customer's enterprise resource planning and unlock insights that traditionally have not been visible to people in procurement.
I think the thing that's interesting is we're finding most organisations have better data than they realise. It's usually locked away in different places and inaccessible to the people who want and need it. We hear stories about how, when procurement people need data, they have to email somebody to get it. The data is there, and of decent quality, it's just not visible. We're unlocking that for our customers.
Where do you see procurement being in five years time?
I think the tools available to procurement will be a lot better but probably the biggest change will be the respect procurement is afforded in organisations.
If we're looking at years of inflation and supply chain disruption, then you're talking about procurement having to take on a much larger and more visible role in organisations, which hopefully will mean better access to resources.
To watch this keynote - or any of our other speakers from Procurement & Supply Chain LIVE: The Risk and Resilience Conference - click here.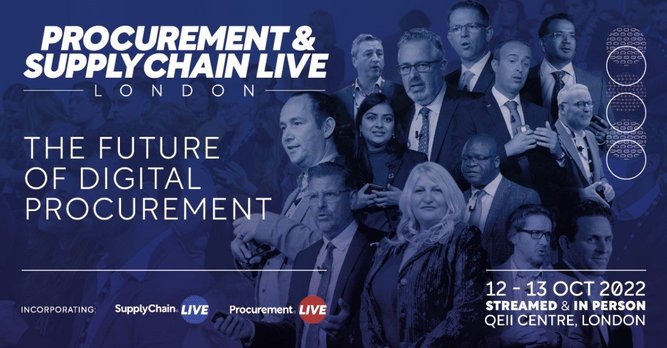 PROCUREMENT & SUPPLY CHAIN LIVE LONDON 2022

This October, Supply Chain Digital and Procurement Magazine return to London for an all-new event - PROCUREMENT & SUPPLY CHAIN LIVE LONDON 2022. Click here, to find out how you can attend.
Held at the QEII Centre from 12-13 October, BMG's all-new hybrid event incorporates two zones - SupplyChain LIVE and Procurement LIVE - to create a single EXPO style experience.
The event will give those attending the chance to showcase their values, products and services to partners and customers.
To find out more about PROCUREMENT & SUPPLY CHAIN LIVE LONDON 2022, click here.