Supply Chain Risk Management
SaaS-ifying the Warehouse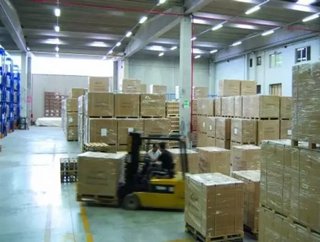 Before you read this, check out the upper-right hand corner of this page to view this article in our digital reader. Trust us, it's way cooler! Wri...
Before you read this, check out the upper-right hand corner of this page to view this article in our digital reader. Trust us, it's way cooler!
Written by Jez Tongue of @logistics Reply
Today's retail market poses an extremely complex and challenging environment for logistics and distribution. With the provision and return of goods via multiple channels being ever more chaotic and sporadic, suppliers face huge pressures to meet increasingly tight SLA's and customer expectations.
Customers – both the consumer and retailer –whether online or in-store want quality, value-for-money and optimum service delivery.  Neither is prepared (or able) to accept mis-picked or poorly substituted orders. And with the average household facing a cost of living rise of at least £900 a year, retailers are realizing the need to push the boundaries of efficiency. It is therefore more vital than ever for supply chain businesses to be increasingly efficient and agile in order to assert their competitive advantage.
IKEA'S AUTOMATED WAREHOUSE
As a consequence, the current economic climate has increased uncertainty in warehouse and distribution activities, and prompted a rise in small, temporary logistics contracts. At the heart of this potential efficiency lies an often redundant warehouse, usually a monolithic electricity guzzling building packed to the rafters with perishable goods. It is in the warehouse that significantcost savings and efficiency gains can be had.

Manual warehouse management processes no longer make sense. There are too many suppliers, storage areas – dry, ambient and frozen - and distribution channels to be managed by pen and paper. Perishable stock items need to be rotated. Range extension items need to be included into the product and service offering in a seamless yet cost-effective procedure.Seasonal items must be factored into put-away processes, and now, with Next setting the precedent for next-day order guarantees, highly demanding picking and distribution schedules must be overseen.
Moreover, with many warehouse operations running on warehouse management systems (WMS) that are essentially all-purpose models, many businesses are activating and paying for users andfunctions they don't need. Automating a warehouse using a low-risk, Cloud-based warehouse management solution presents a 'silver lining' for logistics professionals. Based on an OpEx, 'pay as you grow' payment model, the SaaS model boasts the ability to scale as a business grows in capacity and complexity. More compellingly for the current logistics landscape, it offers downward scalability to both the infrastructure and the commercial model.
4u LOGISTICS WAREHOUSE MANAGEMENT SYSTEM
With an on-premise WMS, for example, users are required to invest heavily in a fixed number of licenses, servers and IT people, a WMS on-demand aligns the warehouses' needs to the number of functions activated on the system so only the "capacity" used is paid for.  If the WMS, or a particular warehouse function, is no longer needed or seasonal demand dictates greater use, it is no harder than (de)activating a utility. This is all managed behind the scenes by the solution provider.
This also means the SaaS model is able to support warehouse environments looking for semi automation. Key warehouse processes including physical and virtual receiving, put away, shipping, picking and inventory management through to execution can be managed by a hosted WMS platform. All the warehouse team needs to do is use the intelligence provided by the WMS to achieve an ultra-lean warehouse. Shift patterns can be reviewed, picking accuracy and efficiency can be optimized with the introduction of RF or voice picking applications that deliver fulfillment instructions and best picking routes directly from the WMS to the picker. Automated picking also enables real-time stock tracking and logging of damaged goods.  This introduces the option of just-in-time stock ordering and item rotation to reduce obsolete stock and ensure the longest shelf-lives are always delivered to retailers, and in turn to their customers.
A major benefit of an on-demand platform is that it is quick and cost-effective to set-up – in some cases it can be up and running in four to six weeks, with the system paying for itself in less than three months. Here, flexible automation is built into the project to support sustainable growth in line with the warehouses' operational performance and needs, resulting in minimal revenue and resource interruption as well as avoidance of any 'service level dip'.
This speed-to-benefit is a major differentiator from traditional WMS, automation projects which can take more than six months to go live. Furthermore, all the pain and costs associated with future upgrades are removed, as upgrades, maintenance and support are provided incrementally as part of the service. A hosted, SaaS platform is therefore ideal for warehouses requiring rapid start-up and for those which operate in uncertain scenarios. Increasingly, suppliers are using it to manage peak demands or one-off projects. 
Increasing supply chain efficiency will cut overheads and reassert customer service delivery as the essential 'lean principle'. Lower costs will mean the maintenance of profit margins despite the growing cost of ingredients and fuel. Healthy margins gained through the supply chain could mean retailers don't need compromise on quality or pass rising costs onto the consumer. 
SideUp, @logistics Reply's SaaS WMS provides complete visibility of the supply chain from warehouse to delivery. It supports all elements from inbound checking and processing and ideal stock placement through to route and fleet management.