Supply Chain Risk Management
Rethinking the Pallet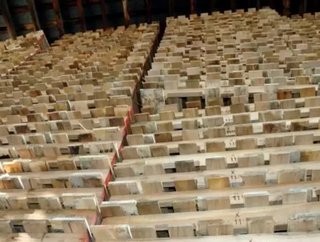 Before reading this feature, be sure to check this story and others in June's issue of our digital magazine. Trust us, it's way cooler! If you...
Before reading this feature, be sure to check this story and others in June's issue of our digital magazine. Trust us, it's way cooler!
If you run your warehouse like most, you've probably come across your share of softwood pallets. But unless your company is about to host a large bonfire, you can probably get more bang for your buck by investing in something other than a softwood pallet. It's time to rethink palletization. Supply Chain Digital breaks down the advantages and disadvantages of the four main types of pallets offered on the market.
SOFTWOOD PALLETS
Advantages: Expendable and cheap, the softwood pallet is the most common pallet on the market. According to Millwood, Inc., the softwood pallet is the "most economical shipping platform available." That's good for short-term budgetary measures, as it's relatively cheap to ship a few large loads using only softwood pallets. The Stringer and Block design are both capable of handling heavy loads – there's a reason the softwood pallet has been used since the early 20th Century – and are easily lifted by forklifts.
Disadvantages: While a company can get away with sending a few softwood pallets over the course of a year, if your business ships large loads on a regular basis, costs can add up with such an expendable pallet. The softwood pallet also does not fare well when not housed properly, as precipitation can induce rot, which can weaken the wood and cause damage to whatever you're shipping. Also, think of the trees! The softwood pallet is perhaps the least green pallet on the market, as most softwood pallets are simply taken apart and tossed after a single trip.
The Verdict: Extremely versatile and cheap, the softwood pallet does not offer competitive long-term costs for companies that ship large loads often. 
METAL PALLETS
Advantages: You never would have guessed, but metal pallets are the strongest available on the market. Stainless steel, carbon steel and aluminum are the most common types, with carbon steel offering the most bang-for-your-buck. Aluminum pallets are arguably the best pallet on the market if price isn't a factor. Long-term costs can be considerably less than that of wood, as metal pallets can be used for over 15 years, according to www.metalpallets.com. Stocking your warehouse with metal pallets rather than traditional softwood will also make for a cleanlier environment.
Disadvantages: There's a reason metal pallets account for less than one percent of the market today, as costs can be prohibitive for small or even medium-sized companies. As indestructible as they look, some metal pallets are susceptible to rust, so storage can be an issue. Metal pallets are also slick and offer little friction, resulting in your goods sliding around in transit during long, strenuous trips.
The Verdict: Extremely durable but cost-prohibitive, the metal pallet does best in closed-loop systems, where returning the pallet is less of an issue.
PAPER PALLETS
Advantages: Lightweight and easily recyclable, paper pallets are an excellent alternative for light shipments. Extremely cost effective, the paper pallet is actually stronger than it looks. Since it's not made from wood, the paper pallet won't splinter and doesn't require fumigation. Paper's flexibility also makes this pallet an excellent choice for customizable loads.
Disadvantages: If you're shipping anything heavier than a bowling ball, you've got a problem with the paper pallet. Housing the paper pallet is also an issue, as it's extremely susceptible to moisture.
The Verdict: A great alternative for light-weight, customizable loads, the paper pallet is a more solid choice than its name would indicate.
PLASTIC PALLETS
Advantages: Offering the cost-effective nature of the softwood pallet and the reusability of the metal pallet, the plastic pallet is 100 percent recyclable, easily stored and assembled and can handle extreme temperature shifts. Easily cleaned and resistant to odor, plastic pallets are a great alternative to their wooden counterparts because of their longer lifespan and lighter weight.
Disadvantages: Most plastic pallets are not meant to be exchanged, meaning they're intended for storage, not shipping.
The Verdict: If you're using pallets just for storage, you'd be hard-pressed to find a more cost-effective solution than the plastic pallet.