Supply Chain Risk Management
Portuguese cork industry 90 years ahead on sustainability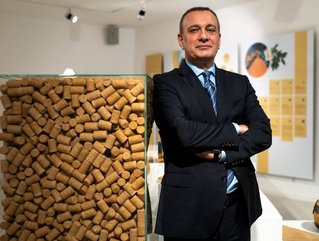 Carlos de Jesus is the Operational Director of APCOR,  the Portuguese cork association.
Carlos de Jesus, Operational Director of APCOR - the Portuguese cork association - on how the vision of people 90 years ago created a sustainable industry
Carlos de Jesus is the Operational Director of APCOR, the Portuguese cork association.
What's your professional background?
I am the Operational Director of APCOR, the Portuguese cork association that represents, promotes and carries out research in the Portuguese cork industry. I am also Director of Marketing & Communications for Amorim, the world's largest cork producer. Prior to joining Amorim in 2003, I was a partner at Breakstone & Ruth, a New York-based investor and shareholder relations firm.
What is APCOR and who does it represent?
APCOR is a consortium of cork producers and manufacturers. It was founded in 1956 and is based in the town of Santa Maria de Lamas, in northern Portugal. APCOR not only represents the industry in international forums, it also has a key role in setting up industry standards, promoting R&D and implementing international campaigns that help educate both the trade and the consumers.
What does the global cork supply chain look like?
All supply chains are stretched right now, including cork. But the cork industry has been able to maintain its supply chain through COVID and we're continuing to do it now. I am pleased to say no wine in 2022 will need an artificial stopper due to cork supply problems.
Portugal is the world's biggest producer of cork. We know how to harvest it and how much to harvest. Our cork industry has deep experience of providing billions of corks annually. We know how to meet demand in all sorts of economic climates.
What factors disrupt cork supplies?
We depend on third parties to move our goods. Pre-COVID, deliveries used to take one or two months, but now it is a couple of months longer than this. It's more difficult than ever to book barges and trucks to transport goods than before.
Artificial stoppers were a big threat to cork about 15 years ago, due to the issues there used to be with wined suffering from so-called 'cork taint'. But thanks to recent improvements in technology, these artificial stoppers are not the threat they once were.
How is the cork supply chain becoming more resilient?
Through planning, planning and more planning. It's easier for the companies that have a direct dialogue with the wineries. They have the upper hand. That, coupled with strong planning and a strong balance sheet, are what helps our industry weather the storm.
Who inspires you?
The people that 90 years ago had the vision to realise that planting cork oaks would provide a revenue stream, almost 50 years later. They were practicing sustainability way before the world started talking about it. Today, the world benefits from those decisions, and the cork industry has continued that approach to business and sustainability.
Best advice ever received?
Some of the best advice I ever received came from the women in my life. The one that sticks out is something my grandmother told me: make sure the big decisions in your life are based on positive factors, not negative ones.