Supply Chain Risk Management
Morrisons Supermarket goes digital with tablet computers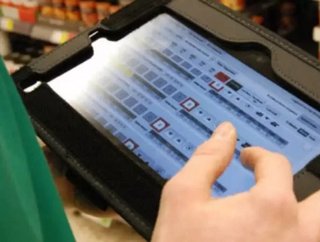 Follow @SupplyChainD The United Kingdoms fourth largest supermarket chain has rolled out the latest touch screen tablet computer technology across its...
The United Kingdom's fourth largest supermarket chain has rolled out the latest touch screen tablet computer technology across its warehouses and more than 500 stores.
WM Morrison Supermarkets plc's (Morrisons) 130,000 employees across the UK are now using tablet computers, in the same bracket as consumer products available on the high street – such as Apple's iPad and the Samsung Galaxy Note – in their stock taking, inventory, distribution centres and shelf replenishment.
The tablets, which differ from consumer devices in terms of application (for example, barcode reading software, workstations, toughened glass) have been fitted with software that works as a form of digital, electronic order pad, directly replacing a paper-based system and saving hours of laborious data entry and significant amounts of paper.
Joe Lubczynskyj (pictured, below) is a Client Director for consultancy and software company Thoughtworks, the people behind bringing the stores into the digital age.
Lubczynskyj said: "Morrisons had a manually intensive process, an order pad – imagine an A4 lever arch file filled with paper and then multiply that multiple times to replicate all the stock keeping units – that has been replaced by the tablet. It removes printing totally. Employees input and track data electronically, streamlining the whole stock management piece.
"The huge savings are apparent when you look at the effort they were going through to collect the data, send it from stores to a back office function to input the data and all the processes that have been eliminated.
"It also gives them a platform. This is just one application in devices that can now run many simultaneously. There is a foundation to build upon and look at other processes in their operations. The plan for Morrisons, as they evolve, is to change and buy the best of breed at that time, so they are not aligned to a specific brand."
Discard the wastepaper bin
The starting point, said Lubczynskyj, was to replicate how the data was presented in paper format with an electronic representation. The learning curve for staff was not very steep and Morrisons saw immediate productivity returns.
"Wherever you have got data, information, touch points, heavy manual processes and hand-offs," said Lubczynskyj, "there are huge benefits to deploying an electronic solution."
He added: "Whereas before you needed a really potent business case, now, because the cost is dramatically reduced and continues to reduce on a six monthly basis these devices are becoming more complimentary to the enterprise process. I'd be very surprised if, in the next three to five  years, it wasn't the norm."
He said Morrisons' tablets are Windows-enabled devices. ThoughtWorks worked alongside that operating system using an HTML5 platform (computer language system for presenting online content), an ultra-current process which has the added benefit of making the business-oriented computer applications device-independent.
This means that devices will be interchangeable and it does not matter which type or brand is being used, (the Motion CL910 happens to be the device used in the roll out) so long as it is on HTML5 the user will get a quality digital display and interaction capability.
Tablet takeover
Lubczynskyj said: "We are seeing more and more organisations that touch that distribution and supply chain network moving to mobile. When you look at the consumer arena, everybody is consuming data on the go and now we are seeing for enterprise application the tablet preference because of space, and size.
"You can use technologies such as HTML 5 so you are not device-dependent and you get the best of both ends of the spectrum; to actually involve affordable devices but not be tied to a specific device. You have got a device which is dynamic, so as your business and the environment changes, your usage in your interface can adapt pretty much on a daily or hourly basis, if required.
"You have got access to real-time data and from a user perspective the information presented to you in tablet format is far more engaging. All of a sudden are moving from static information to dynamic; full colour, three dimensional, animation, moving, sound – take your pick. It is a far more immersive, engaging experience for the supply chain, whether that is collecting data, viewing data, on the device or communicating as well."
Each tablet is wirelessly linked to the store's Wi-Fi network, joining the back office, warehouses and shop floor, allowing for seamless transmission and real-time connectivity (i.e. – no lag in the sending and receiving of communications).
Lubczynskyj said the devices' supply chain functions go from storefront all the way though to the distribution centres and the ultimate supplier. Quality Assurance and inspection, returns, staff surveys, feedback, health and safety and training can all be performed on the devices.
Checkout staff can interact with back office and up a quick inspection of deliveries can take place. With a  fruit and veg delivery, pictures of what the fruit should look like could be accessed to ensure product quality, while photographs of damaged stock could be instantly sent further down the supply chain.
The devices can facilitate interaction with customers on the shop floor, for surveys and feedback. For new staff, unsure of some detail or process, having a device that can access data on demand will help.
Ruggedised devices
Lubczynskyj acknowledges that a consumer device (which, in the case of Morrisons, was delivered with a tougher case, more durable than most consumer devices) will not be applicable for all organisations within the global supply chain, which often fork out for industry-specific, ruggedised hand-held mobile computers which can cope with harsh working environments, high temperatures, lots of wind, dust, and water.
But he is resolute in his faith in the future of cheaper, less specialised consumer devices.
He said: "With traditional delivery organisations, many drivers now have tablet devices. Because of the mood of the consumer market there is absolutely no reason why the kind that Morrisons is using could not be used in the delivery environment.
"They are the alternative to purpose-built devices and far more affordable, probably four-five times cheaper. All of a sudden you can equip a greater number of people, in the wider estate, to participate in a much better, engaging way."