Supply Chain Risk Management
Moody's new-suppliers risk warning as UPS strike looms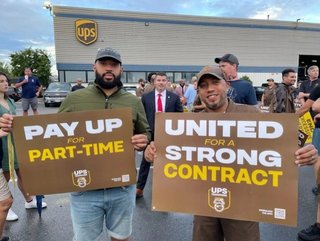 Hundreds of thousands of UPS workers in the US could be going on strike from August 1 if negotiations between UPS and the Teamsters remain deadlocked.
As UPS strike looms, Moody's Analytics expert warns firms that skipping due diligence checks on new suppliers opens them up to reputational risk
With the US braced for a nationwide strike by UPS employees, businesses are being warned against rushing into sourcing alternative suppliers without due diligence.
Hundreds of thousands of UPS workers could be going on strike from August 1 if negotiations between UPS and the Teamsters remain deadlocked.
Richard Graham, Third Party Risk Management Lead at Moody's Analytics warns that, while the strike will lead to supply chain pain points for US businesses, firms are well advised not to rush into sourcing alternative suppliers without due diligence.
"Deploying rigorous due diligence checks, such as third-party risk management screening is vital," warns Graham.
He adds: "Think 'just in case' rather than 'just in time'. Firms need back-up suppliers that have already passed due diligence rather than found in a rush out of necessity.
"Not only is there regulatory risk to avoid, but the reputational risk that comes from working with an unknown supplier can be even more significant."
Whether the strike happens depends on the outcome of a further round of talks that will be held tomorrow (July 25). The talks represent the last chance to find a resolution before workers' current contract expires on July 31. The union represents 340,000 UPS workers, and if it happens, the strike will be the largest in the US for 60 years.
The dispute has its roots in a 2018 contract that UPS's unionised workers feel was forced on them, and that they say is now no longer fair because the company is delivering millions more packages every day than it was five years ago. During lockdown, UPS saw average daily shipment volumes soar by 23%.
Ecommerce boom sees UPS deliveries and profits soar

The 24 million packages UPS ships on an average day amounts to about a quarter of all US parcel volume, according to global shipping and logistics firm, Pitney Bowes. Annual profits at UPS in the past two years are close to three times what they were before the pandemic.
Strike action by UPS workers would impact an estimated 25-30% of parcels and packages shipped in the U.S and it is estimated that it will cost the company $170m a day.
In addition to pay, workers are concerned about excessive overtime, and also driver safety issues, including lack of air conditioning in delivery trucks.

Higher prices and long wait times are all but certain if the strike cannot be averted, and US supply chain leaders are braced for disruption.

"Something's got to give," warned Thomas Goldsby, Logistics Chairman in the Supply Chain Management Department at the University of Tennessee. "The python can't swallow the alligator, and that's going to be felt by all of us."
Publicly, UPS CEO Carol Tomé remains optimistic of preventing a strike, telling investors recently that the company and the Teamsters "are not far apart on major issues".
She added: "While we expect to hear a great deal of noise during the negotiations, I remain confident that a win-win-win contract is achievable and that UPS and the Teamsters will reach an agreement by the end of July."