Supply Chain Risk Management
Managing inventory in extreme locations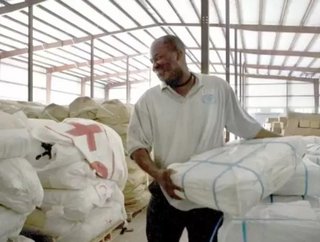 Check out this article in the new edition of Supply Chain Digital! When disaster strikes, aid workers and NGOs are on the ground within a matter of hou...
Check out this article in the new edition of Supply Chain Digital! 
When disaster strikes, aid workers and NGOs are on the ground within a matter of hours. While governments and charities around the world are arranging the dispatch of humanitarian aid from around the world, the next challenge for those on the ground is where to store it.
When buildings are damaged and a country's infrastructure has reached a halt, one of the biggest challenges facing these teams is finding the right distribution and storage space in a short time scale and facing extremely challenging conditions.
Thierry Schweitzer, a Logistics Coordinator for the British Red Cross, is regularly part of the 'Emergency Response Unit' (ERU), and is often the first response team on the ground. Varying his positions in order to the demands facing him, Schweitzer has filled the role of Warehouse Manager, Operations Manager, Team Leader and Systems Controller in various disaster zones around the world.
Depending on the demands of the situation he is facing, Schweitzer can find himself controlling databases and paperwork, training and co-ordinating staff, or assessing the distribution needs of the area.
"When I first arrive, I am part of the Field Assessment Coordination Team (FACT). In this case I am co-ordinating the ERUs coming in on the logistics side, as well as working with relief, distribution to ensure that we do not run out of stock, planning for the supply chain to come and distribution planning for what's coming in, to make sure we do not order in blankets where we need plastic sheeting," he explained.
Depending on the situation on the ground, one of the first thing a logistics coordinator has to decide is what warehousing structure to choose, depending on the proximity to towns and cities, security and surviving transport links. Where buildings are damaged and unavailable, charities and NGOs use a temporary warehousing structure by either the Rubbhall or Wiikhall brands.
"If you are in the middle of nowhere, it can be difficult, you have to use any structure and do a quick assessment of what you can find locally. In the case of Haiti, I arrived two weeks after the earthquake into the country, some warehouses were already found. In this case we used the Rubbhall to extend the warehouse further as some warehouses were in very poor condition," said Schweitzer.
Temporary warehousing by Rubbhall or Wiikhall are market leaders for temporary warehousing due to the amount they are used by charities and NGOs. Typically constructed in around 24 hours, these structures are extremely durable, and are well known in the industry.
"Rubbhall or Wiikhall are brands that are understood around the world, and because of how much they are used it is easy to buy spare parts. Usually to put it up it takes one or two days to build. I've seen some Rubbhalls which have been up for three to five years and they are in very good condition. You can just change the top if it if you are looking to extend the life," explained Schweitzer.
One of the main challenges of relying on temporary structures such as the Rubbhall is security. Depending on the accessibility from the outside, these temporary structures can often be very vulnerable to theft and trespassing.
"The main consideration with the Rubbhall/Wiikhall is where it is situated to stop people entering, because it is just a sheet of plastic. If you can find a hard building, it's always better for the security.  If not, you can either put it in a compound, which would be the best solution, or use guards and put up a fence as soon as possible to make it secure. If you are in an urban area and store quality items like spare parts for vehicles etc, then you need much higher security."
The Red Cross has developed a simple software system over the last few years which is used across the board to manage the supply chain from various locations. Developed by a group of delegates on a rolling basis, the format is easily convertible to PDF format for sharing between locations, and is designed to be interchangeable with a paper system. In the future, however, the group hope to have moved to a more advanced SAP approach which is currently being designed in India.
 "In the next two to three years we are moving to a more global system which will have a view of our warehouses worldwide, across 44 locations. At the moment that is a bit difficult to see which one is best to supply the country so we will have a more SAP approach," said Schweitzer.
The Red Cross invest in regular software training, which is needed in order to provide ERU teams with the skills to transfer knowledge to local volunteers. In order to keep costs down, the charity train local workers to operate key facilities as soon as possible, as this frees up logisticians to move to other locations and allows limited funds to be spent in the most beneficial way.
"I was deployed in Myanmar, Rangoon for the cyclone disaster and I had seven warehouses in four locations around Rangoon, and the national staff was all I had to work with. Every day I spread across two to four warehouses to train the national staff so we had to have a translator as well. It was difficult, but that's what we had to work with. There is not enough money so we have a roaming logistician running    around like a headless chicken the whole day long trying to train people. The Red Cross invest a lot into learning how to do it properly and teach them how to use the software. People become accustomed and within 30 days we had a beautiful warehouse so it's always possible," said Schweitzer.