Manage risk around extreme weather threat to supply chain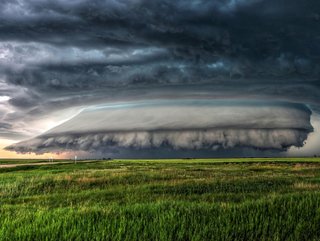 A super cell in the American midwest, the meteorlogical phenomenon that gives rise to tornados, whose frequency is one of many extreme weather events that is on the rise.
Bindiya Vakil, CEO of risk management specialist Resilinc, on the importance of managing supply chain risk around disruption from extreme weather events
Whether it's a blizzard that paralysis roads, intense gusts of wind that halt flights, or extreme heatwaves that buckle rail tracks, global extreme weather events are becoming all too common.
In 2022, Resilinc's risk event monitoring platform, EventWatchAI, saw an increase of 36% year-on-year in the number of severe weather events. Moreover, extreme weather was the 11th highest reported global supply chain disruption last year.
While it's impossible to predict exactly where and when extreme weather will strike, there are ways to prepare for its impact on the supply chain to minimise potential losses. Suggested steps to mitigate risk include storing additional inventory in other locations, having alternative distribution methods and, if possible, not relying on one site for high-risk parts, to name just a few.
In this article, I'll outline some other ways in which businesses can weatherproof their supply chains to prepare for and mitigate the effects of extreme weather events.
The importance of mapping and monitoring
One of the first things organisations should do is to map their entire supply chain down multi-tiers. By doing so, it's possible to gain full visibility into where all parts and components come from, allowing identification of potential risks and the opportunity to take the necessary actions. Mapping can help proactively move high-risk products out of at-risk areas, find alternative locations, and redirect operations long before extreme weather hits.
Next, it is crucial to have real-time insights into any and all potential threats. Investing in monitoring tools and predictive AI-powered solutions will enable prompt reaction and the ability to adapt to severe weather conditions before or as they unfold. Leveraging AI and machine learning can ultimately lead to a level of automation where decisions are made in a split second.
Ongoing risk assessments and data analysis
What's more, businesses have to conduct regular risk assessments. By assessing suppliers' readiness across all sites, you can identify those with good practices in place as well as those who need to improve. The former can serve as a benchmark, while the others can be utilised to fix any issues.
Data analysis can significantly help to pin down weak links in the supply chain and address potential problems. Checking whether certain locations are affected by weather-related disruptions more than others based on validated historical data allows changes to be made quickly. In fact, Resilinc's research shows that suppliers most affected by extreme weather tend to be some of the least prepared for it.
Always be ready with a backup plan
Finally, having a backup plan in place is essential to weatherproofing the supply chain. Nothing can stop, nor can anyone predict, the full extent of severe weather events. When they occur, you must be able to turn to alternative solutions. By taking a proactive approach (rather than reactive), businesses can act quickly, protect the security of supply chains, make informed decisions, ensure continuity of supply and – ultimately emerge from a disruption in better shape – or offset it completely.
Gaining greater visibility of your supply chain, maintaining good relationships with suppliers, and implementing advanced monitoring and planning techniques, can help assess potential risk impact and allow swift action to be taken to mitigate any losses. In light of the increase in extreme weather-related events, investing in technology-driven supply chain risk management tools is critical to managing severe weather and other supply chain risks.
Bindiya Vakil is the CEO and co-founder of risk management specialist Resilinc. Vakil is credited with bringing supply chain risk management into the mainstream. For more information visit.