Supply Chain Risk Management
Increased pallet capacity with narrow aisle layout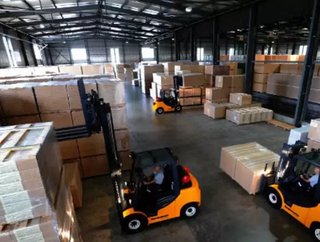 A personalized print and mailing company in Essex, UK, has reported an improvement across its intralogistics processes by configuring its warehouse aro...
A personalized print and mailing company in Essex, UK, has reported an improvement across its intralogistics processes by configuring its warehouse around a narrow aisle layout.
Based in Laindon, Essex, Anton Group specialises in the production of variable image/variable data print and direct mail.
One of the largest personalised print and mailing companies in Europe, its clients include major high street banks, media companies, utilities and large retailers.
In recent years, the group has invested in excess of £50 million in equipment to create an advanced print and mailing operation.
Part of this sizable spend was directed at an overhaul of the storage facilities and materials handling equipment in operation at the group's 165,000 sq ft site. Daily pick and pack and dispatch operations are undertaken at the site as well as rapid response print and mailing campaigns. These campaigns are often time critical and require significant paper stocks to be held to ensure production can commence at any time of day or night or at weekends.
By reconfiguring the warehouse around a narrow aisle layout the company has increased pallet capacity at the store to 4,762 , while a switch to Jungheinrich materials handling equipment has improved operational efficiency across all of Anton's intralogistics processes.
Paper reels measuring around 1000mm wide and some 1400mm in diameter are 'chimney' stacked up to 8 reels high  on the floor of the goods-in area, while pre-cut paper sheets arrive on pallets and are put away within the racking.
Incoming paper reels are unloaded from trailers using a combination of gas-powered counterbalanced trucks from the Jungheinrich TFG range and are block stacked the counterbalance trucks and Jungheinrich reach trucks.
In all, Anton has six TFG counterbalance trucks in its fleet – one of which has a reel clamp fitted.
On-site safety was a key driver in Anton's decision to adopt Jungheinrich trucks at its Laindon site and the fact that the TFG counterbalance range has been designed to be inherently stable - without the need for additional electronic stability systems – made it particularly attractive.
The truck's counterweight – traditionally situated at the rear of the vehicle – is partially underneath the operator seating position.
Lowering the counterweight and positioning it further forward, changes the truck's centre of gravity and makes the machine ultra-stable. Most other counterbalance forklifts have the heavy counterweight at the rear which gives them a high centre of gravity which can cause them to 'roll' if driven inappropriately.
Operator comfort and fuel efficiency were important considerations too. The motor in the TFG range is supplied by Volkswagen and has been designed to offer the lowest noise levels and emissions, while fuel consumption is also particularly low.  Test cycles have shown that over the course of 2000 hours of typical operation the truck will save some £2,000 in fuel costs in comparison with a standard conventional counterbalance truck and when it comes to emissions, the VFG series complies with the latest Emissions Guidelines laid down by the EU.
Within the racking pallet loads of sheet paper are handled by Jungheinrich wire-guided Kombis.
Two Jungheinrich EKX 513 wire-guided Kombi trucks collect pallet loads from P&D stations and put them away in a racking location allocated by Anton's WMS which is fed directly in to the truck's on board computer.
The EKX 513's versatile design and intelligent truck management system ensures the lowest operating costs are achieved.
In addition to housing the raw materials used in the printing process, the storage cube also holds finished goods – printed marketing messages produced for timed campaigns.
Anton's director of group purchasing, Kim Scott, said: "The fact that the Kombi trucks allow the operator to pick single orders as well as full pallet loads gives us the versatility we need as client campaigns can be very specific and we offer a 'pick and mix' service."
Anton's truck fleet – which, in addition to the counterbalance, reach trucks and Kombis, includes powered pallet trucks and hand pallet trucks – has been acquired on a five year lease.
"Our materials handling equipment is vital to our entire operation so we needed a supplier that could not only offer cutting edge technology but could also guarantee the highest levels of after-sales support. Jungheinrich ticked all the boxes," added Scott.