Supply Chain Risk Management
Forklift safety, what you need to know by Slingsby.com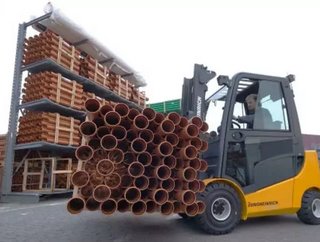 Written by Matthew Leach (pictured, right)and Tom Blackburn on behalf of Slingsby.com, a leading UK supplier of workplace safety equipment. It might b...
Written by Matthew Leach (pictured, right) and Tom Blackburn on behalf of Slingsby.com, a leading UK supplier of workplace safety equipment.
It might be an easy target for a certain brand of tabloid newspaper columnist, but robust health and safety procedures really are crucial in the workplace. There are still thousands of fatalities and serious injuries at work in the UK every year - and this figure would undoubtedly be far higher were it not for the stringent health and safety regulations we have in place. While employers are ultimately responsible for making sure that good health and safety standards are adhered to in and around the workplace, workers also have to do their bit to ensure the safety of themselves and their colleagues while at work. Of the many sources of danger in the workplace, the forklift represents one of the leading causes of accidents.
The extent of the risks
Accidents involving forklift trucks can result in serious injury and possibly even death, so adequate precautions must be taken to minimise the risk of such incidents. According to the UK's Health and Safety Executive, 21,190 people were injured in accidents involving forklifts between 2001-02 and 2005-06. Of these accidents, 15,338 resulted in absences from work of three days or longer, 5,758 resulted in major injuries and 94 resulted in fatalities. Likewise the OSHA in the US estimates that forklifts cause around 61,800 accidents per year, around half of which will be serious, resulting in at least 85 fatalities on average. They also worked out that a staggering 11% of forklifts in the US will be involved in an accident each year. 
Of course, forklift trucks and their operatives perform an essential role in many workplaces. It goes without saying that they're capable of lifting and transporting heavy objects quickly, and this is why they're indispensable for many firms. However, it's essential that employers and employees alike are aware of the risks associated with forklift trucks and how to minimise them. Forklifts are powerful, but that power also makes them dangerous. This is why a robust approach to forklift truck safety is crucial in any workplaces where they are present.
Types of incidents
The OSHA lists the following common causes of serious forklift accidents.
Users crushed by the forklift tipping over
Crushing between vehicle and surface or other vehicle
Run over by vehicle
Being struck by falling material
Fall from forklift platform
This is consistent with the information given in a detailed report on the subject from NIOSH. The report offers an extremely comprehensive list of key forklift safety tips including –
Always use seatbelts when available
Raise platform no further up than necessary
Do not raise or lower forks while vehicle is moving
Do not use the vehicle to raise personnel on anything other than a properly secured work platform with appropriate safety restraints
Avoiding Complacency
One problem in relation to forklift truck safety is that some forklift truck operatives tend to become somewhat blasé about the associated risks. Over time, there is a tendency for some operatives to become complacent and almost to forget just how dangerous a lapse of concentration can be when driving forklifts. This is where periodic refresher training can come in particularly useful. Operatives should be retrained every so often to remind them of best practice, however experienced they are. It may also be a good idea to train forklift truck operatives and other employees working in the vicinity of forklifts in basic first aid techniques, so they know what to do in the event of an accident. It must be made clear to operatives that any problems - whether they relate to incidents around the workplace or problems with the truck itself - should be reported immediately.
Regular inspections are important
You should also ensure that forklift trucks are regularly inspected so as to ensure that they are still safe to use in and around the workplace. Needless to say, forklift trucks are intended to perform demanding tasks, and they can easily get damaged in the course of doing these jobs. Forklift trucks must, therefore, be inspected closely on a regular basis. Visual inspections to ascertain more information about the truck's general condition are important, and these should also be supplemented with frequent operational checks to ensure that each truck is capable of performing its functions as it should.
Untrained Personnel
Any worker tasked with the responsibility of operating a forklift truck must be clear on what standards are expected of them. Ultimately, it is down to the employer to ensure that these standards are enforced consistently, and that any breaches are acted upon swiftly. Only trained forklift truck operators should be allowed to drive a forklift truck. Maintaining control of a forklift truck is not the same as maintaining control of other types of vehicle, and this is why people who are not specially trained to use them must be prevented from doing so.
Establishing a safe working environment
Both the drivers and other workers in the area should be appropriately dressed so they're easy to spot. Safety clothing and equipment including hi-vis jackets, helmets and safety shoes must be worn at all times. It's also important to anticipate circumstances in which untrained personnel or members of the public might gain entry to the working area.
A clear speed limit should be set, and operatives must be clear that it is their duty to stick to it. Forklift trucks should only be operated on designated routes, which should be clearly marked. Warning signs should be put in place to remind both operatives and others in the vicinity that forklift trucks are operating in the area. Floors must be kept clear of any obstacles, and extra precautions should be taken when floors are wet and slippery.